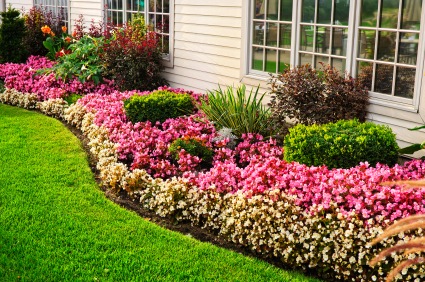 As the weather warms, thoughts turn to sunny days and flowers in bloom. Spring is the perfect time to plant a garden you will enjoy all summer long. Whether you're a longtime gardener or still cultivating your green thumb, these simple gardening tips will help your garden flourish and grow.
1. Sharpen your tools
Early spring is a great time to sharpen your gardening tools and get your lawnmower serviced. Sharp clippers will take some work out of your trimming and save you the blisters and sore muscles that come from pruning with dull blades. It's also a great time to take an inventory of your gardening supplies and make a list of anything that needs to be repaired or replaced.
2. Clean out weeds and debris
You may be eager to get on with your planting, but your garden will be much nicer if you start from a clean space. That means cleaning up the beds, trimming shrubs, and getting a jump on weeds as soon as they appear. Use small rakes to pull leaves and other debris from under plants, and be sure to pick up any clippings as you prune your perennials.
3. Create a garden plan
Just as a shopping list can help you save money at the grocery store, a garden plan can help you avoid impulse buys at the garden center. Walk around your garden at different times of the day and make note of the shade and sun. Use gardening magazines and books for inspiration and a notebook to jot down a sketch of your plans.
4. Test your soil
Home soil testing kits let you check the pH of your soil and adjust your garden appropriately. Be sure to test in multiple areas, as the pH can be different. You can enrich your soil as needed by adding dolomitic lime to raise the pH or elemental sulfur to lower it. You can then prepare your beds by adding a layer of compost or other amendments.
5. Shop (or swap) for new plants
Once your garden is cleaned and your beds are prepared, it's time to start shopping for plants. You can usually save money by buying annuals by the flat or by sowing seeds directly into the ground. Skip the larger pots as well. Smaller, 4-inch to 6-inch pots will catch up to gallon-sized plants quickly. If you have nearby gardening friends, you may be able to save everyone some money by arranging a spring plant and seed swap.
6. Plant and mulch
Plants will need the most water when they first go in the ground, so planting in the springtime is often easier than during the heat of summer. Spring is also a good time to plant cool-season vegetables like spinach, lettuce, kale, snow peas and broccoli. A 1-inch to 2-inch layer of mulch helps keep weeds from your flowers and shrubs, but don't put mulch too close to trunks and stems. These simple spring gardening tips will help your garden grow. If you have additional tips to share, please add them in the comments below.