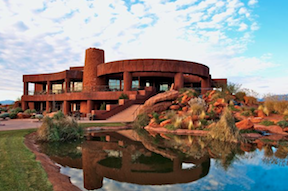 Located in Southwestern Utah, St. George is a popular destination for vacationers and retirees alike. The area features scenic beauty, including spectacular canyons, red bluffs and mountain views. It also features challenging golf courses, fabulous restaurants, and many urban attractions like diverse shopping districts, museums, galleries and performing arts centers.
With a low elevation and desert setting, St. George has a climate that features hot summers and cool winters. Summers are long, with plenty of hot sunny days and average daytime temperatures in the high 90s or just over 100 degrees. Although average daytime temperatures during the winter months are usually in the low to mid-50s, nights often drop below freezing. Snow is rare, but it does fall on occasion.
St. George is one of Utah's largest cities and it is set within close proximity to many exciting attractions. Nature lovers can enjoy the short drive to Snow Canyon or Zion National Park, or plan a longer day trip to popular destinations like Bryce Canyon or the North Rim of the Grand Canyon. Only 30 minutes from St. George, in Nevada, the city of Mesquite offers casinos, buffets, and live entertainment. St. George residents can also travel to the world-famous Las Vegas Strip in less than two hours.
Closer to home, the St. George area offers plenty of entertainment options, like the St. George Dinosaur Discovery Site, the Rosenbruch Wildlife Museum, and shopping at Red Cliffs Mall or The Factory Outlets at Zion. Golf courses offer challenging play amid gorgeous scenery, while athletes enjoy taking part in annual events like the St. George Marathon and the St. George Ironman Triathlon. Just outside of the city, locals and visitors also enjoy the Washington County Fair each August.
The city provides several cultural attractions, such as the St. George Art Museum, the Southwest Symphony Orchestra, and the St. George Opera House. The Dixie Convention Center features a wide range of concerts and special events, while the Tuachan Amphitheater at Snow Canyon provides seasonal entertainment in the midst of red cliffs and scenic beauty.
Active adults who choose to settle in St. George can opt for homes in age-restricted or age-targeted communities. Set on the outskirts of the city, SunRiver St. George welcomes residents age 55 and older with a wide variety of resort-style amenities, including a spacious clubhouse and an 18-hole golf course. Those who prefer an open-age community may fall in love with Entrada at Snow Canyon Country Club, which also offers similar resort-style recreations.
Whether planning a vacation or looking for an ideal retirement destination, the St. George area has much to offer. Hot summers, mild winters and plenty of diverse attractions make it easy to stay active in St. George.