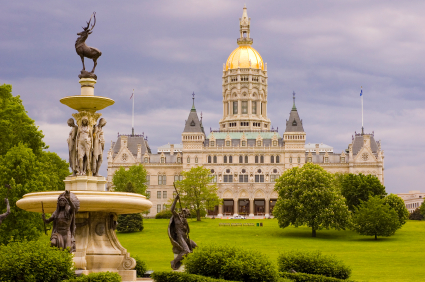 In Central Connecticut, the Hartford area offers scenic beauty, diverse attractions and a rich history. Hartford is the state capital and one of the state's largest cities. It provides a lovely setting for a vacation, and active adults who want to settle in the area can also choose from several charming active adult communities.
Hartford's history traces back to the 1600s, when English settlers named the area to honor Hertford, England (which is pronounced "Hartford"). Over the years, Hartford saw many changes. It was a key area for abolitionists of the late 1800s and Harriet Beecher Stowe, the author of Uncle Tom's Cabin, was from the city. Mark Twain also lived in Hartford and his home, where he wrote many of his famous works, is now open to the public. Today, the suburbs have flourished and many people live outside of the city in more scenic neighborhoods.
The City of Hartford is located in the center of Connecticut. It is approximately 45 minutes north of New Haven and about two hours northeast of New York City. Hartford's climate tends to be hot and humid during the summer months, but cold and snowy throughout the winter. Average daytime high temperates are in the mid-80s during July and in the mid-30s in January. Winter storms can bring deep snows, and some snowfall typically accumulates from mid-November to late March.
Whether you live in the Hartford area or are just visiting, there are many things to do. Arts and culture are a thriving part of the city. A few hot spots include the Hartford State, Wadsworth Atheneum and Bushnell Theater for Performing Arts. Nature lovers won't want to miss a trip to Elizabeth Park, and the area's historic sites feature favorites like the Mark Twain House, the Harriet Beecher Stowe Center, Cedar Hill Cemetery and the Old State House.
Hartford is in the midst of a redevelopment as the historic city pushes to keep up with the times. There are a variety of fabulous shopping centers and restaurants both within the city and throughout the surrounding suburbs. Areas like Adriaen's Landing, which boasts the Connecticut Convention Center and Connecticut Science Center, offer a mix of retail, entertainment and housing options.
For active adults, the Hartford suburbs are often considered a great place to settle into retirement. Picturesque communities provide low-maintenance homes, as well as appealing on-site amenities. There are both age-restricted and age-targeted communities found throughout the Hartford area, and most are small neighborhoods of less than 200 homes.
Whether planning a vacation or looking for a tranquil retirement destination, the Hartford area offers plenty of historic charm, as well as a variety of modern-day attractions.