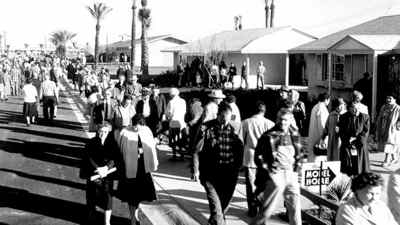 On January 1, 1960, Sun City Arizona began selling homes to active adults. This was the first planned retirement community in the country and it inspired a new trend in retirement housing. Adults today can now find beautiful communities throughout the country that offer an active lifestyle and meet their unique needs.
And fifty years after its grand opening, Sun City Arizona is celebrating its success with anniversary festivities scheduled throughout 2010. Founder Del Webb first envisioned a thriving community with affordable housing and recreation specifically designed for older adults.
Though increasingly common this day in age, Webb's all-inclusive planned community was a novel idea when he broke ground in 1959. His initial community design began with a shopping center, a golf course, a recreation center, and five beautiful and distinct model homes. A nationwide contest was launched to christen the new community and the name "Sun City Arizona" was chosen only one month before its Grand Opening.
Though Del Webb believed in his vision, he and his partners had doubts about how well the project would be received. Webb hoped that Sun City Arizona's grand opening would draw 10,000 visitors. Instead, over 100,000 people toured the new community and an incredible 237 homes were sold over the three day weekend.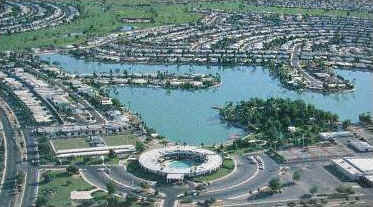 From that moment on, Sun City Arizona grew rapidly as active adults clamored to become residents. The first phase of homes quickly sold out and the company hurried to schedule another phase, and then another. By the end of 1960, 2,000 homes had been sold.
According to the book, "Jubilee: The 25th Anniversary of Sun City," the community was billed as Arizona's "fastest growing city" a mere 59 days after it had opened. Following the success of Sun City Arizona, Del Webb has built more than 50 active adult communities across 20 states. With their continued innovations, these communities have helped revolutionize the retirement lifestyle.
Retirees and empty nesters today can find communities which recognize their desires to live life actively, both physically and mentally. And in addition to recreational activities, many active adult communities offer lifelong learning programs, social clubs, and activist opportunities.
Residents at Sun City Arizona also give back to others around them. Known as the "City of Volunteers," Sun City Arizona promotes a culture of volunteerism among its residents. However, with more residents today who have not yet retired, or who are working after retirement, the approach toward volunteering must adapt.
Paul Herrmann, Executive Director of the Sun City Visitors Center, acknowledges that even community giving evolves with the times: "Volunteerism is still a vital part of our community; however it is, in some cases, taking new directions." Many of the homes in Sun City Arizona are also changing with the times. According to the Sun City Visitors Center, many of the community's well-constructed homes – built in the 1960's and 1970's – are being remodeled and updated with the latest amenities.
Herrmann adds, "A nice feature of our homes is that they have no interior load bearing walls. This allows the homeowner a lot of flexibility while remodeling, since any interior wall can be removed." The community itself has greatly evolved from its original design. Today, Sun City Arizona boasts 11 golf courses, seven recreation centers, countless amenities and social clubs, and over 26,000 homes.
And even with its impressive array of features and facilities, Sun City Arizona is still the best value around. Low property taxes and annual fees, affordable homes, and extensive amenities continue to draw new residents to this ideal community.
The continuing evolution of Sun City is being celebrated during its 50th Anniversary year, with the slogan, "An Extraordinary Past — A Brilliant Future." Anniversary events planned throughout the year are open to all residents and their guests.
The festivities were kicked off at a Grand Opening Ceremony on December 9, 2009 and will culminate in the 50th Anniversary Grand Finale on January 14, 2009. On January 1, 2010, the Sun City Anniversary Party provided captivating entertainment and invited residents to ring the Sun City Liberty Bell and participate in a grand release of 50 balloons.
Upcoming events include a semi-formal dance, the 50th Anniversary Community Parade, two variety shows, and multiple parties. The Sun City 50th Inaugural Golf Tournament was held on December 10, 2009, and two more anniversary golf tournaments are scheduled for April and December of 2010.
As the first active adult community in America, Sun City Arizona set the stage for a new trend in retirement living. And when asked what he would say to prospective residents, Executive Director Paul Herrmann simply replied, "If someone is looking for a retirement community, we can't be beat in terms of value