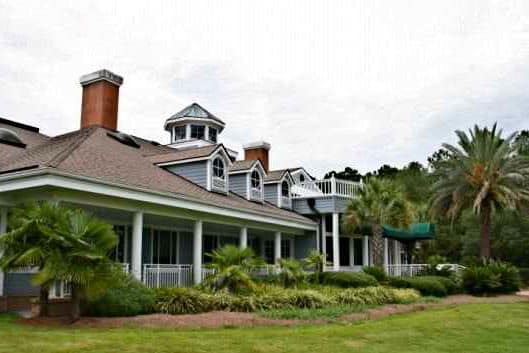 Whether you love culinary-led cooking classes, water aerobics in the pool, or time on the beach with grandkids, you can enjoy your retirement however you see fit at Del Webb's Sun City Hilton Head in Bluffton, South Carolina. Find out what makes Sun City Hilton Head 55places.com's best active adult community of 2018 and one of the most sought-after retirement destinations on the East Coast.
Sun City Hilton Head Amenities
The amenities at Sun City Hilton Head are largely centered around the 45-acre Village Center, an amenity center designed to reflect the charm of a southern town square complete with a clock tower. The Pinckney Social Hall is a 17,000-square-foot venue which hosts workshops, lectures, dances, and concerts. The state-of-the-art Purrysburg Fitness Center offers a variety of fitness options, and the Yemassee Crafts Center includes studios for arts and crafts, ceramics, sewing, and photography. Sun City Hilton Head's new performing arts center, Magnolia Hall, is a 16,000-square-foot venue with stadium seating for 540 people. Here, residents can enjoy theatrical productions, lectures, and concerts. The Hidden Cypress Fitness Center is the community's newest fitness center, which also provides state-of-the-art cardiovascular and strength training equipment among other fitness options.
The Hilton Head area is known for its world-class golf, and Sun City Hilton Head offers its own courses for resident golf enthusiasts. These include two championship golf courses, one designed by PGA tour professional Mark McCumber, and another executive course, for a total of 54 challenging holes. The community also features three outdoor resort-style swimming pools, an indoor lap pool and two superb restaurants. And whether members of this retirement community in South Carolina enjoy spending their afternoons throwing the Frisbee to Fido or serving up aces with friends, they have plenty of opportunities to do the things they love when they want to do them. Sun City Hilton Head has 16 tennis courts, pickleball courts, and bocce ball courts, a softball field, a dog park, and an outdoor party pavilion. It also boasts a 20-acre fishing lake, Lake Somerset, which offers catch and release fishing and allows non-motorized boats. Boardwalks and walking trails make it easy to get around the community, take a leisurely stroll, or enjoy a healthy fitness walk.
Sun City Hilton Head Lifestyle
Hilton Head, South Carolina has long been a popular East Coast vacation destination with plenty of things to do. The area is known for its spectacular beaches, famous golf courses, and charming boutiques. However, those who love Hilton Head do not have to settle for occasional visits. When active adults decide it's time to relocate, many opt to live in the fabulous Sun City Hilton Head community. You can even see what residents love about the Sun City Hilton Head lifestyle.
This sprawling active adult community in South Carolina includes over 8,000 homes, impressive amenities, and many thriving social clubs. There are even community events, which are a great way for new residents to get to know their neighbors, and enough scheduled activities to fill any homeowners social calendar. Active adults seeking homes for sale in the Hilton Head area don't want to miss Sun City Hilton Head.
Click here for more information about Sun City Hilton Head.