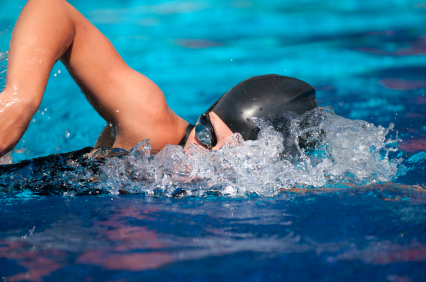 Active adults looking for a way to stay in shape can enjoy numerous health benefits by taking up swimming. This great activity burns calories and builds muscle, while still being easy on joints. Active adult communities are prime destinations for swimmers as many boast impressive indoor and outdoor pools.
The health benefits of swimming are well documented. According to the Centers for Disease Control and Prevention (CDC), swimming regularly can lead to improved health and decrease the risk of chronic illnesses. The CDC also reports that swimmers are able to exercise longer and with less joint or muscle pain than when they exercise on land.
Swimming has been shown to relieve arthritis symptoms, improve mood and reduce stress. It is a great way for older adults to improve cardiovascular endurance and gain muscle strength. Going to a community pool can also create an opportunity to socialize with friends or meet new people. Resort-style swimming pools at active adult communities are often designed to support socializing as much as swimming.
Beautiful pool designs, like the outdoor swimming area at Arizona's Trilogy at Encanterra, become a focal point of the clubhouse with curving sundecks, adjacent patios and comfortable lounge furniture. Some outdoor pool and spa areas, like that at Florida's Lely Resort Golf & Country Club, even include features like waterfalls, small islands and poolside Tiki Bars.
While resort-style pools can be used for both exercise and more relaxed swimming, many active adult communities feature special lap pools for serious swimmers. These can be found both indoors or out, though many large fitness centers will include at least one small indoor lap pool which can be used year-round, regardless of the weather.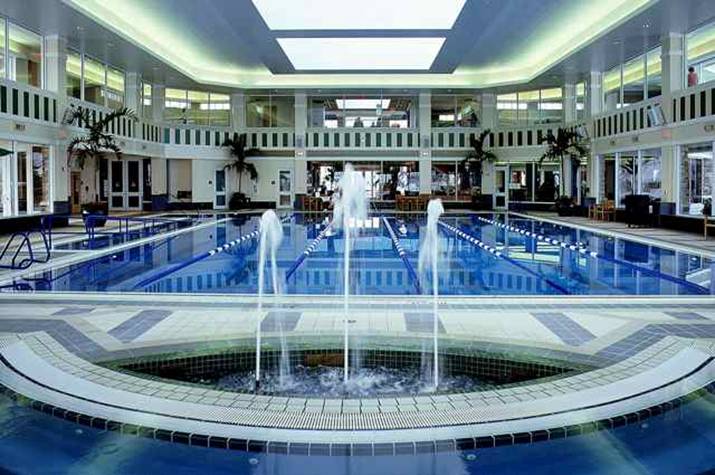 The impressive indoor pool at Sun City Huntley in Illinois features lap lanes and hosts water aerobics.
Indoor pools can also be quite spectacular, particularly in large, luxurious active adult communities. At Sun City Huntley, in Illinois, the indoor swimming pool and spa area is housed in an impressive two-story facility which is decorated by fountains and ringed by a second-level indoor walking track.
Cascades at Estero, in Florida, has its own unique design with an indoor lap pool which connects to an outdoor resort-style swimming pool. Swimmers who want more of a challenge can also find resistance pools in several active adult communities. Specially equipped, resistance pools let swimmers get a vigorous workout as they swim against a current.
Just a few of the communities with resistance pools include Venetian Falls, in Venice, Florida; SaddleBrooke Ranch, in Oracle, Arizona; and Heritage Grand at Cinco Ranch, in Katy, Texas.
Active adults who enjoy swimming can certainly find beautiful pools in a variety of styles at age-restricted communities across the country.