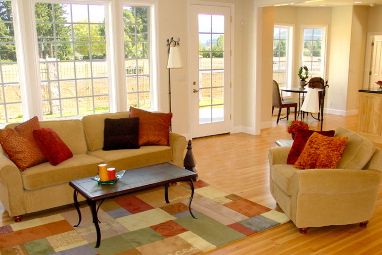 Homebuyers who are venturing into the housing market after years in their traditional family homes may be surprised to discover the popularity of open floor plans. This is particularly true in active adult communities where there are many benefits to offering homes with these open, flowing designs.
A home with an open floor plan is one in which homebuyers will find one noticeable difference: a reduction in the number of interior walls. Instead of having a traditional layout with separate rooms throughout the main living area, an open floor plan is designed with a wide open space which can be used for multiple purposes.
In an open floor plan, the dining room, living room, kitchen and home office easily flow together, with furniture placement dividing the space into functional sections. Architectural elements such as half-walls, bay windows, fireplaces, light fixtures and built-in bookcases can help further define the space.
An open floor plan allows more flexibility within a home design. Certain areas within the great room may lend themselves more toward particular functions, yet homeowners can arrange their home in the way that makes the most sense for them.
For example, a chandelier in a rectangular area may seem to be designed to hang above a dining table, and the fireplace may appear to be the ideal focal point of the living room. Yet there's nothing to stop a creative homeowner from shortening the chandelier chain to place a seating area in that portion of the room, or setting up their dining table in view of the fireplace.
The most prominent benefit of an open floor plan is that it makes a smaller home feel more spacious. There are less walls to block the natural light from sunny windows or make the furniture feel cramped into small rooms. This is a particular benefit in active adult communities where homeowners often plan to downsize, but still want their homes to feel open and inviting.
When it comes to entertaining, an open floor plan makes it easy for guests to mingle and move casually from one area to another. This is important to homeowners who are concerned about the social aspects of downsizing. Moving to a smaller home doesn't have to mean giving up hosting the holidays when an open living space can easily accommodate visiting family and friends.
An open floor plan can also lead to a more affordable home. Less interior walls and doorways can mean lower building costs. And energy costs are no longer a reason to compartmentalize a home, as today's highly efficient heating and cooling systems can easily keep an open floor plan comfortable year round.
While homebuyers can still find plenty of older resale homes with traditional floor plans, active adult communities will often offer new constructions with spacious, open living areas. Compare each style and see the benefits of an open floor plan for yourself.