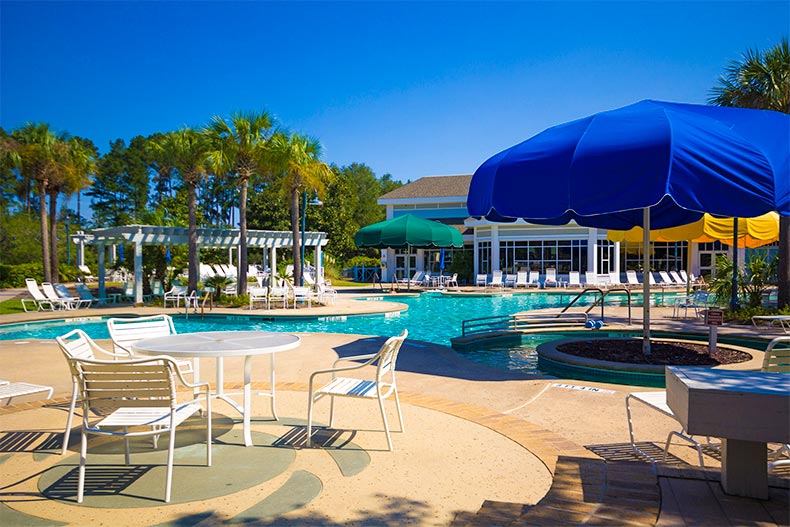 It's almost that time of year once again when 55places.com announces it best-selling active adult communities of 2019. Before we get to that, we also like to take a look at the numbers month-to-month to see which communities are hot sellers at any given point throughout the year. Let's find out which active adult communities buyers were flocking to in March.
We took a look at every sale made through our website between March 1 and March 31, 2019, to determine our 10 best-selling active adult communities of the month. These are some of the active adult communities you may want to consider when starting your own search, if only to find out why so many buyers decided to call it home.
Please note that this number is drawn from sales made through our website and does not represent overall sales in any given community.
1. Sun City Hilton Head - Bluffton, SC
Sun City Hilton Head topped our list of the 55 Best 55+ Communities of 2018 and it's sure to make another run at the title in 2019. Since 1995, SCHH has been one of the most highly acclaimed active adult communities in the country. It features sprawling grounds that include a 45-acre town center and amenity complex, multiple sports courts, and 54 holes of golf.
2. Del Webb Ponte Vedra, FL
While we recently found out about plans for a new Del Webb community within the Nocatee master-plan, Del Webb Ponte Vedra has been offering 55+ living here for quite some time. Buyers can't get enough of Anastasia Club, a 37,800 square-foot clubhouse featuring state-of-the-art recreation areas and fitness centers. There are also 15 acres of outdoor amenities, including a resort-style pool with sun deck, outdoor spa, and multiple sports courts.
3. On Top of the World - Ocala, FL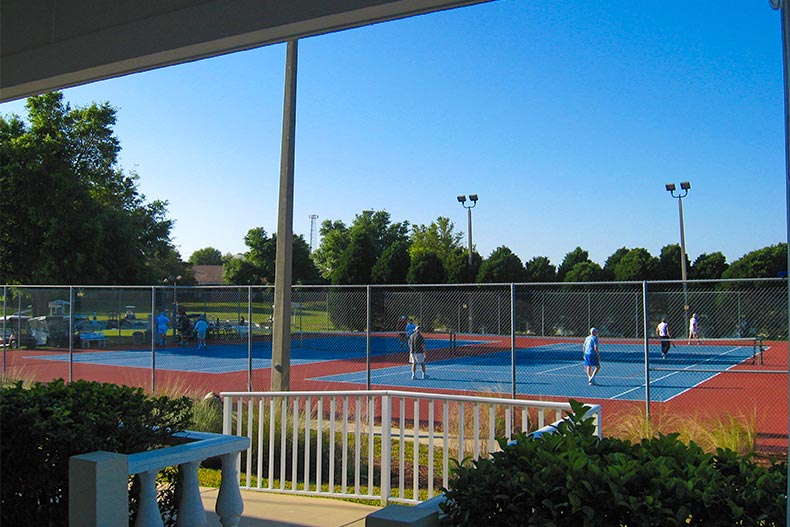 If there's a best-selling list, On Top of the World is almost always going to be on it. A big part of the appeal is that this Central Florida community offers so much without costing too much. In fact, this popular place has plenty of homes available for under $100k at any given time. And no matter which home you choose, you have access to great amenities across a wide variety of interests and passions.
4. Pelican Preserve - Ft. Myers, FL
Retirees and golf lovers are finding a botanical paradise waiting for them in Pelican Preserve in Fort Myers, Florida. This gated 55+ community is spread across 1,100 acres and will host 2,500 homes upon completion. Homebuyers also enjoy access to a championship golf course and the 70,000 square-foot Plaza Del Sol clubhouse.
5. Sun City Texas - Georgetown, TX
Sun City Texas remains one of the standout active adult communities in Texas and around the country. Sprawling across 5,300 acres, this Del Webb community offers up 9,900 homes, 86,000 square feet of indoor amenities, and three 18-hole golf courses.
It's true that Sun City Texas is the largest active adult community in Texas, but it also might have the most to offer to its residents in terms of lifestyle and things to do.
6. Sun City Anthem at Merrill Ranch - Florence, AZ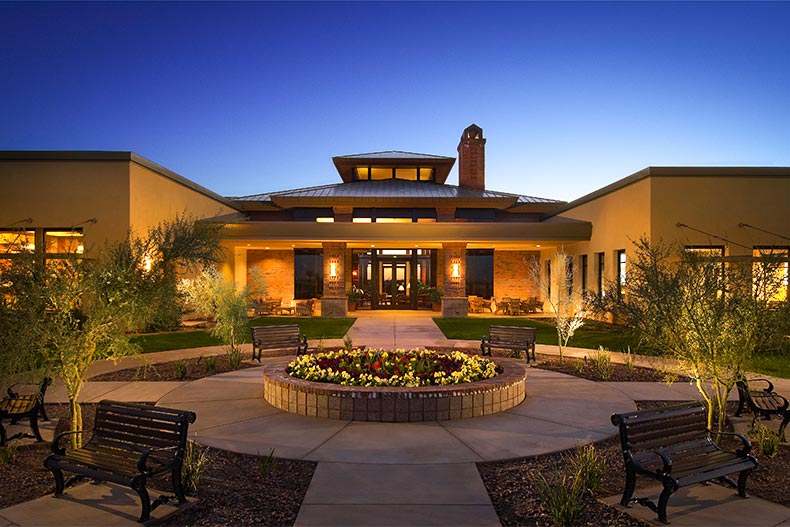 Sun City Anthem at Merrill Ranch is one of the more modern Sun City communities.
Located southeast of the San Tan Mountains and 60 miles from Phoenix, Sun City Anthem at Merrill Ranch offers an active adult living experience full of open spaces, gorgeous views, and miles of walking and biking trails.
The 48,000 square-foot clubhouse, indoor and outdoor pools, and 18-hole 7,300 yard Poston Butte Golf Course certainly take things up a notch as well. The inclusion of the ASU Lifelong Learning Center also means residents get a chance to continue learning and improving, something very appealing to modern active adults.
7. Clearbrook - Monroe, NJ
Clearbrook is a well-established Middlesex County active adult community with over 2,000 residences that provide buyers with a whole bunch of choices. There's a wide array of living opportunities to fit many budgets and lifestyles.
There are also two clubhouses, the Cultural Center with a 1,000-seat auditorium, and the 25,000 square-foot main clubhouse featuring a fitness center, TV studio, hobby rooms, and a woodworking shop. Throw in all the outdoor activities and pools and it makes sense why buyers are so interested.
8. Solivita - Kissimmee, FL
Solivita may have moved down the list this month but it's always a consistent seller. Construction might have begun here in 2000 but new homes are still being added all the time, hence all the new neighbors who keep filing in.
Good thing there are 150,000 square feet of amenities, a 32,000 square-foot Riviera Spa and Fitness Center, 19,000 square-foot Palms Amenity Complex, and two 18-hole golf courses in this golf cart-friendly community.
9. Latitude Margaritaville - Daytona Beach, FL
The most popular active adult community of 2018 remains extremely popular with buyers. In the last two years, the Latitude Margaritaville brand has become the biggest in the world of 55+ living and now that the initial round of residents has moved in it's starting to take real shape.
Whether inspired by the Jimmy Buffett lifestyle or just looking for all their own lost shaker of salt, we expect buyers to keep showing up here for some time to come. We didn't name it 55+ Community of the Year for nothing.
10. Province - Maricopa, AZ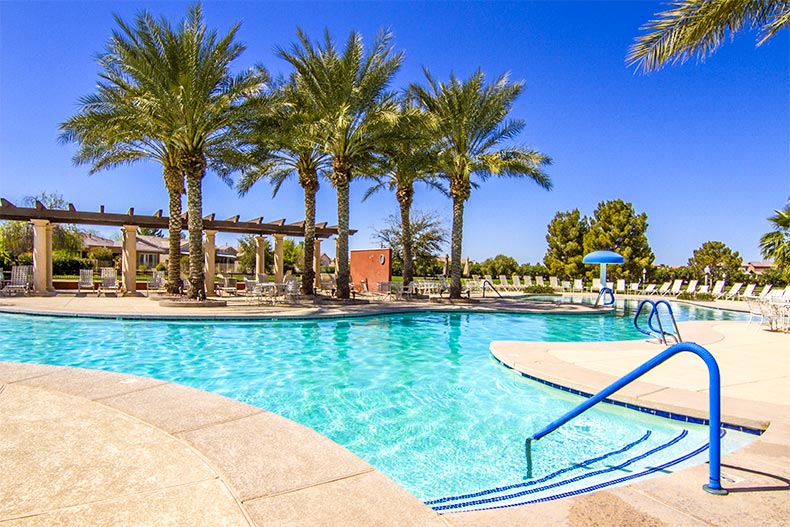 Part of what makes Province so appealing to buyers is the way it interacts with its natural surroundings. Over 30 percent of the land here has been designated as parks and open space, plus there are 50 acres of scenic lakes and waterways. See, Arizona isn't just one big desert after all.
There are also plenty of comforts and amenities to enjoy as well, including a 32,000 square-foot clubhouse, resort-style outdoor pool, lakes are stocked with fish, a spinning bike classroom, sewing & quilting studio, and a putting course.