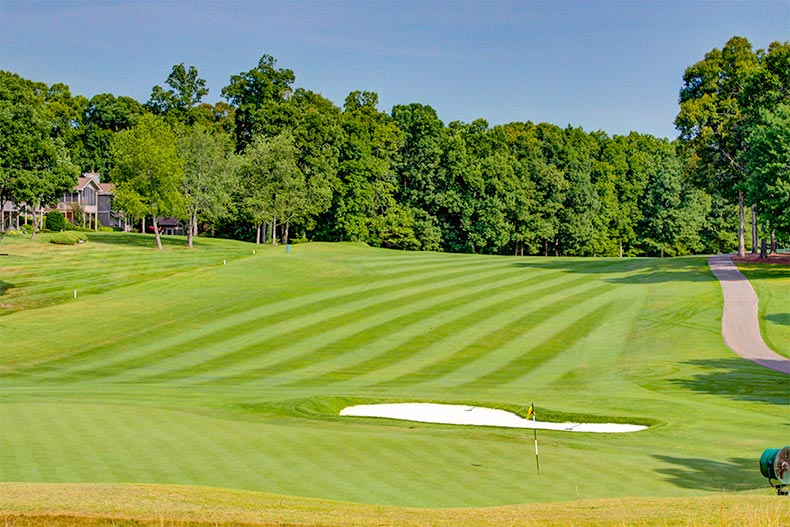 Once a year, 55places.com announces its 50 best-selling active adult communities. However, we also like to take a look at the numbers each month to see which communities are hot sellers at any given point throughout the year. Let's find out which active adult communities buyers were flocking to in November.
We took a look at every sale made through our website between November 1 and November 30, 2018 to determine our ten best-selling active adult communities of the month.
If you've been keeping up with our previous monthly best-selling posts, you'll recognize a few names that continually make the top ten mixed with a few newcomers. Please note that this number is drawn from sales made through our website and does not represent overall sales in any given community. To learn more about our criteria breakdown and methodology, click here.
1. Savannah Lakes Village - McCormick, SC
Located in a rural area of McCormick in South Carolina, Savannah Lakes Village is an attractive active lifestyle community full of amenities, activities, and home designs situated within a tranquil and natural setting. With two 18-hole golf courses and clubs, 25 miles of shoreline along Lake Thurmond, and a 23,000 square-foot recreation center, it's no surprise to see it at the top of the list in November.
2. Tellico Village - Loudon, TN
Tennessee might not be the first thing that comes to mind when you think of active adult communities but the state is a real up-and-comer and Tellico Village is one of the top communities driving that interest. This master-planned community is located just outside of Knoxville and offers beautiful views of the Smoky Mountains, the clear waters of Tellico Lake, and rolling golf course hills. The Wellness Center is a state-of-the-art facility that includes a 27,000 square-foot clubhouse and 6,500 square-foot fitness center.
3. Holiday City at Berkeley - Toms River, NJ
A usual suspect on these lists, Holiday City at Berkeley contains more than 10,000 homes and provides retirees with an enviable line-up of amenities, most of which are spread across six clubhouses. One of the real bonuses of the low-maintenance lifestyle here is that you rarely need to leave the community thanks to the inclusion of doctors, pharmacies, banks, mini-marts, delis, restaurants, bakeries, and clothing stores. If you do decide to venture out, there's plenty to do in Ocean County.
4. On Top of the World - Ocala, FL
Another list, another appearance by On Top of the World. Recently named one of the 55 Best 55+ Communities of 2018, they're able to maintain their status by meeting the needs of their residents through upgrades in community centers and new amenity additions. No wonder it's the only community to make this list three months in a row. As resident Becky Anderson recently told us, "There's so much to do, anything and everything you can think of. If somebody's bored it's their own fault."
5. Sun City Texas - Georgetown, TX
Sun City Texas shows up on this list most months and usually near the top. Located just outside Austin, this age-restricted community contains 9,900 homes, 86,000 square feet of indoor amenities, and three 18-hole golf courses. Those are the kinds of numbers that add up for happy homeowners and keep convincing new buyers to call it home.
6. Latitude Margaritaville - Daytona Beach, FL
The most popular active adult community of 2018 remains extremely popular with buyers. In the last two years, the Latitude Margaritaville brand has become the biggest in the world of 55+ living and now that the initial round of residents has moved in, it's starting to take real shape. Minto recently released a new round of homesites and is currently working on developing amenities such as the fitness center and Barkaritaville pet spa.
7. Lakeside Crossing - Conway, SC
Lakeside Crossing returns to the top ten thanks to its reputation as a community where you can get a lot without paying a lot. This Carolina Low Country community gives residents ample amenities to choose from (including a pub and massage therapy room) and also puts them less than 15 miles from Myrtle Beach and various golf courses.
8. Sun City Lincoln Hills - Lincoln, CA
Sun City Lincoln Hills is a sprawling 6,783-home community spread across 2,992 acres of beautifully landscaped terrain northeast of Sacramento. It includes two 18-hole golf courses, large amenity centers and an abundance of lifestyle activities. Potential buyers will want to check out the Kilaga Springs Lodge, a 37,000 square-foot amenity space that includes a spa, indoor pool, and aerobics room.
9. Del Webb Myrtle Beach - Myrtle Beach, SC
Del Webb Myrtle Beach is a 524 single-family home community where residents get to enjoy resort-style amenities in an on-site clubhouse as well at the Grande Dunes Ocean Club on the picturesque, sandy beaches of the Atlantic Ocean. Residents can also hit the links at two on-site 18-hole golf courses. And of course, living in Myrtle Beach means you're surrounded by some of the best golf courses in the world when you get bored.
10. Brunswick Forest - Leland, NC
Brunswick Forest isn't age-restricted but it attracts a steady flow of active adult residents thanks to a very active lifestyle, sprawling wooded landscape, and picturesque coastal environment. The wealth of amenities, from the 18,000 square-foot fitness and wellness center to the community commons with a clubhouse to the Cape Fear National Golf Course, are hard to resist.