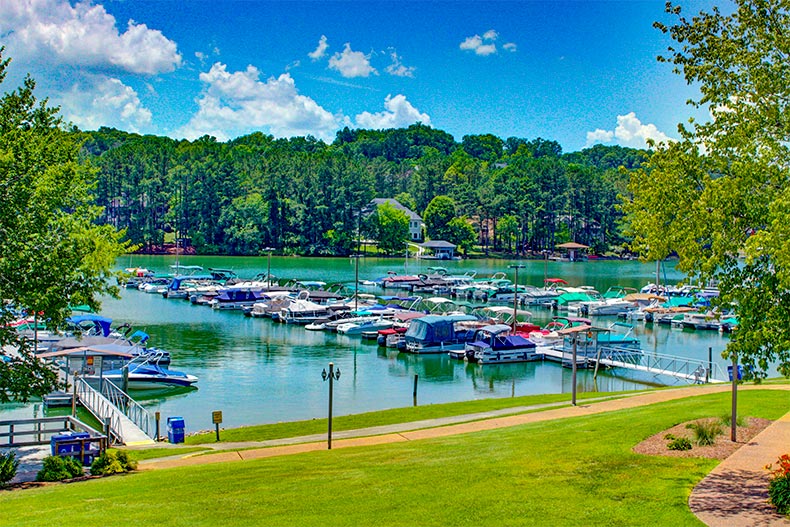 Once a year, 55places.com announces its 50 best-selling active adult communities. However, we also like to take a look at the numbers each month to see which communities are hot sellers at any given point throughout the year. Let's find out which active adult communities buyers were flocking to in October.
We took a look at every sale made through our website between October 1 and October 31, 2018, to determine our ten best-selling active adult communities of the month. There may be active adult communities that garnered more sales overall but these numbers are specific to sales through 55places.com.
If you've been keeping up with our previous monthly best-selling posts, you'll recognize a few names that continually make the top ten mixed with a few newcomers. Please note that this number is drawn from sales made through our website and does not represent overall sales in any given community. To learn more about our criteria breakdown and methodology, click here.
1. Tellico Village - Loudon, TN
Tennessee might not be the first thing that comes to mind when you think of active adult communities, but the state is a real up-and-comer and Tellico Village is one of the top communities driving that interest. This master-planned community is located just outside of Knoxville and offers beautiful views of the Smoky Mountains, the clear waters of Tellico Lake, and rolling golf course hills. The Wellness Center is a state-of-the-art facility that includes a 27,000 square-foot clubhouse and 6,500 square-foot fitness center.
2. Latitude Margaritaville - Daytona Beach, FL
The most popular active adult community of 2018 remains extremely popular with buyers. In the last two years, the Latitude Margaritaville brand has become the biggest in the world of 55+ living and now that the initial round of residents has moved in it's starting to take real shape. Minto recently released a new round of homesites and is currently working on developing amenities such as the town square and Barkaritaville pet spa.
3. Sun City Hilton Head - Bluffton, SC
Sun City Hilton Head is back in the best-selling top ten after dropping off the list for one month. We're not surprised it remains a top seller since it was recently named No. 1 on our list of 55 Best 55+ Communities for 2018 and boasts over 8,000 homes, world-class amenities, and 54 holes of golf. As SCHH resident John Rossman recently told 55places.com, "It's got everything you want and it's right there at your fingertips. All you've got to do is enjoy it."
4. Del Webb Ponte Vedra - Ponte Vedra, FL
20 miles south of Jacksonville, Del Webb Ponte Vedra keeps finding its way back onto this list most months. Along with the great location, we think the impressive array of amenities, activities, and impressive residences are what keeps buyers coming back. That residents here also get to use all of the communal amenities in the Nocatee master-planned community is a nice bonus.
5. Sun City Texas - Georgetown, TX
Sun City Texas shows up on this list most months and usually near the top of the list. Located just outside Austin, this age-restricted community contains 9,900 homes, 86,000 square feet of indoor amenities, and three 18-hole golf courses. Those are the kinds of numbers that add up for happy homeowners and keep convincing new buyers to call it home.
6. Solivita - Kissimmee, FL
Solivita dropped one spot from the previous month but remains a hot seller. Construction might have begun here in 2000 but new homes are still being added all the time, hence all the new neighbors who keep filing into the community. Good thing there are 150,000 square feet of amenities, a 32,000 square-foot Riviera Spa and Fitness Center, 19,000 square-foot Palms Amenity Complex, and two 18-hole golf courses in this golf cart-friendly community.
7. Compass Pointe - Leland, NC
Compass Pointe is a luxury community in Leland, North Carolina, which is just a few minutes from Wilmington. Given the amenity package here, which includes the 10,000-square-foot Grand Lanai Amenities Center, Pointe Wellness Center & Spa, and an 18-hole championship golf course designed by Rick Robbins, it's no surprise to see it on the list. With over 2,000 homes planned and a multitude of models and features to choose from, we expect to see it here in the future as well.
8. Regency at Dominion Valley - Haymarket, VA
Buyers are headed to the heart of Virginia's Prince William County and liking what they see. What they find is Regency at Dominion Valley, an upscale, gated golf community just 35 miles west of Washington D.C. Inside, they find a community that includes a 30,000 square-foot clubhouse, indoor and outdoor pools, an 18-hole golf course designed by Arnold Palmer, and much more.
9. Frisco Lakes - Frisco, TX
Del Webb's Frisco Lakes provides active adults with the best of lakeside living in Texas. Situated along the shores of Lake Lewisville in Frisco, this 55+ community features two sprawling amenity centers totaling more than 40,000 square feet, an 18-hole golf course with lake views, and two state-of-the-art fitness facilities.
10. Pelican Preserve - Ft. Myers, FL
Retirees and golf lovers are finding a botanical paradise waiting for them in Pelican Preserve in Fort Myers, Florida. This gated, 55+ master-planned community is spread across 1,100 acres and will host 2,500 homes upon completion. Homebuyers get to enjoy access to a championship golf course and the 70,000 square-foot Plaza Del Sol clubhouse where all the fun goes down.
The 10 Best-Selling Active Adult Communities in September 2018 on 55places.com
The 10 Best-Selling Active Adult Communities in August 2018 on 55places.com
The 10 Best-Selling Active Adult Communities in July 2018 on 55places.com
The 10 Best-Selling Active Adult Communities in June 2018 on 55places.com