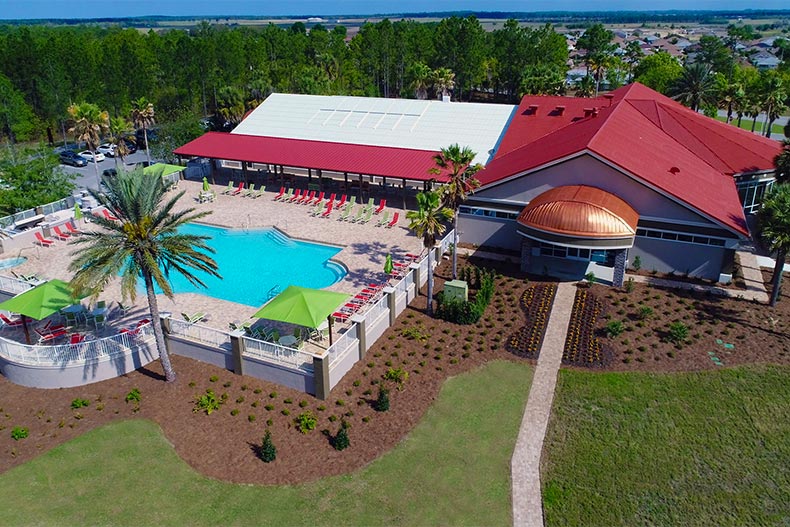 Once a year, 55places.com announces its 50 best-selling active adult communities. However, we also like to take a look at the numbers each month to see which communities are hot sellers at any given point throughout the year. Let's find out which active adult communities buyers were flocking to in August.
We took a look at every sale made through our website between August 1 and August 31, 2018 to determine our ten best-selling active adult communities of the month.
If you've been keeping up with our previous monthly best-selling posts, you'll recognize a few names that continually make the top ten mixed with a few newcomers. Please note that this number is drawn from sales made through our website and does not represent overall sales in any given community. To learn more about our criteria breakdown and methodology, click here.
1. On Top of the World - Ocala, FL
Another list, another appearance by On Top of the World. Recently named one of the 55 Best 55+ Communities of 2018, they're able to maintain their status by meeting the needs of their residents through upgrades in community centers and new amenity additions. No wonder it's the only community to make this list three months in a row. As resident Becky Anderson recently told us, "There's so much to do, anything and everything you can think of. If somebody's bored it's their own fault."
2. Sun City Hilton Head - Bluffton, SC
Sun City Hilton Head drops one spot after being the top-selling community in July. We're not surprised it's remained a top seller since it was recently named No. 1 on our list of 55 Best 55+ Communities for 2018 and boasts over 8,000 homes, world-class amenities, and 54 holes of golf. As SCHH resident John Rossman recently told 55places.com, "It's got everything you want and it's right there at your fingertips. All you've got to do is enjoy it."
3. Lakeside Crossing - Conway, SC
Lakeside Crossing returns to the top ten thanks to its reputation as a community where you can get a lot without paying a lot. This Carolina Low Country community gives residents ample amenities to choose from (including a pub and massage therapy room) and also puts them less than 15 miles from Myrtle Beach and various golf courses.
4. Holiday City at Berkeley - Toms River, NJ
A usual suspect on these lists, Holiday City at Berkeley contains more than 10,000 homes and provides retirees with an enviable line-up of amenities, most of which are spread across six clubhouses.
One of the real bonuses of the low-maintenance lifestyle here is that you rarely need to leave the community thanks to the inclusion of doctors, pharmacies, banks, mini-marts, delis, restaurants, bakeries, and clothing stores. If you do decide to venture out, there's plenty to do in Ocean County.
5. Hot Springs Village - Hot Springs Village, AR
Some folks might have plenty of preconceived notions about living in Arkansas but those ideas seem to be changed by those who see Hot Springs Village, at least based on sales numbers last month.
Located just outside Little Rock, this active-lifestyle master-planned community contains over 9,000 homes and boasts an impressive array of amenities, including nine golf courses, 37 restaurants, 26 miles of walking and biking trails, 13 tennis courts, and access to eleven lakes. No wonder it made the list.
6. Laguna Woods Village - Laguna Woods, CA
Perhaps it's not surprising to see Laguna Woods Village, the largest 55+ active adult community on the West Coast, end up on this list. However, this 12,736-home community has a lot more going for it than just size.
It boasts seven clubhouses, 36 holes of golf, five swimming pools, an equestrian center, and over 250 clubs and organizations. There are also homes in just about every price range, which is what makes it so accessible to so many buyers.
7. Solera Diamond Valley - Hemet, CA
Solera Diamond Valley is the kind of community that wants to offer buyers the best of both worlds. Developed by Del Webb, this 573-home community combines the elements and amenities they're known for providing but does so in a more intimate setting than some of their other big developments.
The Inland Empire setting puts you within two hours of just about anything you'd want to do in Southern California. But if residents want to stay put, they've got the 23,000 square-foot Mountain View Lodge, multiple indoor and outdoor pools, and tons of other amenities to enjoy while doing so.
8. Latitude Margaritaville - Daytona Beach, FL
After taking last month off, we welcome the most popular active adult community of 2018 back to the best-selling list. We're not surprised to see it back. In the last two years the Latitude Margaritaville brand has become the biggest in the world of 55+ living. The first phase recently opened and buyers are starting to give the community some shape and vitality. Minto is currently working on developing the town square, a bandshell for live concerts, and Barkaritaville pet spa, amongst many other amenities.
9. Twin Lakes - St. Cloud, FL
Buyers appear to be getting extremely excited about Twin Lakes, the new 55+ lakefront community in St. Cloud just outside Kissimmee. The enormous lake where residents can boat, kayak, or swim is a big draw, but the amenity selection, which includes a 20,000 square-foot lakefront clubhouse, restaurant & bar, and multiple sports courts, also measures up. The community is set to include about 2,000 attached and single-family homes across 1,100 acres, so there's still plenty of time for new buyers to follow those who made it one of the most popular sellers in August.
10. Sun City Peachtree - Griffin, GA
Located 35 miles south of Atlanta, Sun City Peachtree has been attracting retirees from all over the country since it opened and that excitement doesn't appear to be slowing down given recent buyer interest. A big part of that has to be Club Peachtree, a 45,000 square-foot amenity center that includes a state-of-the-art fitness center, 146-seat movie theater, indoor and outdoor pools, restaurant & bar, and much more. Having the Club Corp Sun City Peachtree Golf Club right there as well doesn't hurt.
Don't forget to check out our previous best-selling active adult community rundowns to see how trends have shifted over the last couple months.