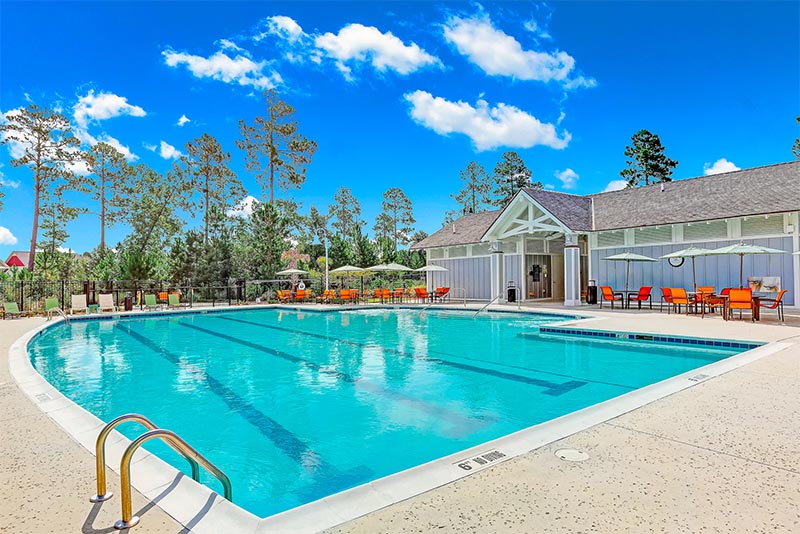 Once a year, 55places.com announces its 50 best-selling active adult communities. However, we thought it might be fun to take a look at which communities are the hottest sellers month-by-month in order to see how buying trends change (or stay the same). So, we took a look at every sale made through our website between June 1 and June 30, 2018 to determine our ten best-selling active adult communities of the month.
Please note that this number is drawn from sales made through our website and does not represent overall sales in any given community. To learn more about our criteria breakdown and methodology, click here.
1. Brunswick Forest - Leland, NC
Brunswick Forest isn't age-restricted but it attracts a steady flow of active adult residents thanks to a very active lifestyle, sprawling wooded landscape, and picturesque coastal environment. The wealth of amenities, from the 18,000 square-foot fitness and wellness center to the community commons with a clubhouse to the Cape Fear National Golf Course, are hard to resist. And there are residences available for all kinds of buyers, with single-family homes and townhomes available from the mid-$200s up to the low $900s.
2. Latitude Margaritaville - Daytona Beach, FL
It's not too much of a surprise to see the most popular active adult community of 2018 so high on the list. In only a year-and-a-half the Latitude Margaritaville brand has become the biggest in the world of 55+ living. The first phase recently opened and buyers are starting to surge in as the community takes shape. They're coming not just for the lifestyle but for the town square, private beach club, and bandshell for live concerts.
3. Sun City Texas - Georgetown, TX
Sun City Texas is famous for its small-town charm and elegant homes carved into the Texas Hill Country. Spread across 5,300 acres and consisting of 9,900 homes, it's the largest age-restricted community in the state of Texas. Boomers also flock to Sun City Texas because of its close proximity to Austin, which is just 35 miles away and offers additional culture, entertainment, and big-city attractions. The swath of available homes, ranging from the high $100s to mid $800s, means there's something for most buyers.
4. Four Seasons at The Lakes of Cane Bay - Summerville, SC
Four Seasons at The Lakes of Cane Bay is an age-restricted community located in Cane Bay Plantation in Summerville, SC. Plans ultimately call for just 800 homes but sales are already moving at a steady pace. A lot of that has to do with plans for a 20,000 square-foot clubhouse with resort-style amenities, a vibrant lifestyle full of club and event opportunities, and its close proximity to Charleston and several beaches.
5. Kings Point - Sun City Center, FL
This established 55+ community in Sun City Center, Florida has just over 5,200 homes. Kings Point has been a steady top-selling active adult community for some time thanks to its affordable homes as well as its diverse lineup of resort-style amenities found in the 97,000 square-foot Kings Point Clubhouse. It also doesn't hurt to have convenient golf cart access and close proximity to the Tampa Bay Area.
6. Lakeside Crossing - Conway, SC
Lakeside Crossing has been a hit for those looking the 55+ lifestyle in the Carolina Low Country. Not only do they have all the amenities and features you've come to expect, such as a packed clubhouse, fitness complex, and multiple sports courts, but it also puts residents less than 15 miles from Myrtle Beach and all of the golf courses in the region. Perhaps most attractive of all, well-appointed homes can be found here for less than $200K.
7. On Top of the World - Ocala, FL
It's rare for us to make any kind of list like this and not see On Top of the World on it. Consistently one of the top-selling 55+ communities on the site, they're able to maintain their status by meeting the needs of their residents through upgrades in community centers and new amenity additions. It also doesn't hurt to have over 10,000 homes in the mix, many of which are available for below $100K.
8. Valencia Lakes - Wimauma, FL
Valencia Lakes in Wimauma, Florida is a 55+ community that continues to attract active adult buyers with state-of-the-art amenities, a very active lifestyle, and luxurious new construction homes at reasonable prices. What we've found is that buyers who cherish the Sun City Center location but prefer newer homes and world-class amenities often look here. Homes here range from the low $200s to the mid $600s and come complete with all the features you'd expect at those prices.
9. Heather Gardens - Aurora, CO
It might seem a little surprising to see an active adult community in Colorado make the list but the Front Range is a real hot spot for 55+ living and Heather Gardens is helping lead the way. Constructed between 1973 and 1986, Heather Gardens offers a variety of housing options in a beautiful 198-acre park-like setting. You'll find homes here between the high $100s and mid $400s and buyers are lining up for the community that includes a 9-hole executive golf course and 50,000 square-foot clubhouse which includes a fitness center, pool, and restaurant.
10. Holiday City at Berkeley - Toms River, NJ
A usual suspect on these kinds of lists, Holiday City at Berkeley hosts more than 10,000 homes and provides retirees with an enviable line-up of amenities, most of which are spread across six clubhouses. They even make it so you rarely need to leave the community thanks to the inclusion of doctors, pharmacies, banks, mini-marts, delis, restaurants, bakeries, and clothing stores. That makes it a popular place for buyers, especially when you throw in the homes available between the low $100s and low $300s .
Make sure you're getting more content like this by following 55 Places on Facebook, Twitter, and Instagram.