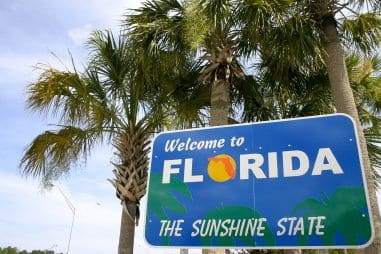 As one of the country's most popular retirement states, Florida features a wide range of beautiful active adult communities. Many of these developments offer both fabulous amenities and affordable homes. The team at 55 Places complied the following list of the 10 most popular budget-friendly Florida active adult communities based on website visits from you.
1. The Villages – The Villages, FL– With approximately 75,000 homes, The Villages has become the largest age-restricted community in the world. Its impressive amenities include dozens of recreation centers, 26 executive golf courses, 9 championship golf courses, hundreds of retail centers, over 50 swimming pools, hobby and game rooms, sports courts, equestrian facilities, and much more. Yet it also features affordable homes beginning at less than $100,000.
2. Sun City Center – Sun City Center, FL– Just 25 miles south of Tampa, Sun City Center is a self-contained village with its own shops, restaurants, worship centers, and hospital. The community also features multiple recreation centers with resort-style amenities such as fitness centers, swimming pools, hobby and game rooms, sports courts, and an on-site spa. Affordable single-family and attached homes are located in various neighborhoods throughout the community.
3. Kings Point – Sun City Center, FL – As a gated community within Sun City Center, Kings Point offers its own amenities as well as access to the retail centers and services in the larger community. Homes in Kings Point include approximately 5,200 attached villas which are ideal for snowbirds or year-round residents. The community supports an active adult lifestyle with fitness centers, swimming pools, hobby and game rooms, sports courts, and other resort-style amenities.
4. On Top of the World – Ocala, FL– Set just outside of Ocala, On Top of the World has plans for approximately 10,000 residences including both resale and new construction homes. The community is divided into several neighborhoods, some with included yard work and exterior home maintenance. Residents in each neighborhood have access to the community's exciting line-up of resort-style amenities, which are spread across multiple clubhouses.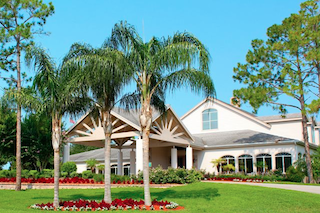 5. Timber Pines – Spring Hill, FL– In Spring Hill, Timber Pines offers a fabulous Gulf Coast location in the Tampa Bay area. The community boasts four golf courses for a total of 63 holes of golf, yet there are also plenty of recreations for non-golfers to enjoy. The impressive amenities include outdoor swimming pools, a fitness center, hobby and game rooms, sports courts, and a 570-seat performing arts center. Affordable homes include both single-family models and attached villas in many styles and sizes.
6. Oak Run – Ocala, FL- With just over 3,500 homes, Oak Run is a smaller Florida community that still offers a fabulous active adult lifestyle. Affordable homes include duplexes and single-family designs in sizes ranging from 1,049 to over 2,200 square feet. Multiple clubhouses feature indoor and outdoor swimming pools, hobby and game rooms, demonstration kitchens, multipurpose ballrooms, a fitness center, and a variety of outdoor recreations.
7. Kings Isle – Port St. Lucie, FL – Set in Port St. Lucie, Kings Isle is an age-restricted enclave within the larger St. Lucie West community. This very affordable community features 987 homes in single-family and attached courtyard designs. The 15,000 square-foot community clubhouse offers desirable amenities including a fitness center, swimming pool, arts and crafts studio, sports courts, and plenty of room to socialize with neighborhood friends.
8. Spruce Creek South – Summerfield, FL– Just north of The Villages, Spruce Creek South is a more intimate community of just 1,650 single-family homes. The community features an 18-hole golf course as well as a 25,000 square-foot clubhouse complete with a fitness studio, hobby and game rooms, a swimming pool, sports courts, and other recreations. Residents can easily travel by golf cart throughout the community and to the adjacent shopping plaza.
9. Highland Lakes – Leesburg, FL– With just 938 residences, Highland Lakes offers a quiet retreat surrounded by small lakes and natural wetlands. Homes include both attached villas and single-family designs, ranging in size from 1,040 to 1,852 square feet. The inviting clubhouse provides amenities such as a fitness room, hobby and game rooms, indoor and outdoor swimming pools, and sports courts. Residents can also explore three nature trails or enjoy catch-and-release fishing.
10. Arlington Ridge – Leesburg, FL– Active adults who want a more intimate community may prefer Arlington Ridge. Set in Leesburg, this Central Florida community has just 629 homes, and a wide range of amenities. The spacious clubhouse features indoor and outdoor recreations, as well as on-site restaurants and meeting space for the community's many social clubs. Resident golfers enjoy the 18-hole championship course, while everyone can appreciate the easy golf cart travel throughout the community.
Active adults looking for an affordable Florida retirement destination in the Sunshine State may find their dream homes in one of these budget-friendly communities.