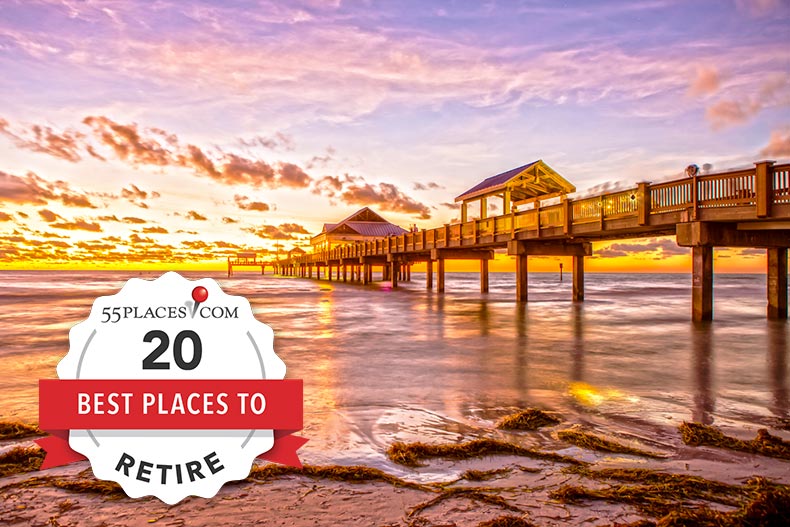 Close to 10,000 baby boomers retire every single day, which comes out to close to four million every year. That's a lot of people looking for their right place to retire. And given how many retirement destinations there are in the United States alone, that's a lot of unknowns and unanswered questions about which place makes the most sense for each and every person.
That's where 55places.com, the number one resource for active adult communities, comes in. We've identified the 20 best places to retire in 2018 by analyzing the cost of living, geographical landmarks, property taxes, economic opportunities, tax breaks available to seniors, access to area amenities, attractions, conveniences, medical facilities, and the overall quality of active adult communities. You can learn more about our methodology here.
While we understand that our list is compiled using objective data and doesn't take into account the personal needs and requirements of each active adult, we hope it helps inform your search for the ideal retirement destination and 55+ community to fit your lifestyle.
1. Tampa Bay Area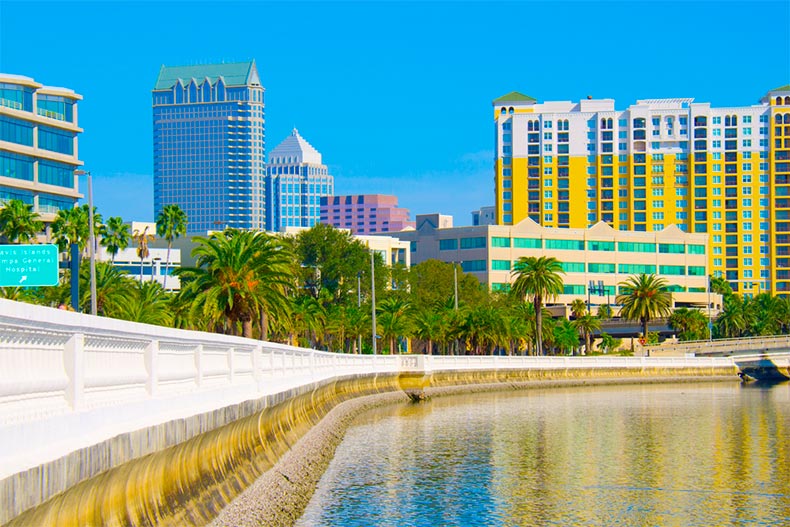 Whether you're looking for warm weather, affordability, or access to necessities, the Tampa Bay area has it.
When it comes to retirement, many people might think of South Florida. But there's a pretty strong case to be made for the Tampa Bay Area as the top spot to retire in 2018. The most obvious draws to the region are the gorgeous, sunny beaches that overlook the warm waters of the Gulf of Mexico. Temperatures certainly stay high throughout the year but the region offers a seasonal respite you won't often find in other parts of the state.
Tampa itself is full of cultural attractions, such as the Tampa Museum of Art, the Henry B. Plant Museum, and the Straz Center for the Performing Arts. Westshore Plaza, Hyde Park Village, and Ellenton Premium Outlets provide active adults with a wide range of shopping options. Golfers will appreciate the many courses and options available, from TPC Tampa Bay to Saddlebrook to Westchase Golf Club.
The region is also home to excellent health care options and respected hospitals, such as Tampa General Hospital, St. Joseph's Hospital, and James A. Haley Veterans Hospital.
When it comes to cost of living, the region is well below the national average, especially when it comes to housing and health care. Sure enough, the area is chocked full of active adult communities (over 40), many of which offer very affordable options (below $100K) that still include access to world-class amenities.
What Our Local Partner Agent Says
"The location is beyond compare here in the Tampa Area. Between a few minutes drive to the Gulf to the festivals to all of the things to see and do, you will never be bored. From sampling fine foods to casual dining, foodies will not be disappointed. I can't recommend the Tampa Area highly enough" - Denise Wilkinson
Area Communities to Consider
2. Sarasota-Bradenton Area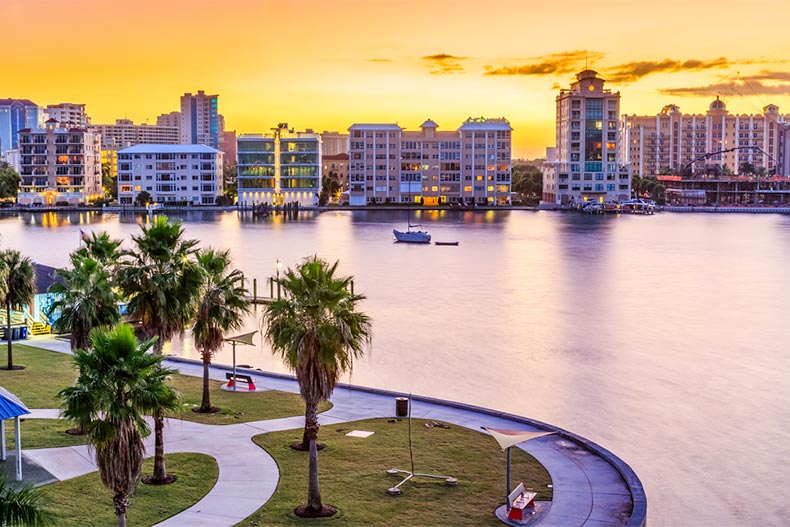 The Sarasota-Bradenton Area is no stranger to being named one of the best places to retire and with good reason. Just like with our previous pick, the beautiful beaches, warm temperatures, and an expansive list of experiences waiting to be enjoyed make it hard to find a reason not to like retirement here. While Sarasota has plenty to offer itself, the location also puts you within an hour of Tampa and two hours of Orlando, while Sarasota-Bradenton International Airport makes longer travel easy.
Those looking for fun closer to home will find it all over the region. The Ringling Museum of Art and the Sarasota Orchestra offer dependable artistic enjoyment while several events roll into town each year, including the Sarasota Music Festival, the Sarasota French Film Festival, and the Ringling International Arts Festival. Those looking to shop or eat will find an abundance of options in St. Armands Circle, Sarasota Square Mall, Ellenton Premium Outlets, and elsewhere. And those who want to play golf or take in a spring training baseball game will have plenty of options to do either or both.
The cost of living here is relatively affordable, especially compared to South Florida. And given the number of active adult communities in the area, there are plenty of options for each price range.
What Our Local Partner Agent Says
"The Sarasota-Bradenton Area is so great for retirees for so many reasons. Residents don't have to worry about state income tax and pay a very low property tax. The weather is wonderful, there are so many cultural and arts-related activities to choose from, the beaches are the best in Florida, the health care options are top-notch, and the food scene is highly underrated. Plus there are tons of very affordable places to live that also get you the most bang for your buck" - Carol Bentivegna
Area Communities to Consider
Esplanade at Artisan Lakes - An active lifestyle community in Palmetto that includes a lavish clubhouse as well as an on-site full-time activities director.
Del Webb Lakewood Ranch - A 1,300-home 55+ community that is part of the largest green-certified community in the U.S.
VillageWalk of Sarasota - A gated neighborhood in Sarasota's Palmer Ranch master-planned community.
3. Scottsdale Area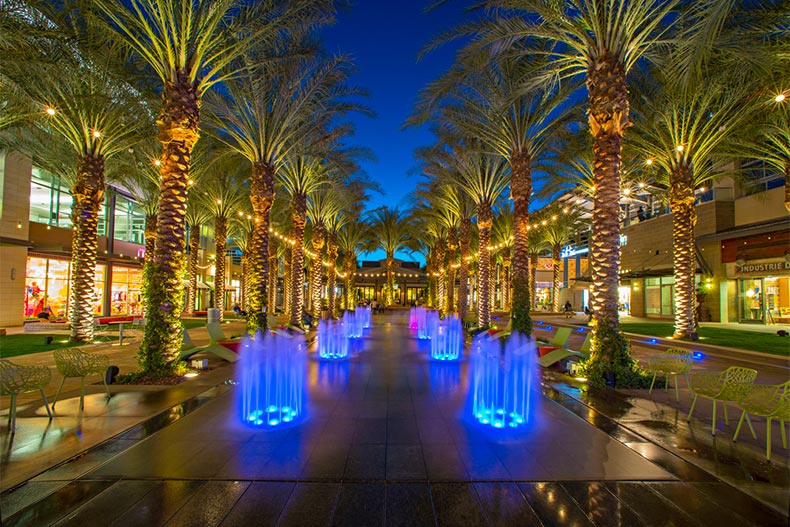 Scottsdale is full of high-end dining, shopping, and entertainment options.
If one of the major driving factors for your retirement is a climate with low humidity and warm weather, it's hard to argue with Arizona. Within the state, the Scottsdale Area tends to stand out from the crowd. Sure, it's technically a suburb of Phoenix but Scottsdale has created a scene all its own, one that retirees continue to find appealing.
As a city geared towards the low-maintenance and easy-going lifestyle that both retirees and tourists are looking for, there is a never-ending supply of ways to pamper or enjoy yourself around town. Those looking for arts and culture will find it in the Scottsdale Center for the Performing Arts, Kerr Cultural Center at ASU, and Scottsdale Museum of Contemporary Art. There are tons of golf courses to choose from depending on your experience and skill. Scottsdale Stadium is also the spring training home of the San Francisco Giants. Scottsdale is also home to more than 2,500 retailers and malls, including Scottsdale Fashion Square, Biltmore Fashion Park, and everything Old Town Scottsdale has to offer.
The city is home to several award-winning hospitals, including Honor Health (formerly Scottsdale Healthcare) and Mayo Clinic Arizona, one of only three branches of the famous clinic and research facility.
What Our Local Partner Agent Says
"With an average of over 300 days of sunshine per year, as well as sweeping vistas and stunning landscapes in every direction, Scottsdale has long been a retiree's paradise. It's well-known for a multitude of local shopping, dining, and golfing experiences. Being just a two-hour drive to the cool pines or five-hour drive west to the beach is an added bonus. Sky Harbor International Airport hosts two major airline hubs, making it easy and convenient to travel or receive visitors. And new residents are always pleasantly surprised by the incredible affordability of living here." - Barb Savoy
Area Communities to Consider
Terravita - A Del Webb community that caters to both socially-minded and physically-active residents looking for a low-maintenance lifestyle.
Scottsdale Shadows - A gated and maintenance-free condo neighborhood located in the heart of Scottsdale.
Villa Monterey - An amenity-rich, 800-home community located close to shopping and outdoor spaces.
4. St. George (UT) Area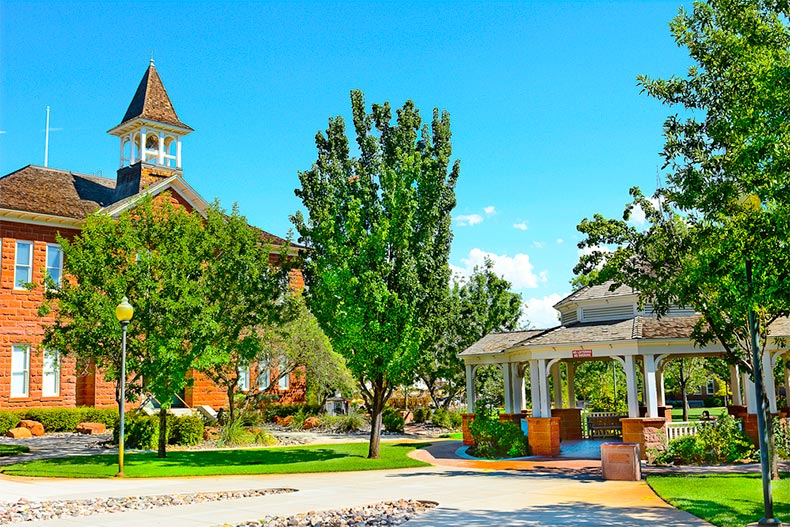 The great thing about the St. George Area is how it puts you in the middle of so much. The city is located right at the point where Utah, Arizona, and Nevada meet. It's also found at the northeastern edge of the Mojave Desert, close to the Pine Valley Mountains, and near the Colorado Plateau and Great Basin. We won't say St. George is a well-kept secret because the secret is starting to get out, but we will say that if you didn't think you'd ever look to Utah for your retirement, you might want to think again.
Whatever your preconceived notions about what's available here, leave them at the door. The area is chock full of notable parks, including Zion National Park and St. George Dinosaur Discovery Site. There are several award-winning golf courses in and around town, not to mention over 65 miles of urban trails for cycling and running.
There are numerous museums and arts centers to namecheck but it's certainly worth noting St. George Art Museum, Tuacahn Amphitheatre, and Rosenbruch Wildlife Museum. The St. George Arts Festival rolls through town each year, showcasing an array of contemporary Southwestern indigenous art. There's also the Washington County Fair in August and the Jubilee of Trees in November. Meanwhile, Historic Downtown St. George offers unique shops, restaurants, and boutiques. Nearby shopping centers also feature many large-chain stores and factory outlets.
What Our Local Partner Agent Says
"There is a great sense of community in St. George to go with the sunny blue skies, warm dry climate, spectacular red rock mountains, plenty of golf courses, and wide-open spaces to play. The weather is sunny over 300 days a year and, at 3,000 feet elevation, the snow is seen on the higher mountaintops but rarely makes its way down below. Throw in proximity to the national parks (Zion, Arches, Bryce Canyon, and Grand Canyon) along with Lakes Mead and Powell, snow skiing at Brian Head, and of course, Las Vegas, and you have one great place to play." - Allen Reid
Area Communities to Consider
SunRiver St. George - A gorgeous 55+ community featuring top-notch amenities located on the outskirts of St. George.
Entrada at Snow Canyon - A private equity country club built around an 18-hole championship private course with 1,682 homes.
Brio - A Jack Fisher Homes community featuring 610 single-family homes and an impressive collection of amenities.
5. San Antonio Area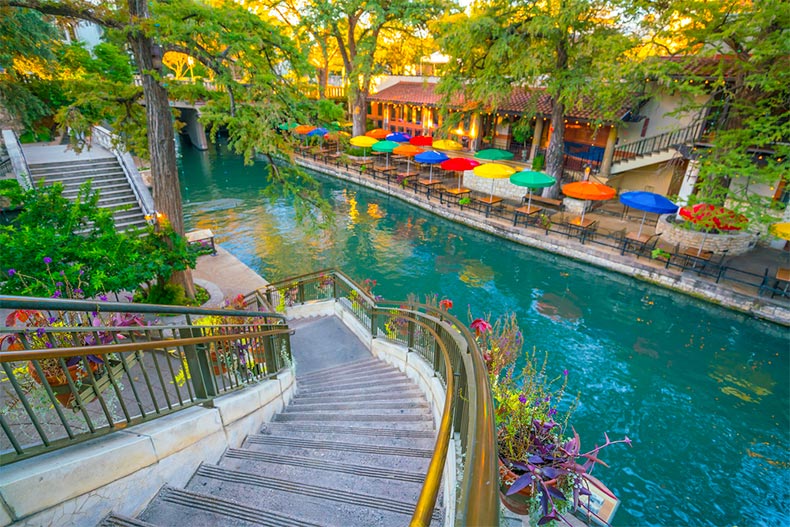 When it comes to art and culture, the San Antonio Area stands among the most interesting and exciting cities in the entire country. Along with The Alamo, the region is also home to all kinds of museums and art centers, including the San Antonio Art League Museum, the Public Theater of San Antonio, and the Guadalupe Cultural Arts Center.
There are plenty of chances to get out and enjoy the region. A trip to Brackenridge Park includes visits to the Witte Museum, San Antonio Zoo, Japanese Tea Gardens, and more. You can tour the manmade waterways that curve through downtown via the San Antonio River Boats. There are six municipal golf courses and driving ranges through the city as well as great courses such as TPC San Antonio and The Quarry Golf Club.
The rich local culture comes out in the food, the festivities, and the overall experience in and around San Antonio. You'll be able to enjoy authentic Tex-Mex and barbeque as well as cuisine from around the world while also enjoying annual events such as Ford Holiday River Parade, the Texas Folklife Festival and the Fiesta San Antonio. Life here is a constant celebration.
What Our Local Partner Agent Says
San Antonio is a growing city with much to offer its residents and visitors. It's a multicultural and diverse community with historical ties to early German and Mexican communities. It is nicknamed "Military City USA" for its large military presence and multiple bases and also known as a city with highly regarded medical centers, both civilian and military. Weather conditions offer beautiful spring and fall seasons, with very warm summers and mild winters. - Bill Wells
Area Communities to Consider
Hill Country Retreat - a 2,000-home active adult community by Del Webb and Village Builders located in the Texas Hill Country.
Campanas at Cibolo Canyons - A gated community in the suburbs of San Antonio featuring Spanish-inspired architecture and lush native landscaping.
Roseheart - A 244-home active lifestyle neighborhood that represents diverse interests but is also small enough so residents don't get lost in the crowd.
6. Daytona Beach Area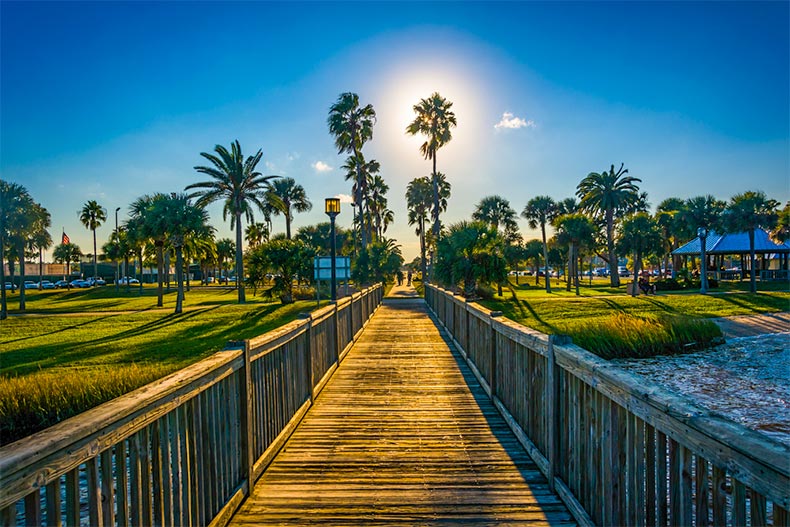 Fishing, boating, and beachgoing are always options in Daytona Beach. But, there's so much more to do beyond that.
When you think of Daytona Beach, you might think of fast cars and spring breakers. However, that might cause you to miss out on one of the trendiest retirement hotspots in the country right now. The Deltona–Daytona Beach–Ormond Beach Area sneaks up on retirees when it comes to reasons why it makes a lot of sense. Obviously, there's the beach and the good weather. But it's the region's affordability and bang for the buck, especially in Florida, that really makes it stand out.
Obviously, fans of fast things are going to enjoy living here with Daytona International Speedway close by and Bike Week bringing in the motorcycles every year. However, there's a slower side to the region as well, with plenty of sunny beaches, fishing holes, and golf courses such as Daytona Beach Golf Club and LPGA International. Baseball fans will likely be spending their summers at Jackie Robinson Ballpark, home of the Class A Daytona Tortugas.
Shopping is a big deal here as well. There's Tanger Outlets and The Trails Shopping Center but also various retails centers currently in the works as well. It's also a region rich in culture and history, highlighted by the Washington Oaks State Gardens, the DeLand Naval Air Station Museum, and Ormond Memorial Art Museum.
What Our Local Partner Agent Says
Whether you're in search of an authentic adventure, a picture-perfect place to call home, or something in between, Daytona Beach is so much more than a racetrack and beach (even though it is the World's Most Famous Beach). If boating is your thing, there are a number of marinas to dock. If golf is for you, the area boasts over 19 golf clubs, from public to semi-private to private. There's a full array of health services, including the new Florida Hospital Memorial Medical Center and the Halifax Regional Medical Center along with numerous specialty services. Put it all together and the Daytona Beach Area is a great place to call home. - Dick Picard
Area Communities to Consider
Latitude Margaritaville - The most popular active adult community in America is like living in Jimmy Buffett's daydreams.
Plantation Bay Golf & Country Club - An all-ages gated community that offers memberships at three different levels.
Halifax Plantation - A luxury golf community that features a spacious clubhouse, resort-style amenities, and various residential opportunities.
7. Grand Rapids Area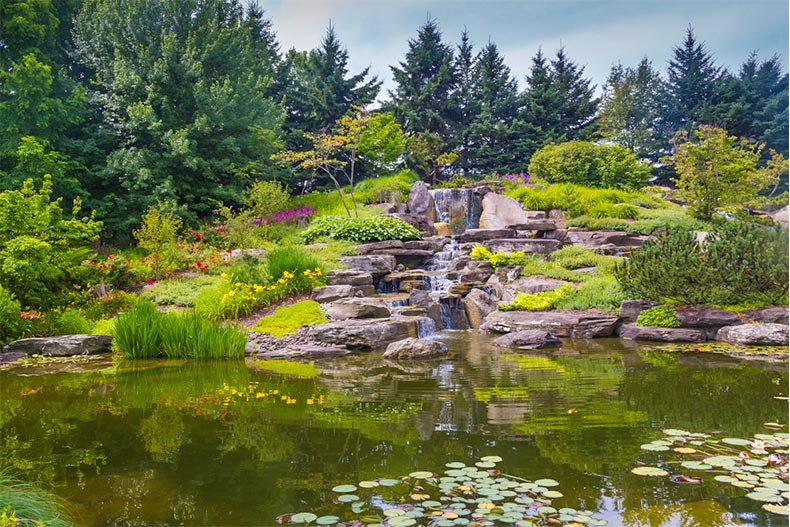 Whether you spend your time at Meijer Gardens, taking in public art, or at the breweries, Grand Rapids makes it easy.
Retire in West Michigan? You might not have ever even considered that. But perhaps you should consider taking a closer look at the Grand Rapids Area. Despite being one of the largest metro areas in Michigan, the small-town feel, strong cultural appeal, and proximity to everything you need make it a bold retirement destination. A big part of the appeal for Grand Rapids is the low cost of living compared to the national average. Housing prices are extremely low but the value you get for your money remains high, especially when you factor in everything to do here.
Grand Rapids is perhaps best known for its public art affinity. Alexander Calder's abstract sculpture, La Grande Vitesse is now the centerpiece of Calder Plaza. The city hosts hundreds of weekly and annual festivals here each year. The Grand Rapids Public Museum runs along the Grand River. And you wouldn't want to miss Frederik Meijer Gardens & Sculpture Park, a 158-acre botanical garden and outdoor sculpture park full of stunning displays and exhibits.
The city has also become known as one of the craft beer capitals of the U.S. The region's 80+ craft breweries means you'll have plenty of choices to sample and brewery tours to take. Brewery Vivant, Atwater Brewery, Founders Brewing, and Grand Rapids Brewing Co. are great places to start.
What Our Local Partner Agent Says
"Grand Rapids and West Michigan, in general, offers exciting entertainment, rich culture events, elite medical and education facilities, fun festivals, and beautiful seasons to enjoy. The city offers a community feel unlike anyplace else, not to mention plenty of great dining and shopping options. It's also a short drive to Lake Michigan. Grand Rapids is the home you have always dreamed about!" - Charlene Hammontree
Area Communities to Consider
8. Lancaster-Ephrata Area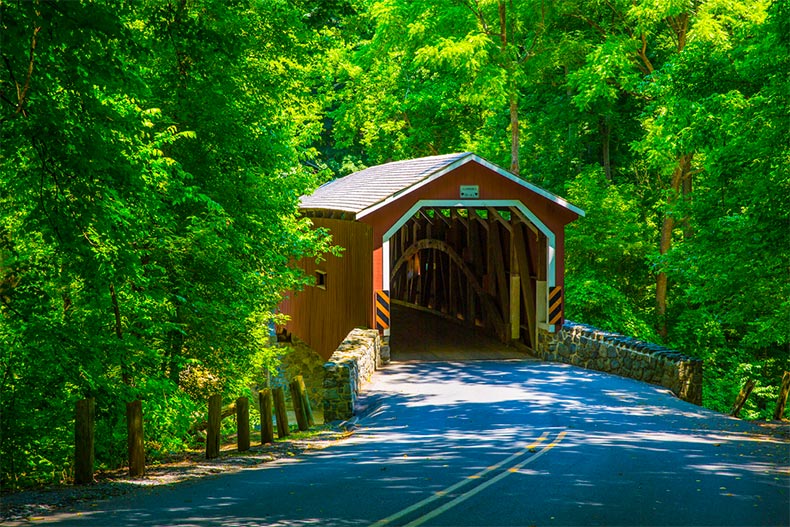 The Lancaster-Ephrata Area provides rural living with modern conveniences.
An idyllic mixture of rolling farmlands and quaint suburban neighborhoods, the Lancaster-Ephrata Area is a retirement destination worth considering if you're looking get back to nature without giving up the creature comforts of daily life. You're in the heart of Pennsylvania Dutch Country, but the city of Lancaster is also in the midst of a rebirth, balancing its historic appeal with modern growth in retail, health care, and business.
Along with the region's many boutiques and vintage shops, there is an abundance of shopping and markets for residents to enjoy. First and foremost is the Lancaster Central Market, the oldest continuously operated farmers market in the U.S. Park City Center is the largest enclosed shopping center in South Central Pennsylvania. You'll also find two outlet shopping centers in Lancaster: Tanger Outlets and Rockvale Outlets.
Lancaster is also full of art, craft, and historical museums, including the Demuth Museum, the Lancaster History Museum, and Lancaster Mennonite Historical Society Museum. Gallery Row on North Prince Street features a slew of art galleries and the city itself offers over 40 galleries and artists' studios. While you're downtown, there are plenty of restaurants and cafes, theaters, and shops to enjoy each day as well.
What Our Local Partner Agent Says
"The Lancaster area offers a blend of beautiful countrysides, small-town values, and easy access to major metropolitan areas. You'll find friendly neighbors and outdoor adventures such as hiking, biking, and kayaking. The vibrant downtown areas here feature an active art community, fine dining, miles of microbrews, distilleries to sample, and wine tasting trails to enjoy. There are plenty of opportunities for historic exploration with close proximity to both Revolutionary War and Civil War landmarks. There's truly something for everyone, a great place to enjoy retirement!" - Walt Wensel
Area Communities to Consider
9. Las Vegas Area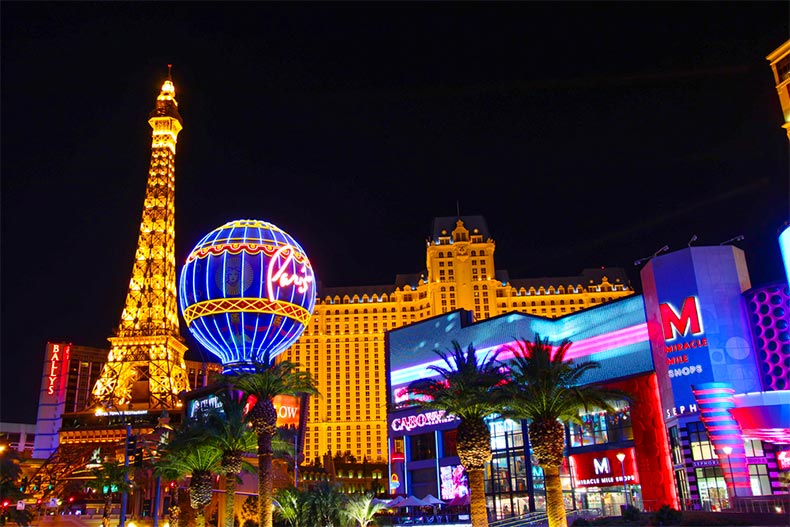 It might already be considered a given that the Las Vegas Area is among the top retirement destinations in the country, but the ever-evolving reasons that make it one of the best spots is what makes it so worthwhile. From a financial standpoint, there's a lot to like about retirement in Southern Nevada. The state does not impose an income tax, which includes Social Security and retirement accounts. Also, there are no estate or inheritance taxes. There's also an opportunity for those over the age of 62 to qualify for a property tax rebate each year.
Obviously, the climate is a big draw to Las Vegas. And while temperatures can rise into triple-digits in the summer, it's good to know that most of the year offers mild and warm temperatures. And of course, just about every place you go will have been built to ensure you're well air-conditioned.
Vegas is a golfer's delight with great courses such as the Las Vegas Paiute Golf Resort, Las Vegas National Golf Club, and Royal Links Golf Club. It's also a bowler's paradise with tons of lanes to choose from, including Texas Star Lanes and the Gold Coast Bowling Center. Rather relax and play bingo? There are 20+ bingo halls to choose from.
What Our Local Partner Agent Says
"The Las Vegas area has unlimited offerings for retirees. The entertainment and The Strip, tax savings and low cost of living, and surrounding national parks for hiking, biking, RVing, and four wheeling. You can get anywhere you want in the Las Vegas Area in thirty minutes while Los Angeles, San Diego, Phoenix, and the Grand Canyon are all within five hours. You'll also get great airfares at the easily accessible McCarran International Airport." - Robert Feldman
Area Communities to Consider
10. Boise Area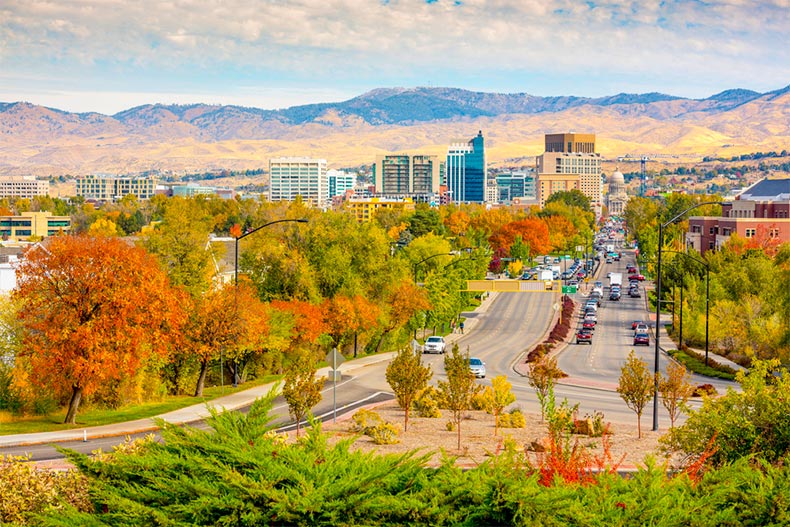 Boise is a growing city full of things for active adults to explore.
Idaho is another state that doesn't automatically jump out to a lot of people when they think of retirement, but given what's going on in the Boise Area these days they might want to consider it. The mild, four-season climate, relative affordability to most other major cities in the region, and the Rocky Mountain backdrop all make for a solid foundation for a fun retirement.
Nature is a huge part of the appeal for this region. Boise is close to 30 state parks as well as Yellowstone National Park. The 25-mile Greenbelt that wraps around the city is an ideal space for active adults to walk, bike, or just meander. The Boise River is also a great fishing, swimming, and rafting destination. While you're out, make a stop at Zoo Boise or the Aquarium of Boise to see hundreds of different species from around the world. And of course, the area is full of opportunities for skiing, snowboarding, and cross-country skiing, all of which can be done in Bogus Basin.
Boise is also home to plenty of cultural and performing arts centers, including the Boise Art Museum, The Boise Philharmonic, and Trey McIntyre Project. Several festivals worth checking out roll through town every year, including the Gene Harris Jazz Festival, the Idaho Shakespeare Festival, and Festival of Trees.
What Our Local Partner Agent Says
"Boise has it all! Fabulous temperate weather with outdoor activities galore within the city and in the mountains. Downtown Boise is full of art museums, live theatre, extraordinary dining, and great music venues. As a university town, there is a huge emphasis on learning and contribution to the community. The shopping and medical facilities are also first-rate." - Dianne Berning
Area Communities to Consider
11. Charlotte Area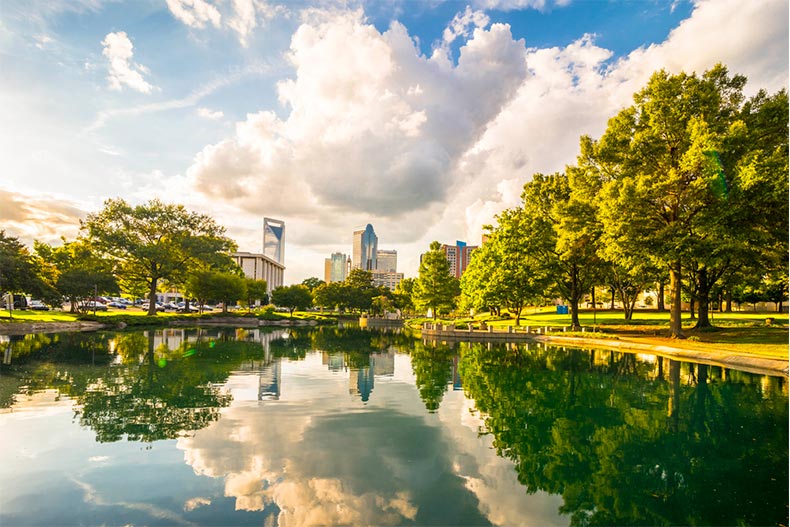 As the halfback retirement trend grows in popularity, places like the Charlotte Area are seeing a surge of interest from active adults. It's no wonder considering how much there is to do here, the inviting climate to do it all in, and the financial flexibility it provides for retirees. Average yearly daytime temperatures are comfortably in the 70s. Summers are warm and humid, with summer daytime temperatures commonly reaching the high 80s. Most months average just three inches of rain.
If you're about that golf life, you probably want to be here. Not only are there great local courses like Birkdale Golf Club and Highland Creek Golf Club but you're also a short drive from the 80+ golf course found around Myrtle Beach. Sports fans will also appreciate being able to visit the NASCAR Hall of Fame and attend Charlotte Panthers football games, Charlotte Hornets basketball games, Charlotte Checkers hockey games and, Charlotte Knights baseball games.
Charlotte is also home to dozens of museums (Bechtler Museum of Modern Art, Carolinas Aviation Museum), various performing arts centers (Charlotte Ballet, Charlotte Symphony Orchestra), and tons of annual festivals (Carolina Renaissance Festival, Yiasou Greek Festival, Taste of Charlotte).
What Our Local Partner Agent Says
"The Charlotte metro area is a fantastic place to live and has recently become a popular retirement destination. The weather is fantastic as we experience all four seasons and the taxes and the cost of living are low. The location can't be beaten as Charlotte is centrally-located on the East Coast, only three hours to the beach and two hours to the mountains. Also, we have the sixth-busiest international airport in the country, making it easy for residents to travel all over. All of these reasons combined make moving to Charlotte attractive to people all over the country. There isn't a better place to call home." - Kelly Watson
Area Communities to Consider
12. Port St. Lucie Area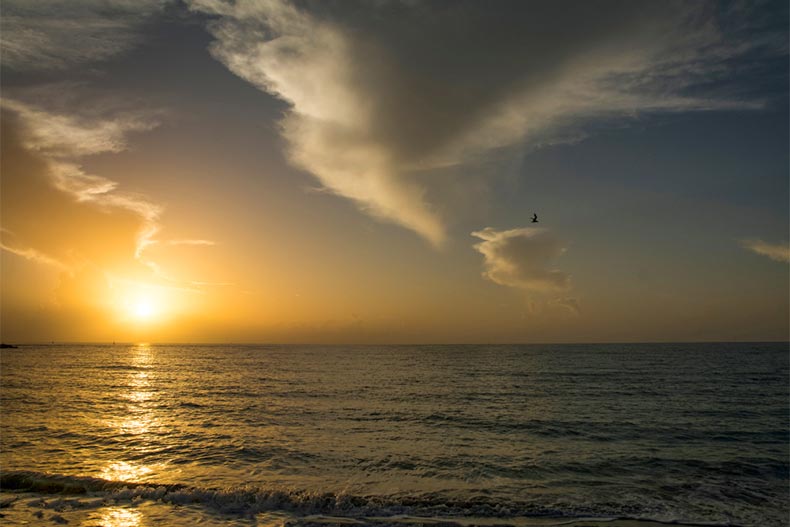 A seaside sunset is always an option in Port St. Lucie.
"Treasure Coast" is a term used to describe the South Florida region that lies just north of Palm Beach County. Nestled in that region is Port St. Lucie, which is quickly establishing itself as a retirement capital of Florida's present and future thanks to an influx of new communities, a rising population, and an uptick in local jobs and development. However, even as Port St. Lucie grows into a larger city, it has retained the feeling of a small town. The overall cost of living here remains lower than similar metros, especially those in South Florida.
The city is perhaps best known to sports fans as the home to New York Mets spring training, the St. Lucie Mets and the Gulf Coast League Mets, who play their games at First Data Field. It's a real golfer's paradise as well, thanks to the Tesoro Club and the PGA Golf Club, which includes 54 holes of golf, a learning center, and a historical center. The City of Port St. Lucie also oversees almost 40 parks and recreational facilities.
The Port St. Lucie Botanical Gardens are a wonderful place to spend the day while the McCarty Ranch Preserve offers plenty of hiking, biking, kayaking and fishing opportunities. Plenty of residents also spend their day walking the Riverwalk Boardwalk along the St. Lucie River to enjoy the wetland surroundings. There are also plenty of beautiful beaches, quality restaurants, and fun shopping opportunities to take advantage of in and around town.
What Our Local Partner Agent Says
"Port St. Lucie is where you can live the lux active adult lifestyle for less. The prices are fantastic and I believe that if you come here on vacation to see what's available you won't want to leave. You can sit on sandy beaches to watch each sunrise, dine on the riverfront during sunset, play golf, scuba dive, go fishing, get on a boat, see a great show, or hit the casino. Port St. Lucie has it all!" - Kim Kirkman
Area Communities to Consider
13. Greenville Area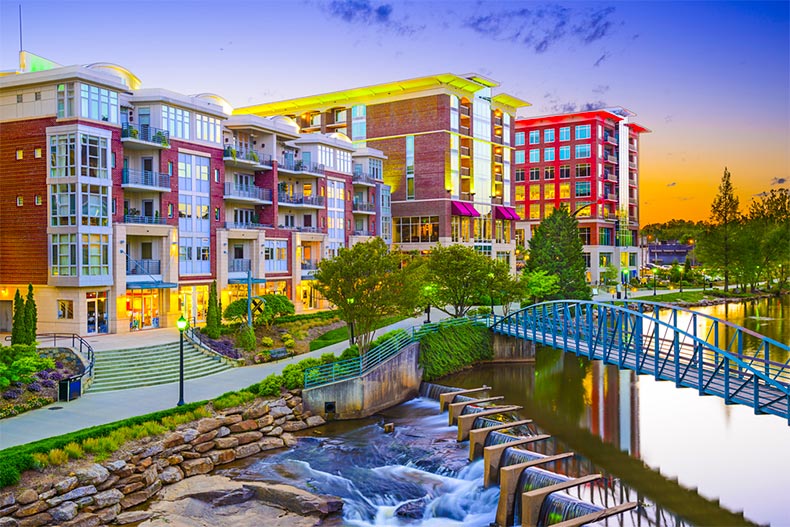 The Carolinas have had an increasing popularity in the active adult community in recent years, and this year the Greenville Area in South Carolina has earned its spot amongst the best places to retire. Some may be attracted to Greenville for its cost of living, with the median housing cost being significantly lower than the national average. Or perhaps it is the mild weather of the region that is hard to resist, winter temperatures average in the 40s while the summer season sits somewhere in the low 80s.
Within the city, there are many parks, including Falls Park on the Reedy, which has a variety of gardens and artful landscaping. Greenville is also home to a flourishing downtown area. Residents and tourists alike enjoy the Carolina Music Museum, Museum and Library of Confederate History, and Greenville County Museum of Art. The downtown area of Greenville also has a growing culinary scene with many restaurants and pubs finding their homes on Main Street.
There are also several golf courses around the city worth noting, including CrossWinds Golf Course, The Preserve at Verdae, and The Walker Golf Course.
What Our Local Partner Agent Says
"Looking for a wonderful place to retire? Greenville, South Carolina has so much to offer for seniors who want a variety of activities to stay active with local hiking and biking trails, lakes and rivers, and award-winning parks and green space. The thriving arts and entertainment in Greenville, which includes cultural opportunities of first-class museums, plays and concerts, and a very active restaurant scene, all make Greenville an excellent choice for retirees. The overall excellent affordability of living in Greenville, not to mention world-class health care and taxes below the national average, keep more money in your pocket without changing your lifestyle." - Laura Stanbro
Area Communities to Consider
14. Jacksonville Area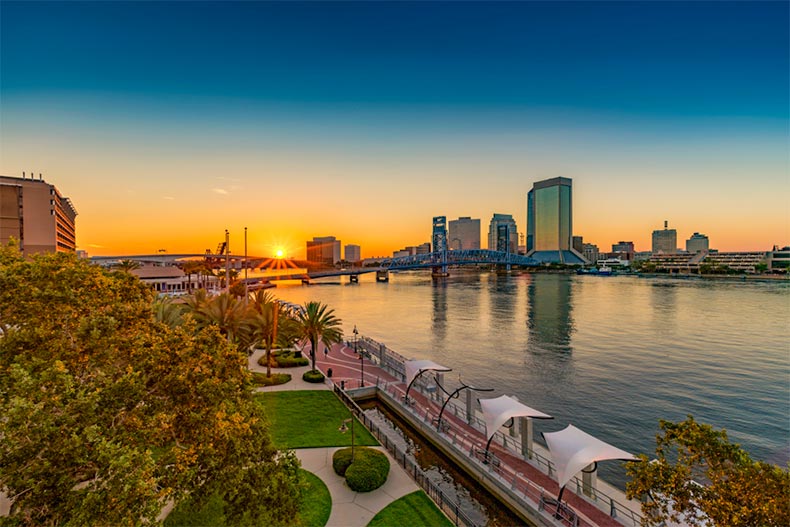 Jacksonville has a small-town feel with big-city attractions, like the scenic Riverwalk.
When people think of Florida retirement, they usually think of Tampa Bay, Palm Beach County, and Orlando. But some discerning retirees have already started expanding their search and discovering Northern Florida's secret gem: the Jacksonville Area. With over 57,000 acres of outdoor space, Jacksonville is great for those who love a midday stroll along the St. Johns River or the beach. Popular parks include Timucuan, Confederate Park, and Kathryn Abbey Hanna Park.
While Jacksonville may have a lively mini-golf scene, there is no shortage of 18-hole, full-scale courses either. With several expertly designed courses around the area, it is hard to choose which one to tee off at first. Some of the must-play courses include World Golf Village, Oak Marsh Golf Course, and TPC Sawgrass which was rated as Florida's best public course by Golf Magazine.
Don't be fooled by the laidback beach vibes, there are some important arts and culture attractions found here as well. Downtown Jacksonville has a growing art scene and the best way to enjoy it is by doing the Downtown Art Walk. Other local institutions to know and visit include Jacksonville Arboretum & Gardens, Jacksonville Zoo and Gardens, and Tree Hill Nature Center.
What Our Local Partner Agent Says
"The Northeast Florida Area is an amazing spot to retire. It's a hidden gem due to its coastal location, easy access to downtown Jacksonville, historic St. Augustine, and a short drive to many tourist destinations such as the Florida Keys. We don't have the crowds and intense heat like other parts of Florida. Many people don't think to retire to Northeast Florida but when they come to visit, their eyes are opened! Most of our active adult communities are no more than 25 minutes from the beach as well as waterways to access boating, kayaking, paddle boarding, and amazing year-round fishing! We also get a little taste of the seasons, but from October to June it's like living in Southern California without the California prices." - Brian Sacks
Area Communities to Consider
15. Asheville-Hendersonville Area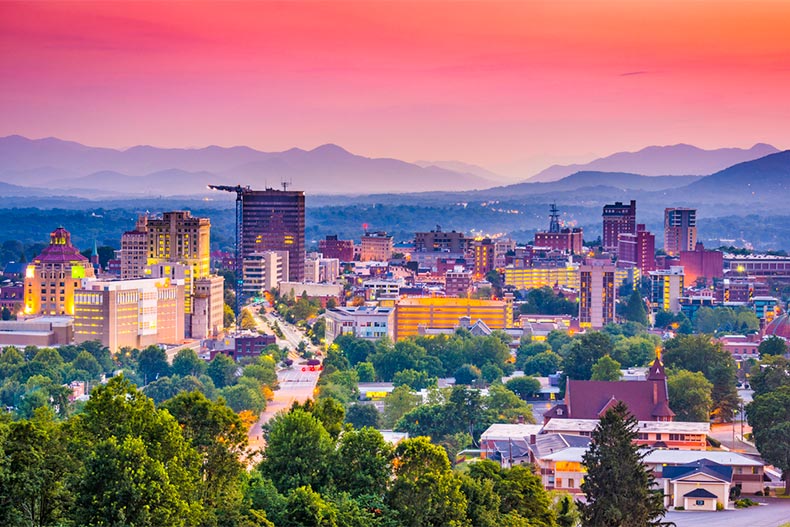 The beautiful area surrounding Asheville and Hendersonville is a favorite North Carolina destination for many active adults. With its mountain views, numerous outdoor recreations, and diverse offering of attractions, it became an ideal spot for retirees taking part in the halfback trend or those looking for a unique landing spot the first time around.
Located in the Blue Ridge Mountains, this picturesque area features impressive scenic views as well as interesting architecture and distinctive neighborhoods. While North Carolina is known for having a hot climate, temperatures are noticeably cooler when living in the higher elevation. The winters are cold and do bring snow, making it a great place for people who want to experience all four seasons.
Locals have plenty to do no matter which city or surrounding town they find themselves. Live music is a big deal in Asheville and you'll find plenty of street performances and outdoor music to enjoy. Festivals such as the Brewgrass Festival, Mountain Medicine Festival and Downtown Asheville Festival of the Arts are happening all the time. There are tons of arts and culture stops to make as well, including the Biltmore Estate and Montford Park Players in Asheville and Mineral and Lapidary Museum in Hendersonville. And Asheville's downtown area exhibits a unique flair with a mix of Art Deco architecture, galleries, boutique shops, restaurants, cafes, and historic attractions.
What Our Local Partner Agent Says
"Prized for its climate and fresh mountain air, many non-natives have come to Asheville for a visit and fallen in love with the laid-back mountain culture. This city embraces diversity and is passionate about the arts and the great outdoors. It is also a well-loved "foodie paradise," boasting a wide variety of outstanding restaurants offering international cuisine. Then there are the breweries! Hendersonville, to the south, has an adorable downtown and a quieter more traditional feel. Nature lovers can easily find trailheads to hike and stunning views along the Blue Ridge Parkway and can get their fill of fishing, golfing, horseback riding, and boating or tubing down the French Broad River. Plus, it boasts outstanding health care and world-class medical facilities, including out-patient and walk-in clinics located conveniently close to many communities." - Suzanne Arthur
Area Communities to Consider
16. Birmingham Area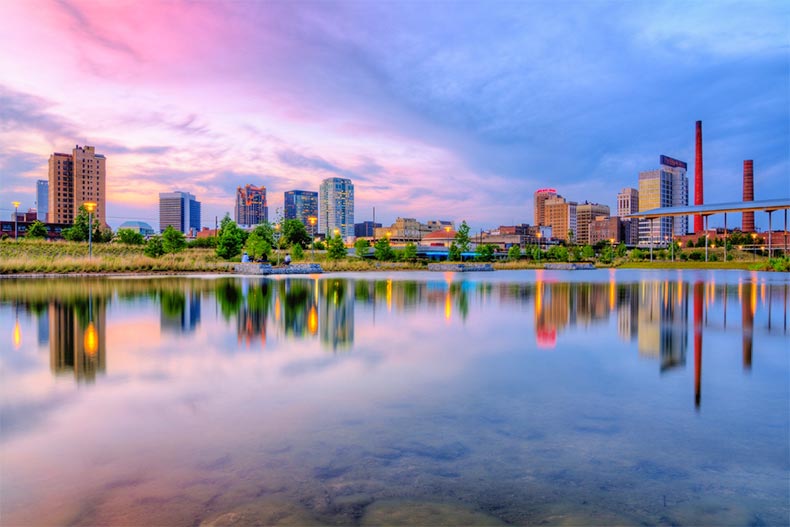 Parks, culture, and warm weather are big draws for active adults looking to retire to the Birmingham Area.
Birmingham is the biggest city in Alabama but it might be just right when it comes to providing active adults with an amazing value during retirement. The cost of living here, especially when it comes to groceries, transportation, and health care, are much lower than metropolitan areas of the same size. There's also no tax on Social Security benefits, which is a nice bonus.
Situated in the foothills of the Appalachian Mountains, Birmingham is the cultural epicenter of Alabama and whatever you're looking for you'll probably find it here. There are plenty of museums to peruse (Birmingham Museum of Art, Birmingham Civil Rights Institute), performing arts experiences (Alabama Ballet, Alabama Symphony Orchestra), notable festivals (The Sidewalk Moving Picture Festival, Taste of 4th Avenue Jazz Festival), and sporting events (Birmingham Barons baseball, UAB Blazers football & basketball). The region also boasts over a dozen hospitals and has a downtown district ranked among the nation's best.
What Our Local Partner Agent Says
I recently helped a couple relocate from California to Hoover, Alabama, a suburb of Birmingham. Their taxes went from $10,000 to $1,700, their house payments from $3,600 to $1,500 and their new house is bigger than their old one. In just those two areas they saved $33,000 a year by making the move to beautiful Birmingham. The city and surrounding suburbs have minimal traffic, the landscape is lush and green, and it's home to one of the largest teaching hospitals in the nation as well as four other outstanding hospitals. You'll find living easy in Birmingham and lots of friendly folks." - Christina James
Area Communities to Consider
17. Prescott Area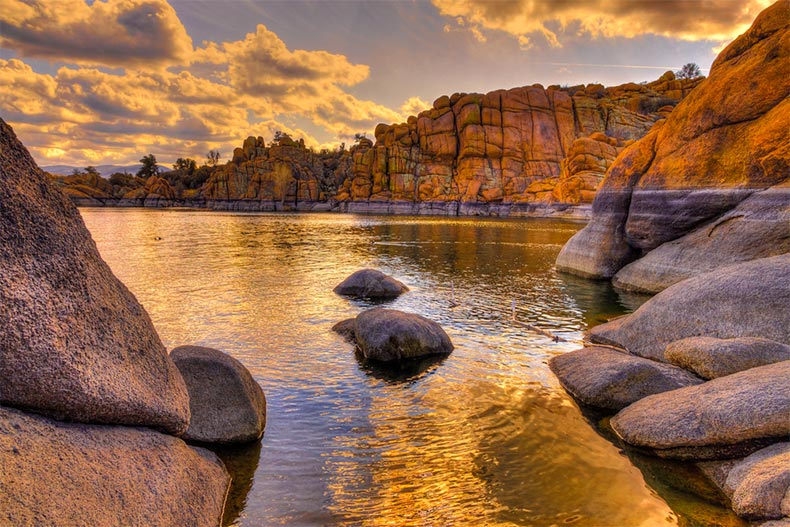 For as long as Americans have been retiring, the state of Arizona has been a popular place to settle down. But while Tucson, Green Valley, and Phoenix have been synonymous with retirement for decades, the Prescott Area has become the trendy spot to consider for active adults.
The beautiful scenery of this region offers several opportunities for exploration and adventure. You can explore Prescott National Forest or find a lake to swim in or fish, such as Goldwater Lake and Watson Lake.
There are a few local museums to be found, offering up interesting looks at the region's past. Those that want to learn more about the native culture of the area or the American West should check out the Smoki Museum and the Phippen Museum. Prescott is also known as Arizona's Christmas City. Even for residents that don't celebrate the holiday, there is a sense of community each year as the whole city gets in the holiday season spirit with elaborate displays.
Prescott provides easy access to some of the best medical care in Arizona. It's home to the Yavapai Regional Medical Center and the largest VA medical center in the region, just to name a few of the many options available.
What Our Local Partner Agent Says
"If you want to live in a place with great weather and tons of housing options, you'll want to consider Prescott. We get over 270 days of sunshine each year but it rarely gets much hotter than the 80s. Downtown Prescott has tons of restaurants, shops, and art galleries, you'll want to check out Whiskey Row for sure. Public transit is great, we get tons of fun festivals each year, and the health care options are some of the best in the state. There's a good reason so many people have been looking to Prescott recently when they look to retire in Arizona." - Joan Eaton
Area Communities to Consider
18. Palm Springs Area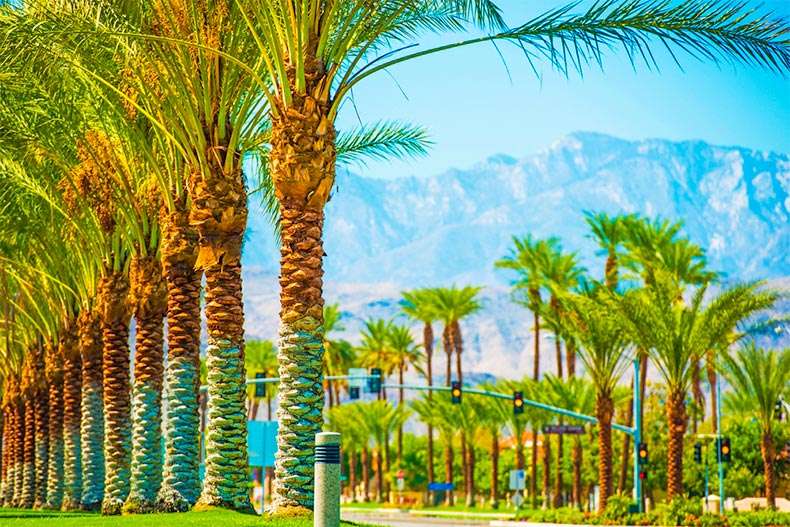 It's probably not too surprising to see the Palm Springs Area made this list. The region has been attracting retirees for years with its low humidity, high temperatures, world-renowned golf courses, fine restaurants, and cultural attractions. The really impressive part is that Palm Springs, Palm Desert, and Indio keep raising the bar and creating new opportunities for active adults to enjoy.
While California has an often-deserved reputation for being expensive, those who live in the Palm Springs region enjoy a cost of living that's generally lower than the rest of the state. On average, active adults in Palm Springs spend 13 percent less on their homes, transportation, and utilities than their counterparts throughout the state. There are also certain state tax benefits to enjoy, such as untaxed Social Security benefits.
The tourist-friendly region pays dividends for retirees that call it home as well. There are over 100 golf courses in the Coachella Valley, most notably The Golf Club at La Quinta, Indian Wells Golf Resort, and Desert Willow Golf Resort. Intimate boutiques, fine restaurants, and cultural attractions are found at every turn in Downtown Palm Springs. Performing arts and seasonal festivals are also popular throughout Palm Springs, many of which are geared towards active adults and retirees.
What Our Local Partner Agent Says
"If you want to enjoy sunny days without the cloying humidity, the Palm Springs Area is the perfect place for you. Located in the heart of Coachella Valley, there is no shortage of celebrity sightings and exciting culture. There are several excellent hospitals and medical centers located in this area. And compared to the rest of Southern California, Palm Springs contains reasonably priced homes starting in the low $200s. Outdoor pools, stunning mountain views, and national parks are just a few of the other perks we've got to offer." - Billy Thoman
Area Communities to Consider
19. Sussex County (DE) Area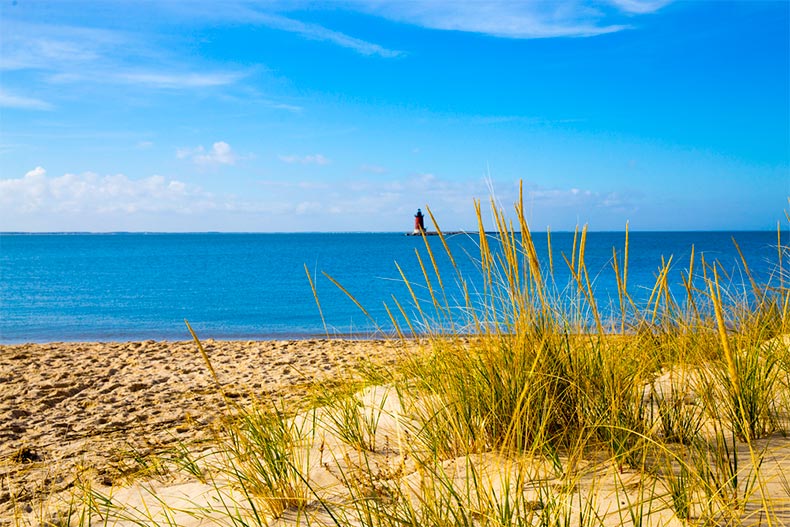 A friendly tax environment, sandy beaches, and many 55+ communities draw retirees to Sussex County.
Delaware's largest county has a reputation for offering a four-season climate and friendly beaches all summer long. Sussex County also has a reputation as a welcoming environment for active adults and retirees looking for diverse active adult community opportunities. That reputation remains intact here in Southern Delaware.
Delaware is a good option for retirees as residents over the age of 60 can exempt $12,500 of investment and pension income from state taxes. The income tax rate is graduated but tops out at 6.6 percent, Social Security benefits are not taxed, and there is no sales tax. While Delaware's cost of living is higher than the national average, it's still lower than many neighboring Northeastern states.
Sussex County is home to both historic and modern attractions. Locals and visitors alike enjoy visiting the area's numerous art galleries and performing arts centers. Sussex County also contains many fine wineries and breweries, such as Nassau Valley Vineyards and Dogfish Head Brewery. Fishing, boating, kayaking, biking, hiking, scuba diving, and bird watching are all common pastimes. It's easy to get back to nature as the region offers several state parks, including Cape Henlopen State Park and Fenwick Island State Park.
What Our Local Partner Agent Says
"It's all about location. We are right in the heart of the Mid-Atlantic Region with the Delaware beaches, fine dining, low property taxes, and zero sales tax. And you are only a short drive away from family and friends whether they live in Delaware, Pennsylvania, New Jersey, or Maryland." - Kathy Sperl-Bell
Area Communities to Consider
20. Myrtle Beach Area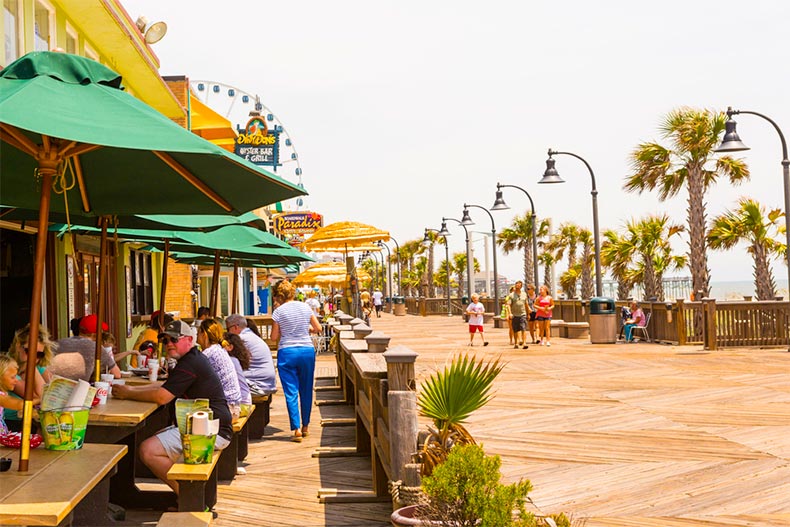 Coastal towns have been popular with retirees for decades, and it's undeniable that the Myrtle Beach Area has its own particular charm. That has remained true over the years even as trends changed and new residents arrived. This beautiful area features several fabulous 55+ communities as well as a variety of activities which appeal to active adults.
Golf enthusiasts will have no trouble finding an award-winning course in the Myrtle Beach area. There are dozens of golf courses, covering a wide range of rates, including Aberdeen Country Club, Long Bay Club, Tradition Golf Club, and Litchfield Country Club.
In addition to golf, active adults can find many activities throughout the Myrtle Beach area. Shopping and dining opportunities like Coastal Grand Mall and Myrtle Beach Mall are abundant, as are movie theaters and performing arts centers. As with any coastal area, beach activities and water sports are popular with both residents and visiting tourists. The area also boasts amusement parks and water parks like Family Kingdom, casino cruises, and racetracks like Myrtle Beach Speedway.
What Our Local Partner Agent Says
"Myrtle Beach, commonly referred to as The Grand Strand, has become a magnet for retirees. Beautiful beaches, stunning golf courses, reasonable taxes, and a mild climate are some of the reasons active adults seek to move here. The people are friendly and because we are such a popular tourist destination we enjoy great shopping, restaurants, and have several choices of quality health care systems." - Melanie Hellmer
Area Communities to Consider