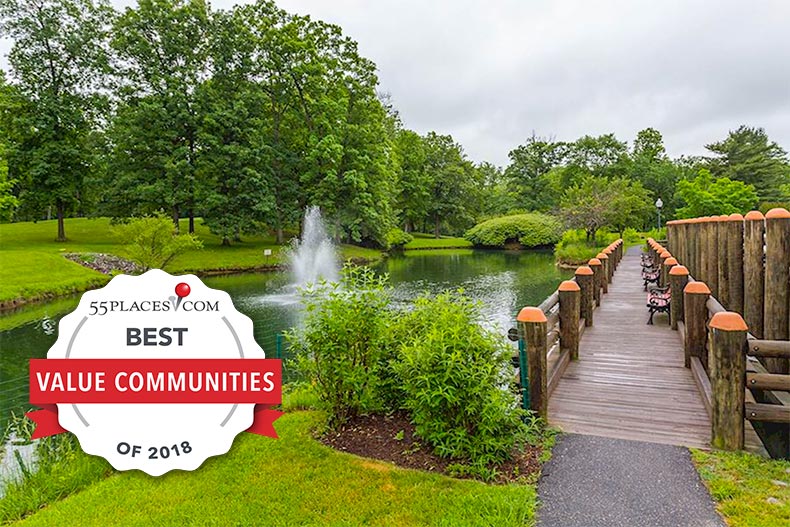 55places.com is proud to announce its list of the 25 Best Value Active Adult Communities for 2018.
Trying to determine whether something has value can be a tricky proposition. To some, a valued community could be considered one that's affordable. To others, it's about getting the most bang for your buck, even if that means paying a little bit more. Sometimes a great location can bring value while other times it's about low monthly fees.
55places.com took all of that into consideration as we scoured over 2,000 active adult communities across the country to figure out which ones offered their residents the most overall value. We took into account home prices, homeowners' association (HOA) fees, the range of amenities, lifestyle opportunities, financial requirements like golf club dues, and many other factors to come up with a Top 25. You can learn more about our methodology here.
While we understand that our list is compiled using objective data and doesn't take into account the personal needs and requirements of each active adult, we hope it helps inform your search for the ideal 55+ community to fit your lifestyle.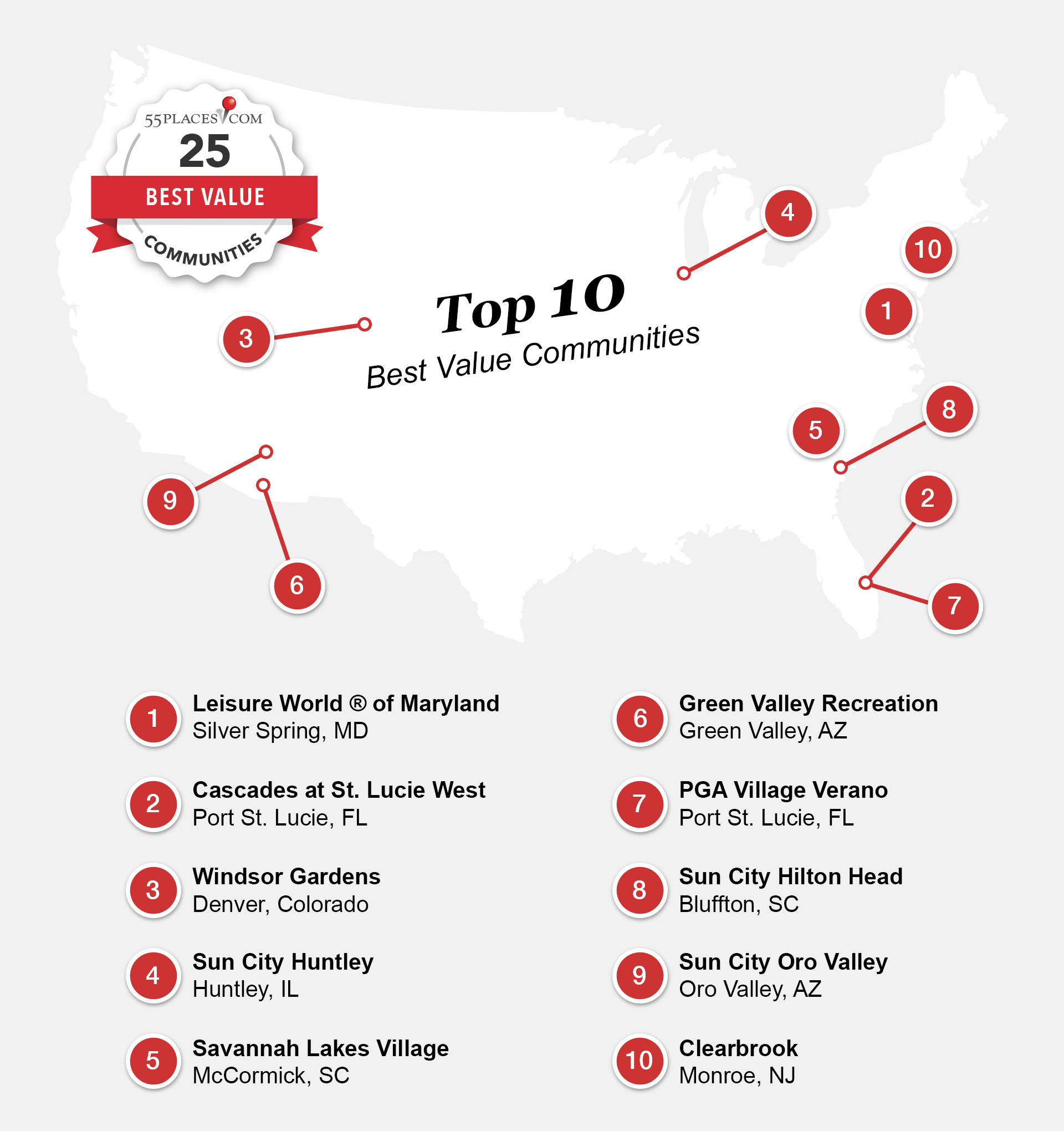 1. Leisure World of Maryland - Silver Spring, MD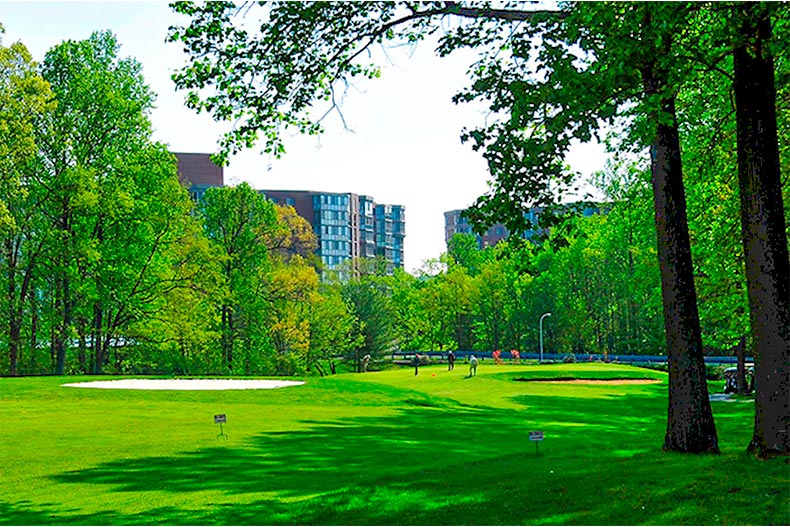 We named Leisure World of Maryland as our No. 1 value community of 2018 thanks to a variety of factors. First, the unbeatable location of Silver Spring puts you 30 minutes from Washington, D.C., great for commutes or day trips. Second, the community offers great value for the dollar with condos that begin below $100K as well as attached and patio homes that range between the $100s and $500s. The community offers an impressive collection of amenities and includes an optional golf course membership that allows for personal choice. Finally, residents will find various businesses and services peppered throughout the community, including a bank, post office, religious centers, and medical facilities. HOA fees are a little on the higher side but we think you get a whole lot for your money when you factor everything.
2. Cascades at St. Lucie West - Port St. Lucie, FL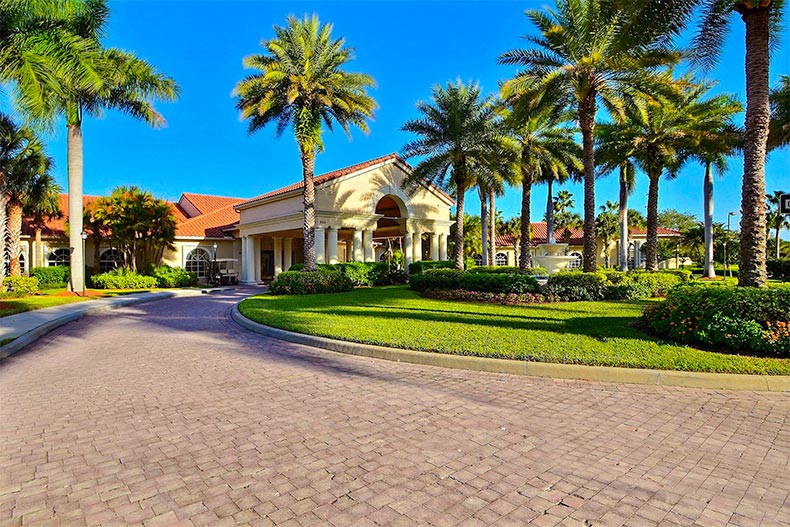 If you're looking for "most bang for your buck," you'll find it at Cascades at St. Lucie West in Port St. Lucie. Located within the master-planned community of St. Lucie West, this gated neighborhood includes a dramatically landscaped, 26,000 square-foot clubhouse, resort-style outdoor pool, 3,000 square feet of covered verandas, poolside bar, and a nine-hole, par-3 golf course. The community's home prices and low HOA fees mean you get access to a whole lot without paying South Florida prices.
3. Windsor Gardens - Denver, CO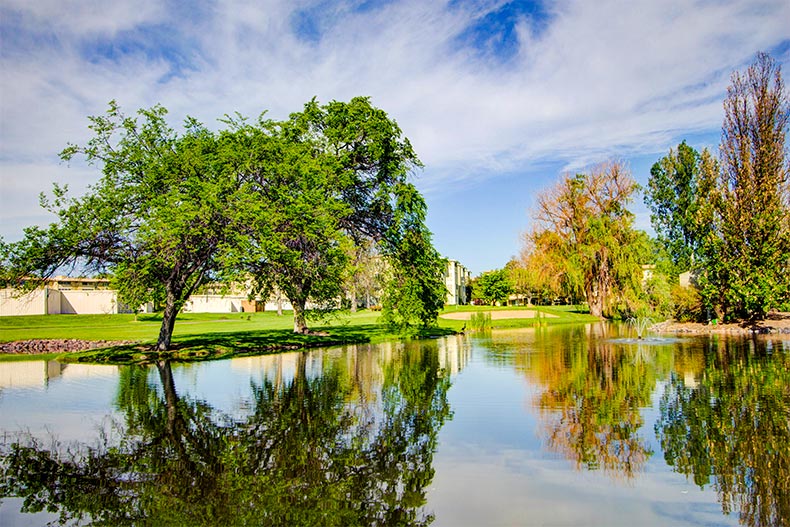 For those who want city living in retirement, Windsor Gardens is the only active retirement community located in the city of Denver, Colorado. The homes here are notorious for their affordability, among the most reasonably priced of any active adult community in the Denver area. Residents are close to the Cherry Creek Mall and Downtown Denver and routinely use a shuttle service that transports residents to area attractions and stores. Emerald Greens Golf Course & Club membership is optional, which helps keep costs down for those who don't need to hit the links.
4. Sun City Huntley - Huntley, IL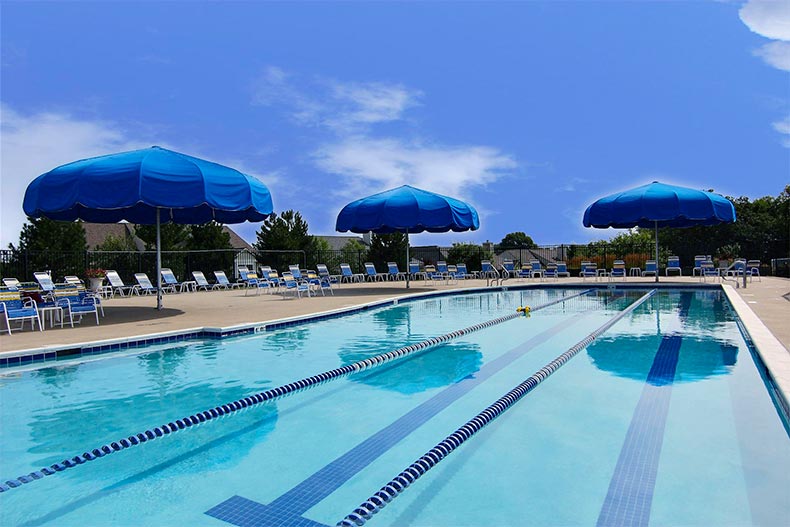 Sun City Huntley is the largest and most amenity-laden 55+ community in the entire Midwest, offering a lifestyle unrivaled by any community in the area. It's also a lifestyle that comes with a lot of good value thanks in part to the affordable home prices. You get a lot for the money, including access to a 94,000 square-foot clubhouse where over 80 different clubs and interest groups meet and interact. Residents also have access to the 18-hole Whisper Creek Golf Course, a 19-acre fishing lake, a softball stadium, and various sports courts. Those who want to retire close to Chicago will find good reasons here.
5. Savannah Lakes Village - McCormick, SC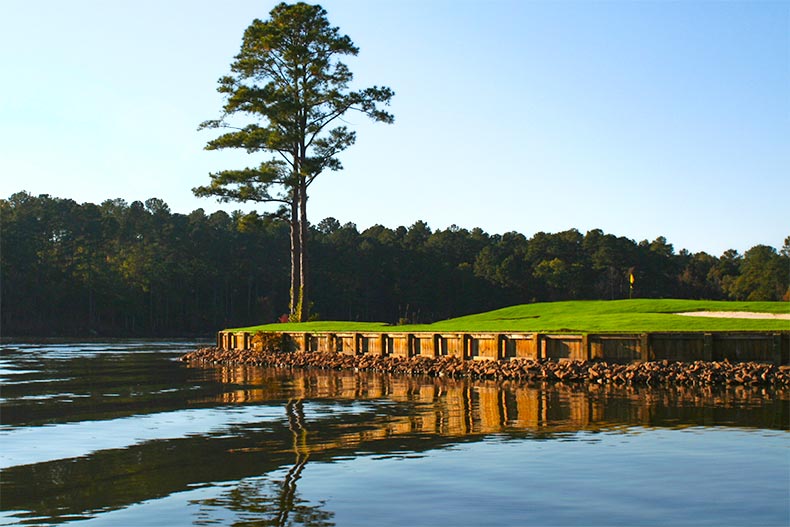 Value shoppers looking for the country club lifestyle without country club prices might want to consider Savannah Lakes Village. Between the 23,000 square-foot Recreation Center full of amenities, 71,000-acre lake for fishing and water sports, and two golf clubs with their own 18-hole courses and restaurants, residents get to do just about whatever they want. Plus, the Central South Carolina community features very affordable homes, starting below $100 and with plenty of available options in the $100K-$200K range.
6. Green Valley Recreation - Green Valley, AZ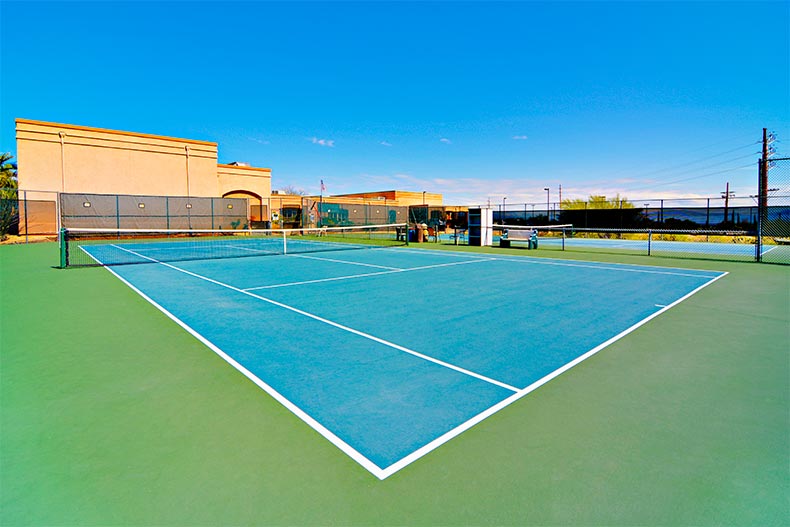 There are plenty of places to retire in Arizona but if you're looking to maximize your value, you might want to look to Green Valley Recreation. This community is located about 20 miles south of Tucson in Green Valley, unique in that the entire town started as a retirement community consisting of several dozen individual age-restricted communities. This collective is actually made up of over a dozen subdivisions that combine resources. The value benefits here are that homes are extremely affordable (many two-bedrooms below $100K) and the amenities are plentiful (13 social centers, dozens of clubs and activities).
7. PGA Village Verano - Port St. Lucie, FL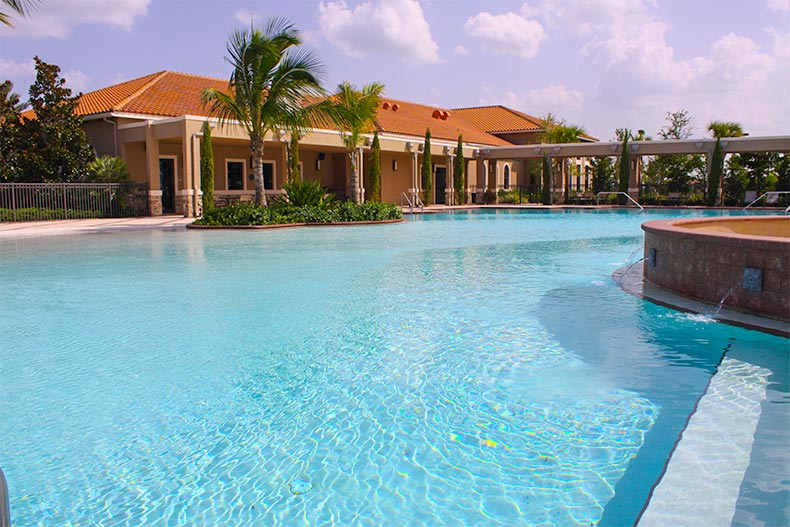 We head back to Port St. Lucie to visit PGA Village Verano, a country club-style community from Kolter Homes. It might not be as cheap as some of the other options, but there's a lot of value to be found here. The reasonable HOA fees afford you a low-maintenance lifestyle and luxury clubhouse with a sports bar, coffee bar, arts & crafts studio with kiln, demonstration kitchen, and much more. There's also a 13,000 square-foot fitness center on site. While the community features three championship courses and the PGA Center for Golf Learning and Performance, memberships are non-mandatory.
8. Sun City Hilton Head - Bluffton, SC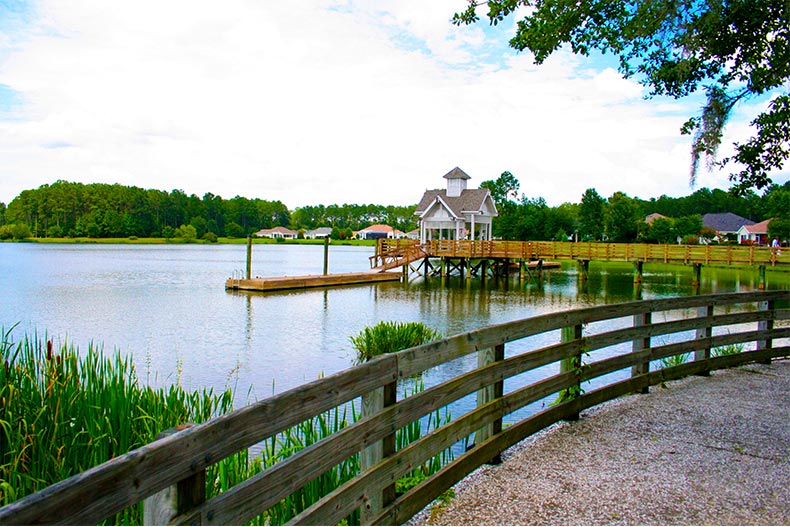 It's been quite the year for Sun City Hilton Head. Among the most popular active adult communities in the U.S., we recently named it the best 55+ community overall for 2018. It also ends up here for providing tons of value to its residents, thanks to a 45-acre Town Center and Amenity Complex, multiple sports courts, 54 holes of golf, and over 200 chartered clubs and interest groups. Homes here start in the high $100s, which means you don't have to pay too much to get all of the good stuff.
9. Sun City Oro Valley - Oro Valley, AZ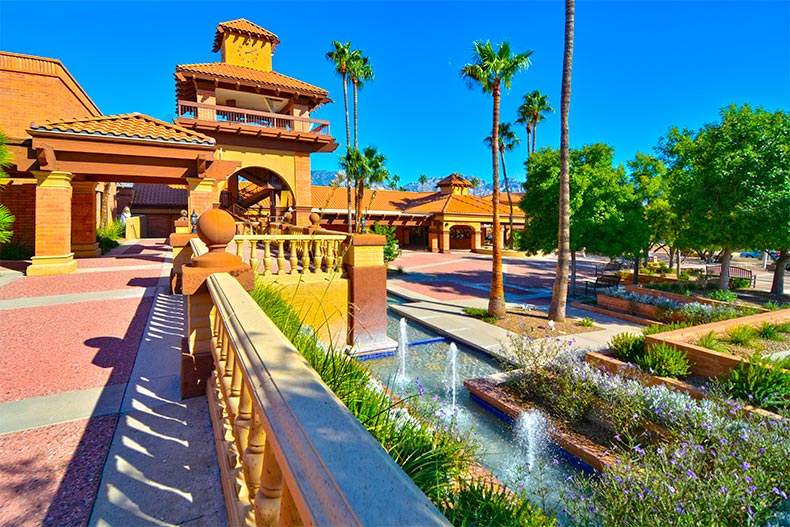 Sun City Oro Valley is a 2,400-home community 20 miles north of downtown Tucson, spanning over 1,000 acres and providing potential residents with lots of value to consider. The community includes three recreation centers, a semi-private 18-hole championship golf course, a large outdoor lap pool, and many more amenities. Home prices here start in the high $100s, making it easy to get in on the vibrant social scene without breaking the bank. The blend of suburban solitude and big city conveniences also make it a great deal.
10. Clearbrook - Monroe, NJ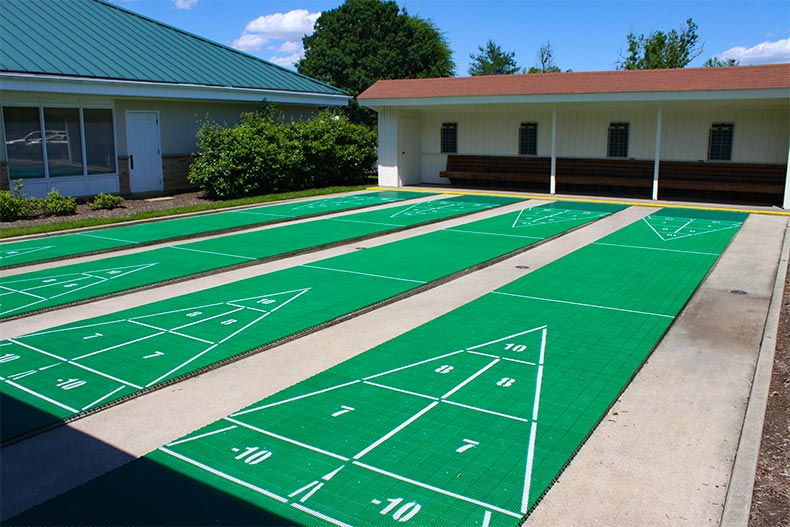 Clearbrook in Monroe puts you within 90 minutes of Atlantic City, Philadelphia, and New York City, giving you a central location for a very active lifestyle. The community itself has plenty to offer as well, including a cultural center with a 1,000-seat auditorium and the recently refurbished 25,000 square-foot main clubhouse. Housing styles include garden homes, attached ranch homes, two-story townhomes, and condos, available on a resale basis for just about every budget. Adding to the overall value, HOA fees in most sections cover exterior home maintenance, such as roof and siding.
11. Sun Lakes Country Club - Banning, CA
12. Heritage Harbour - Annapolis, MD
14. Tampa Bay Golf and Country Club - San Antonio, FL
15. Sun City Peachtree, Griffin, GA
17. Hershey's Mill - West Chester, PA
18. Oak Point - Middleborough, MA
19. Leisure Village - Ridge, NY
20. Wynmoor Village - Coconut Creek, FL
21. Fairfield at St. James - St. James, NY
23. Greenbriar at River Valley - North Royalton, OH
24. Vandalia by Del Webb - Plainfield, IN