Baseball fans know that there's more to Central Florida in springtime than a near-perfect climate. The area hosts two Grapefruit League baseball teams for MLB spring training. The Atlanta Braves play at Champion Stadium in Kissimmee while the Detroit Tigers train at Joker Marchant Stadium in Lakeland.
These two cities might offer very different experiences in terms of the stadiums, teams, and surrounding areas, but both capture the fun and entertainment of major league baseball. We're taking a closer look at these two spring training stadiums so you can learn everything you need to know about attending games there.
Champion Stadium – Kissimmee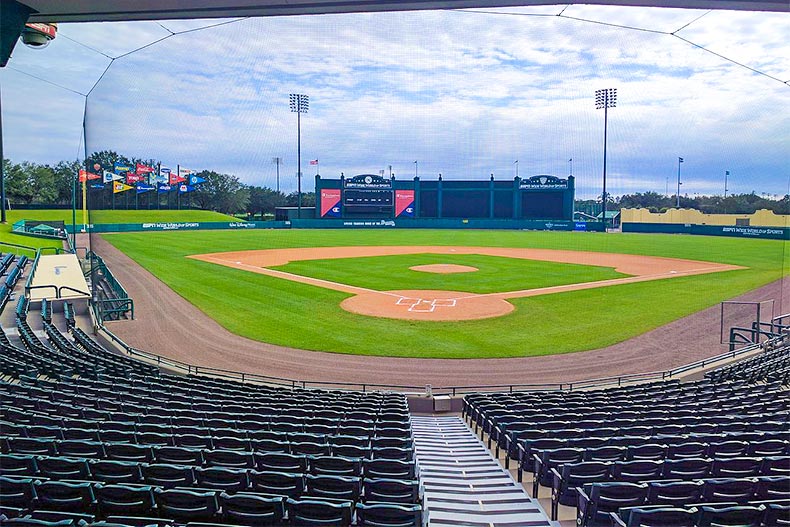 Champion Stadium is located at the ESPN Wide World of Sports Complex in the heart of Walt Disney World Resort in Kissimmee, Florida. The double-decker stadium features 9,500 seats, four luxury sky boxes, and multiple open-air suites and patios. Bleachers, stadium seats, and a grassy knoll round out the All-American baseball experience.
The ballpark opened in 1997 with an exhibition game between the Atlanta Braves and the Cincinnati Reds. The stadium treats baseball fans to live entertainment between every inning, including a sing-a-long in the seventh-inning stretch. Post-game fireworks displays cap off every game whether the home team wins or loses.
Who Plays Here
Champion Stadium plays host to the Atlanta Braves, with 2019 being the team's twenty-second and final season at the ballpark. This season, the team will play its last spring training games in Kissimmee and then make an end-of-season debut at its new spring training facility in North Port, near Port Charlotte. Starting in 2020, the Braves will train at CoolToday Park, located in the master-planned West Villages community in Sarasota County.
Game Schedule
The spring training season begins for the Braves on Saturday, February 23 with an away game against the New York Mets in Port St. Lucie. Spring training starts at Champion Stadium on Monday, February 25 with a game against the Washington Nationals. The Braves will play 30 Grapefruit League games in the 2019 season, with 17 at home and 13 on the road. The team has two off days scheduled for March 7 and March 14.
The team's final home game at Champion Stadium will take place on Saturday, March 23 against the New York Mets. This game will end the Braves' 22-year spring training residency at the stadium.
On Sunday, March 24, the Braves will play the inaugural home game at CoolToday Park in North Port against the Tampa Bay Rays. This will prepare the Braves to play all of the team's home games there starting in 2020.
How Do I Get There?
Fans have plenty of options when it comes to driving to Champion Stadium. From the Tampa area, take Interstate 4 East to Walt Disney World Resort. Take exit 65 and follow signs for Wide World of Sports. From the Daytona area, take 1-4 West to Walt Disney World Resort. Take exit 65 and follow signs for the Wide World of Sports.
From Interstate 95, U.S. Highway 1, or southbound on the Florida Turnpike, take 1-4 West to Walt Disney World Resort. Take exit 65 and follow signs for the Wide World of Sports. From southbound Interstate 75, take the Florida Turnpike south to 1-4 West to Walt Disney World Resort. Take exit 65 and follow signs for the Wide World of Sports. Northbound on the Florida Turnpike, take the Osceola Parkway and follow signs for the Wide World of Sports.
The nearest major airport is Orlando Airport, which is approximately 20 miles away or a 25-minute drive away from the stadium. The airport houses several rental car facilities for those who want to drive and plenty of pick-up locations for Uber or Lyft rides.
How Much Are Tickets?
Ticket prices range from approximately $10 to $40. Fans can often score the least expensive general admission tickets on the lawn or the berm, which offer no physical seats. The cheapest seats are often located in the Upper Reserved area for around $9 to $19 each. The Lower Reserved area includes mid-priced seats from around $15 to $40. Bleacher Reserved seats can range from $28 to $40.
The Braves dugout is located on the first base side. Fans who want to sit on the home side should look for tickets in Sections 101-112 or 207-214. Note that ticket prices increase $5 on game day, so buy tickets before the game to avoid the fee. Children under 3 receive free entry.
What Else Do I Need To Know Before I Go?
Champion Stadium is the only Grapefruit League ballpark that doesn't charge for parking in its two paved lots. Once there, fans enter the stadium on its third base side. The gates open three hours before game time. Stadium policy dictates that all bags should be a maximum size of 16 inches by 16 inches by 8 inches.
Those looking for shade in the Florida sun might want to look for specific seats. Because the Upper Reserved level hands over the lower level, rows R and up in Sections 107-117 are covered, depending on the position of the sun. Rows J and up in Sections 207-209 also ensure shade, but anything above Row P has a potentially obstructed view.
Fun Ballpark Fare
Champion Stadium offers fans all of the standard ballpark fare, plus some items with a twist. Past fan favorites have included a barbecue slaw dog, smoked turkey sandwich, and a buffalo chicken sandwich. Most sandwiches and hot dogs come as combos that include fries and a drink. Coca-Cola, one of Atlanta's most famous exports, is the drink of choice. Chocolate milk is offered for children. Portable craft beer carts specialize in a "craft draft of the day" that comes from the hometown of the visiting team.
What To Do Before & After Games
If you have some extra time before or after a game, you may want to explore the rest of the ESPN Wide World of Sports Complex. The grounds feature well-maintained sports fields, a softball diamondplex, a track and field complex, and more. Commemorate your trip at the ESPN Clubhouse shop, which includes apparel and gifts. The on-site restaurant, ESPN Wide World of Sports Grill, provides quick-service sandwiches and salads, plus a full bar.
Fans are also surrounded by the magic of Disney, which has a theme park for almost every interest. From Animal Kingdom to Hollywood Studios to Epcot, all are within reach for spring training fans. The Typhoon Lagoon Water Park or Blizzard Beach Water Park may also provide ideal opportunities for waterside relaxation.
Golf fans may want to play a game themselves at one of the nearby courses, which include Celebration Golf Club, Falcon's Fire Golf Course, and Hawk's Landing Golf Club. Visit Congo River Golf for a fun mini-golf course with rainforest scenery.
Other popular attractions in the area include Gatorland, which features gator wrestling, a snake show, and a swamp walk. At Revolution Off Road, 230 acres of recreational land offer ATVs and tracks, plus fishing, archery, and shooting. For those who want a serene activity, the Tibet-Butler Nature Preserve has a butterfly garden and walking trails.
Nearby Away Game Destinations
Some devoted fans may want to drive to nearby away games. The closest away stadium is Publix Field at Joker Marchant Stadium in Lakeland, where the Detroit Tigers train. The stadium is located about 35 miles southwest of Champion Stadium. The Braves play their first away game against the Tigers on Saturday, March 2.
55+ Communities Close By
If you're traveling to Central Florida for spring training, you may want to visit some 55+ communities while you're there.
The nearest community to Champion Stadium is Four Seasons at Orlando, which is approximately 10 miles away. Builder K. Hovnanian broke ground on this age-restricted community in 2017, which expects to include 557 homes upon completion. Residents of this community will enjoy a 14,000 square-foot clubhouse, an outdoor pool and cabana, and the 18-hole championship course at Mystic Dunes Golf Club.
Just 17 miles south, Del Webb Orlando offers another opportunity for resort-style 55+ living in Central Florida. This gated community will include 830 homes upon completion, so homebuyers can currently choose from new and resale homes. The 30,800 square-foot Montecito clubhouse is bordered by outdoor amenities such as a fishing dock, four pickleball courts, and an outdoor pool and spa.
Solivita is another must-see 55+ community for active adults visiting the area. Established in 2000, this master-planned community with 5,900 planned homes boasts over 150,000 square feet of amenities for active adults to enjoy year-round. Highlights of this golf cart community include the 32,000-square-foot Riviera Spa and Fitness Center and the 19,000-square-foot Palms Amenity Complex.
Publix Field at Joker Marchant Stadium – Lakeland
Opened in 1966, Publix Field at Joker Marchant Stadium recently modernized its facilities in 2017 with extensive renovations. The 8,500-seat stadium now features over 2,000 covered seats that shade fans from the sun, plus additional restrooms, more air-conditioned facilities, and more concession areas. This ballpark earns its name from a local resident and former Lakeland Parks and Recreation Director, Marcus "Joker" Marchant.
Who Plays Here
Publix Field at Joker Marchant Stadium is the spring training home of the Detroit Tigers and the regular-season home of the minor league Lakeland Flying Tigers and Gulf Coast Tigers. The Detroit Tigers have been training in the area since 1934 and have played at Joker Marchant Stadium since it opened in 1966.
Game Schedule
The Tigers open their 2019 spring training season on Friday, February 22 with an exhibition game against Southeastern University Fire. On Sunday, February 24, the Tigers face off against the Philadelphia Phillies at Joker Marchant Stadium. The Tigers play 35 Grapefruit League games in 2019, with 18 at home and 17 on the road. The team has one off day scheduled for March 13.
The Tigers will wrap up the season on Tuesday, March 26 with an away game against the Tampa Bay Rays. The team's final games at Joker Marchant Stadium will be on Sunday, March 24 against the Toronto Blue Jays and Monday, March 25 against the Tigers Minor League Stars.
How Do I Get There?
Active adults who want to drive to Lakeland for spring training will find plenty of convenient highway access. From Orlando, take I-4 West towards Tampa to exit 33. Veer right onto SR-33, or Lakeland Hills Boulevard, and follow the road two miles to the stadium on the left.
From Tampa, take I-4 East towards Orlando to exit 32. Turn right onto South Florida Avenue, then turn left onto Griffin Road. Turn right onto Lakeland Hills Boulevard and follow the road a half-mile to the stadium on the left.
The nearest airport, Lakeland Linder International Airport, is just 12 miles south of the stadium. The airport offers several opportunities for rental cars or to reserve Uber and Lyft rides. From the airport, take I-4 West to FL-570 E and take exit 3.
The Tampa International Airport is located 41 miles west of the stadium. From the airport, take FL-60 E to I-4 East and take exit 32.
How Much Are Tickets?
Ticket prices range from about $15 to $45 each or more. Fans can watch the game for the lowest price from the berm, which doesn't have physical seats. The least expensive seats are often located in Sections 100-116, where ticket prices average around $22 each. Tickets in Sections 200-216 can range from about $22 to $37.
Joker Marchant Stadium also offers a Batting Practice Pass for an additional $5. The BP pass allows fans to enter the stadium up to three hours prior to the game to watch batting practice of both the Tigers and the visiting team. BP Pass holders view batting practice from the Berm and Runway sections.
What Else Do I Need To Know Before I Go?