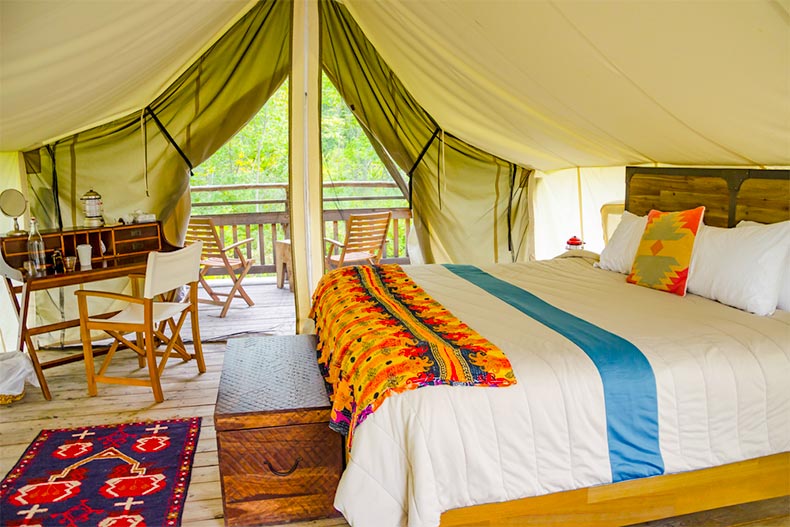 Though camping is a fun and exciting pastime for many, it isn't an activity for everyone. While the idea of getting to experience the outdoors and take in some scenic sights can be appealing to some, there are those who aren't eager to part with the luxuries of their home, especially their beds, bathrooms, and access to running water. However, a recent trend called "glamping" is on the rise and might prove to be the solution in getting those who are wary of the outdoors to experiencing nature's wonders.
Short for glamorous camping, glamping can be thought of as a style of camping that allows campers all the luxuries of being in the outdoors without having to leave the comforts of home behind. Rather than have to do trivial tasks like gathering firewood, pitching a tent, or letting mother nature become your bathroom, glamping takes away all the stressful factors that come with traditional camping and allows campers to experience the outdoors in style.
Where You'll Be Staying
Oftentimes, glamping takes place in a tent, but instead of having to sleep in a sleeping bag within a confined space, a glamping tent is spacious and includes everything from an actual floor, beds, chairs, and most often, heat, electricity, and running water. The tent might also include a bathroom, though there are exceptions. In any case, a shared facility will be just a short walk away.
While a popular choice, tents aren't your only option. On the booking website Glamping.com there are 16 different accommodations to choose from. Examples include tree houses, villas, wagons, yurts, barns, and cabins. Each accommodation is personalized to ensure that whichever place you stay, you'll be greeted with fantastic views of the area and can enjoy the outdoors on your terms.
What You Can Do
Being that you're in the outdoors, campers will still be able to do activities typically found in the outdoors, including hiking, biking, kayaking, and fishing. But because this is glamping, you'll, in many cases, also have access to a number of other experiences.
Depending on which location you stay in, campers can sign up for anything from ATV excursions, dog-sledding, spa services, such as body massages and facials, and guided tours, where you'll be able to talk with experts and gain a thorough understanding of the area you're staying. Or, for those really wanting to take things easy, you can simply sit back on your porch and enjoy the sights around you.
Where to Find Glamping Destinations
Because it is a growing trend, there are now a number of places around the world that offer glamping experiences. In the U.S., several states have glamping spots, including Maine, Alaska, Montana, and Arizona. Many glamping sites are located in or around popular natural areas, like Yellowstone, Mt. Rushmore, and the Grand Canyon.
Online, you'll be able to find a few sites that deal specifically with glamping. Besides the already mentioned Glamping.com, there is also GlampingHub.com. Both websites allow visitors to explore different glamping accommodations and experiences across the country, as well as offer an in-depth look at the benefits of glamping.
What Does Glamping Cost?
How much glamping costs depends on what amenities you want and where you stay. If you're okay staying in a more rustic setting that is missing a few amenities such as a bathroom or heat, electricity, and air conditioning, the price will roughly be around $200/night. On the other hand, if you're looking for an all-inclusive glamping experience, the price will be significantly more. For example, a luxury lodge that includes WiFi, transportation to and from the airport, access to recreational activities, and prepared meals can cost anywhere from a little under $1,000 to as high as $4,000.
It is also important to take into consideration that certain glamping resorts require a minimum stay time so be sure to keep that in mind prior to selecting your accommodation. As with your standard camping experience, what you want from your time glamping will be up to you. Whether you choose to stay in a yurt or luxury cabin, glamping is a growing trend that is allowing a larger number of people to come out and see for themselves up close the many wonders that nature holds.