True baseball fans know that the real first pitches are thrown way before the regular Major League Baseball (MLB) season. Spring training is when all 30 teams prep and practice for the long season ahead of them. MLB teams are split into two leagues in the spring, the Grapefruit League in Florida and the Cactus League in Arizona.
Baseball fans hoping to catch their favorite teams in the Grapefruit League or visit Florida's 55+ communities before the regular season starts should learn everything there is to know about this season's Grapefruit League spring training.
The History of the Grapefruit League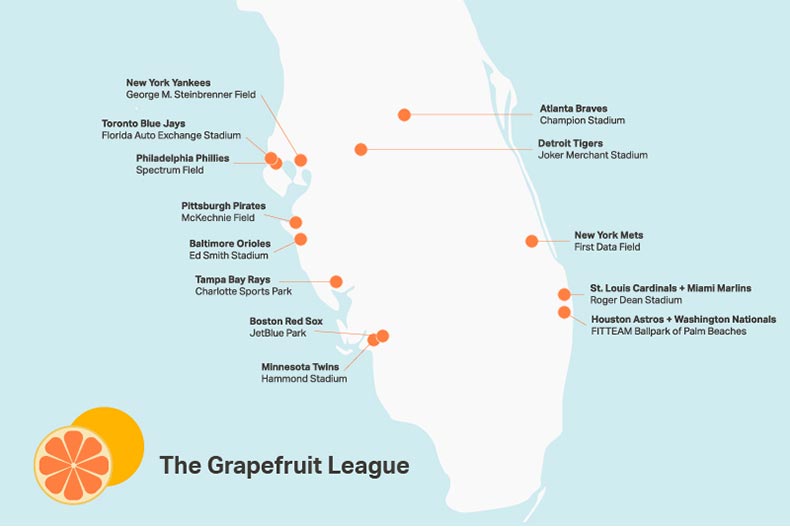 The Grapefruit League has been around since the 1890s, composed of a total of 12 major league teams. Players all the way from Babe Ruth to Derek Jeter have walked the grounds of the Grapefruit League. The first team to join the Grapefruit League was the original Washington Nationals in 1888. No other team had traveled that far south.
By 1929, 10 of the then 16 major league teams were training in Florida. Over the years, about 35 different Florida cities have held spring training. Today there are a total of 13 cities that host the Grapefruit League.
Some may wonder, why do teams participate in spring training? Essentially spring training functions as a long warm-up before the opening of the major leagues in the days immediately following spring training. After a long winter off, it is important for players to get back in the swing of things, quite literally.
Which MLB Teams Play in the Grapefruit League?
Over the past 100 years, the Cactus And Grapefruit Leagues have swapped and switched teams many times as new stadiums were built. The current teams in the Grapefruit League include:
Atlanta Braves

Baltimore Orioles

Boston Red Sox

Detroit Tigers

Houston Astros

Miami Marlins

Minnesota Twins

New York Mets

New York Yankees

Philadelphia Phillies

Pittsburgh Pirates

St. Louis Cardinals

Tampa Bay Rays

Toronto Blue Jays

Washington Nationals
Which Stadiums Are in the Grapefruit League?
As stadiums have been built and repurposed throughout the MLB's history, which ones are currently in use today? What lucky Florida cities are home to major league baseball players every spring?
There are a total of 14 stadiums used by the Grapefruit League teams. Most of the stadiums belong to only one team, with only two stadiums shared in Florida. The Grapefruit League is different than the Cactus League in that the teams and stadiums are spread out across the state, giving fans an opportunity to explore different cities in the Sunshine State.
What Is the Grapefruit League Schedule?
Spring Training games in the Grapefruit League stretch over about a month, beginning on Friday, February 22 at Joker Marchant Stadium at 1:05 p.m. with two other games kicking off opening day at JetBlue Park and Charlotte Sports Park as well. After this, fans can expect to see eight or nine games played per day in the Grapefruit League. With both early afternoon and evening games, fans can easily see two games in a day at nearby stadiums.
For more details on your favorite team's schedule, check out MLB.com.
What Does It Mean When a Grapefruit League Game Is "SS"?
If you ever see (ss) next to a team's name on a schedule and wonder what that means, the "ss" in parenthesis stands for a split squad. When teams split their squads, it enables them to play two games in one day (usually one at home and one on the road). Something that some fans like to do is go see both "ss" games their favorite team is playing in one day.
How Much Are Tickets in the Grapefruit League?
Going out to the ballgame not only meaning buying tickets but peanuts and Cracker Jacks, too. Fans should plan accordingly to get the best game experience possible.
Ticket prices vary by each stadium as seating options and demand varies. Some tickets are as low as $5 while infield or box seats can range from $30, $50, $60, or more. You can also never forget to plan for tax fees as well as online purchasing fees. Some tickets include your first drink at the park, depending on the stadium.
If you are a fan of one team in particular and want to attend every game, season passes might be a viable option for you. In most cases, these passes will ask for a deposit from the ticket holder and will vary from stadium to stadium. The majority of season passes for the Grapefruit League range over $100. You should also account for some teams having a wait-list for their season passes.
Some stadiums may offer free paying to guests with a ticket while others may charge anywhere from $5 to $20. Some tickets can be bundled with a parking pass, depending on what the stadium offers. Be sure to budget for all the fun ballpark food you can eat while you are at the park.
What Should I Bring to a Grapefruit League Game?
Many of the parks in the Grapefruit League offer much more than just the game itself. As many of the fields are a part of giant sports complexes, visitors should be prepared to explore.
It is a given that fans should have their tickets ready at the front gates, but what else do fans need to bring? It is important to wear comfortable walking shoes as many of the parks are massive and require some traveling throughout.
The Florida sun is nice but can easily burn, so be sure to bring sun protection in all forms. Whether it is sunblock, a hat, or sunglasses you will need it. It is also important to note that not all vendors inside every stadium will accept credit or debit cards so fans should carry cash on them if they care to make in-park purchases. Those who want to get their souvenirs at the game should be prepared for the premium price marks for your favorite team's gear.
Some stadiums do not allow backpacks or lawn chairs so visitors should find a smaller sized bag with enough space to fit their absolute necessities and consider bringing a blanket if you're a seat ticket holder. Generally, ticket holders are not allowed to bring outside food and beverages, hard-sided coolers, large bags, folding chairs, non-service animals, or weapons. Sealed water bottles are usually acceptable, but visitors should consult the prohibited items lists available on each team or stadium website for complete restriction information.
Are Grapefruit League Stadiums Close to 55+ Communities?
It is no secret that Florida is home to hundreds of active adults communities throughout the state. Some of these communities even offer packages that allow homebuyers to stay a few nights at the community to get the full experience. With this in mind, here are just a few that are nearby some of the Grapefruit League Stadiums.
PGA Village Verano – Port St. Lucie
Located less than five miles away from First Data Field, PGA Village Verano is a country club community that offers guests a special stay and play package. The Stay and Play Package begins at $99 per night and includes all the activities and amenities available at the community's Club Talavera. You'll live like a resident, enjoy a round of golf, and have every opportunity to explore what it's like to live in this community.
Cypress Falls at The Woodlands – North Port
Found just eight miles from the Charlotte Sports Park, Cypress Falls at The Woodlands is an active adult community which offers guests the option to stay overnight in one of the single-family or attached homes. They get to enjoy a tour of the clubhouse, fitness center, and gardening plots.
Century Village at West Palm Beach
Century Village at West Palm Beach is just 10 minutes north of FITTEAM Ballpark of the Palm Beaches. The community is known for its affordable condos that are great for downsizing. Even though active adults find homes for sale under $150k here, they also have access to a wide range of resort-style amenities.
55+ Communities in Tradition – Port St. Lucie
Also near First Data Field is the popular master-planned community Tradition. It's home to six active adult and active lifestyle communities, some just recently announced. They include Vitalia at Tradition, The Estates at Tradition, TownPark at Tradition, LakePark at Tradition, Del Webb Tradition, and Valencia Cay at Riverland.