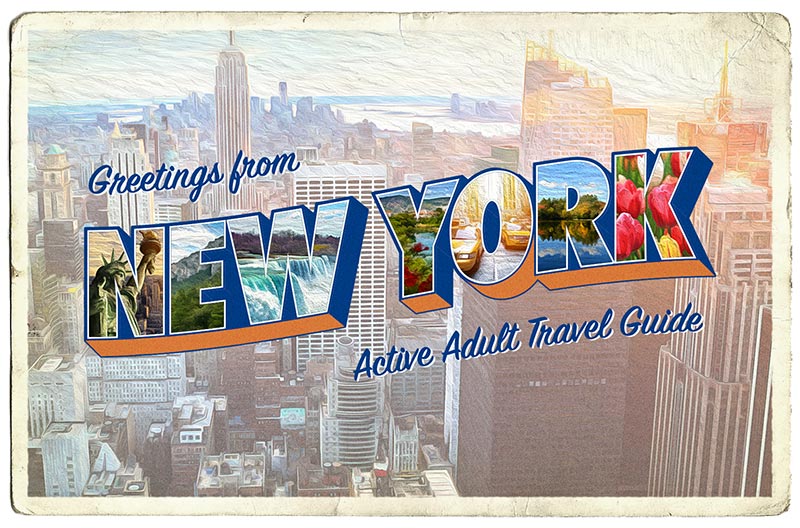 New York City is one of the largest and most dazzling cities in the world, and it attracts millions of tourists every year. This mega-metropolis is not for everyone though. Active adults who would rather kick back and relax when traveling can look to other regions of the Empire State. These three areas have year-round attractions, more manageable cities, and breathtaking scenic beauty.
Let's take a deeper look.
Long Island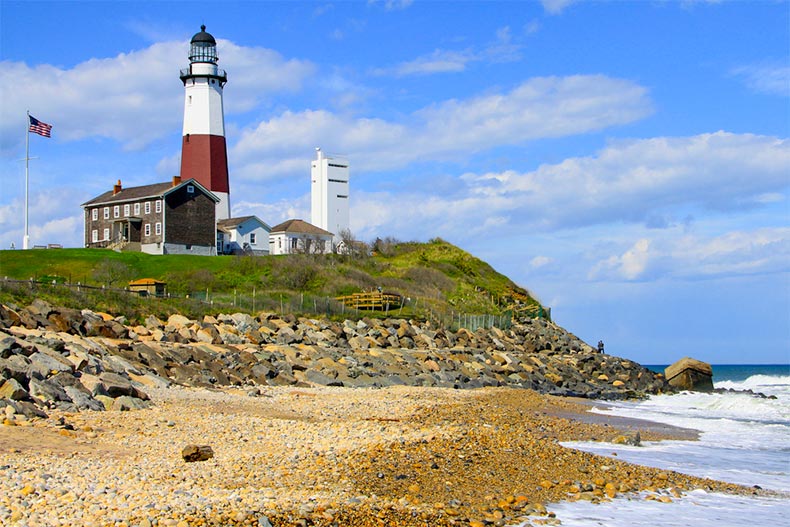 Locals might pronounce it as "lawng oi-land." It is the longest and largest island in the country, just 35 miles from Manhattan. It is surrounded by the Atlantic Ocean and the Long Island Sound, which provides ample opportunities for boating, swimming, charming seaside village explorations, and some pretty amazing seafood.
The Island experiences all four seasons, so when you choose to go depends on if you want a summer vacation or a winter wonderland. There are eight areas: Shelter Island, Nassau County, Suffolk County, Fire Island, North Fork, South Fork, and North Shore and South Shore. Each one has its own extraordinary attractions.
Shelter Island is in between North and South Fork. Visitors can ride the ferry to it from North Fork's Greenport or from Sag Harbor. It is known for some of the best kayaking spots in New York and has quiet beaches and nature preserves. The historic Chequit Inn runs around $250 a night, while guests rave about its Red Maple Restaurant.
In Suffolk County, the Montauk area has a top-rated golf course, Montauk Downs. Nearby Montauk Village has quaint shops like Nibi and Montauk Salt Cave, fine dining and casual eateries, plus hotels, inns, resorts, and campgrounds. Nature lovers flock to Montauk Point State Park, Fort Pound House, and Montauk Mountain. Plus, there are many additional recreation areas that sponsor year-round activities and special events.
Even though Long Island is known far and wide for its stunning beaches and summertime pursuits, it also has cold weather appeal. Each year, Winterfest takes place. This four-week extravaganza features live music, arts, gourmet food, and libations. The area hotels offer up special pricing and guests snuggle in for cozy, luxurious retreats. The 2019 Winterfest starts on February 22.
Finger Lakes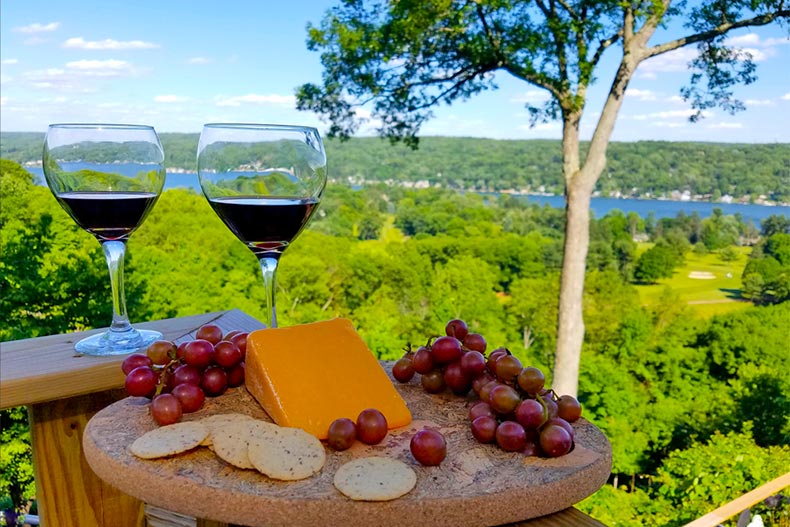 Very few things go together better than wine and Finger Lake views.
Up in Central New York, there is a group of 11 narrow lakes whose shapes earned them their name. Active adult travelers may know that these lakes have stellar wine trails, but this is just a taste of what this region offers. Like Long Island, there are year-round activities, but winters are colder. The main airport is in Rochester, NY, but there are smaller ones like Syracuse and Ithaca.
There are three main wine trails: Keuka Lake, which is the smallest, Cayuga Lake, and Seneca Lake. Plus, there are also breweries, distilleries, restaurants, farmers markets, and shops along the way. The maps are easy to follow, but signing up for a wine trolley ride is highly recommended. This way you don't need a designated driver, and experiencing the trails with a group is exponentially more fun! (There is also a chocolate trail and a cheese trail for foodies.)
The Finger Lakes also provide endless opportunities for water sports, biking and hiking. With its 19 waterfalls, Watkins Glen State Park is a must-see. It's open year round and offers trails, swimming, and camping. Some of the hikes can be difficult, so do your research before going there.
Spring is also a lovely time to visit the Finger Lakes, especially because May is Wine Month. There are special events up and down the trails, like food pairings and live music. The Corning Museum of Glass is another can't miss attraction, you can nab a hotel room at the Staybridge Suites Corning for around $100 a night in the off-season. For shopping, stop in downtown Ithaca. This college town has some cool boutiques and is a great place to grab some souvenirs, stylish clothes, and artsy knickknacks. Ithaca is also home to Taughannock Falls, which is three stories higher than Niagara Falls.
Lake Placid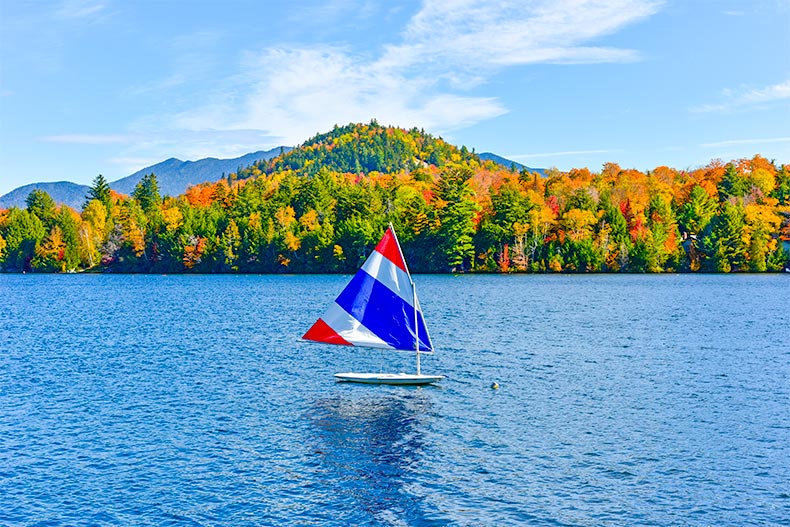 Whether you want to hike up scenic mountains or relax on the water, Lake Placid has it.
Even further north upstate is delightful Lake Placid. It is nestled within the Adirondack Mountains, which is home to the highest peaks in the state. It gets cold up here, with January and February lows averaging around seven degrees. If you like to swim, go in July or August, although even then the lake water can be kind of chilly.
Getting here isn't quite as easy as other areas of New York since there is no major airport nearby. The closest large one is in Plattsburg, about 53 miles away. Or, you can take a small plane through the Cape Air commuter services, which departs from Boston's Logan Airport and arrives at Adirondack Regional Airport in nearby Saranac Lake. Amtrak goes to Westport, NY; from there, a shuttle into town is available. The Adirondack Trailways bus lines also provide service from New York City. Once you arrive, though, you will need a car to get around.
The Winter Olympics were held here twice: in 1932 and 1980. The Olympic Venues are still used for Olympic hopefuls, who practice ski-jumping, skating, skiing, and other sports. There are many opportunities for mountain climbing, hiking, biking, swimming, and boating in the surrounding areas. When the snow starts to accumulate, you can enjoy some of the best skiing on the planet. Whiteface Mountain has world-class trails, plus bobsledding, gondola rides, and several dining options.
Lake Placid's downtown area offers many shops, bars, and restaurants, like Adirondack Decorative Arts & Crafts and Great Adirondack Brewing Company. Wellness is also big here, and resorts like nearby Lake Clear Lodge and Resort have their own spas on the premises. Whether you prefer a log cabin, a bed and breakfast, or some of the most upscale resorts in New York, there are many to pick from both right in town and in the surrounding area.