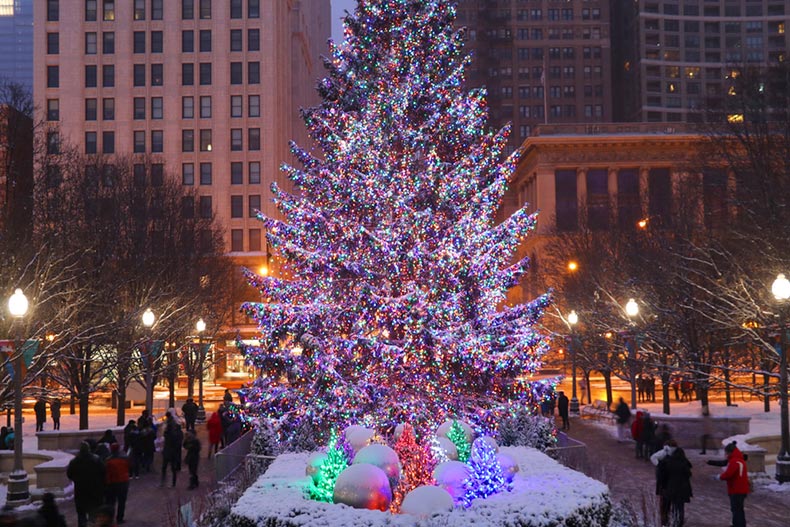 In the well-worn words of Bing Crosby, "It's Christmas time in the city." As captured by these famous lyrics, there's almost nothing like visiting the city during the holiday season, and Christmas in Chicago is one of the most festive and joyous times of the year—despite the cold.
From visiting decorated department stores and local gift shops to attending Christmas-themed attractions, Northern Illinois locals and visitors alike seek out the tried-and-true holiday activities found throughout the Chicagoland area. As you continue to plan your holiday season, you may want to make some time for these Chicagoland holiday activities.
1. Christkindlmarket Chicago
50 W. Washington St., Chicago, IL
One of the most well-known holiday activities in Chicago is Christkindlmarket, which brings an authentic German-style market experience right to The Windy City. The outdoor market features international cuisines, handmade arts and crafts, and beverages to warm your spirits.
Iconic souvenir mugs are a symbol of this Chicago Christmas market. In the past, these mugs have been in the shape of hearts, traditional steins, and boots, and this year marks the return of the boot-shaped mugs adorned with an artful drawing of the market.
Fill a souvenir mug with spiced cider, hot chocolate, or another hot beverage to sip as you browse for one-of-a-kind gifts and treats. Make sure to linger on the hand-crafted glass ornaments or wooden decorations. Several stalls also bring this traditional holiday experience together by offering traditional pastries, sweets, and sausages. Visit Christkindlmarket this holiday season between November 15 and December 24.
2. Zoo Lights at the Lincoln Park Zoo
2001 N. Clark St., Chicago, IL
For the Chicago Christmas season, the Lincoln Park Zoo transforms into Zoo Lights. This one-of-a-kind display adorns the zoo in 2.5 million glittering lights, which create hundreds of glowing holiday displays (and a musical light show at the Winter Woodlawn) that light up the zoo every night.
In addition to the eye-catching lights, the holiday spirit continues with warm spiced wine, holiday treats, and seasonal gift shopping. Guests can also purchase tickets for the light maze, the carousel, and the 65-foot Ferris wheel. The weekends bring even more seasonal activities, such as live ice carvings.
ZooLights runs from November 29 to January 5, with several special events. On December 3, this year's Giving Tuesday, a holiday market brings local crafters and artisans to the zoo for an outdoor shopping experience. On December 5, it's adults night out with cash bars throughout the zoo. The entire campus spans about 35 acres, so make sure to bundle up and enjoy a hot beverage while walking around.
3. Chicago Botanic Garden Lightscape
1000 Lake Cook Rd, Glencoe, IL
For a holiday activity just north of the busy downtown streets, the Chicago Botanic Garden features a seasonal Lightscape display available from November 22 to January 5. Thanks to this festive display, the gardens become a holiday wonderland.
The Lightscape consists of a mile-long path with scenes and displays to delight all the senses. The outdoor path features the sounds of a choir singing in the trees, a waterfall of light, and much more. All around, trees are layered with glowing lights to inspire holiday wonder.
Although admission to the botanic gardens is free, the Lightscape is a ticketed experience. This popular show often sells out, so it's best to reserve tickets ahead of time online. Prices range from $17-$23 for adults and $8-$11 for children ages 3 to 12, depending on the day of attendance.
While visiting Glencoe, make a stop in the charming downtown area, which features a holiday tree, seasonal decorations, and local boutique shops. There are also several major malls in the area; if you're heading north, try Gurnee Mills Mall, and if you're traveling south, there's the Fashion Outlets of Chicago.
4. Christmas Around the World at the Museum of Science & Industry
5700 S. Lakeshore Dr., Chicago, IL
The Christmas Around the World exhibit at the Museum of Science & Industry brings the holiday spirit to this well-loved institution. The annual celebration features a four-story tree that fills the atrium from its floor to its dome roof. Surrounding this main tree, visitors can browse more than 50 trees and displays that represent holiday cultures and traditions from across the world.
On the weekends, the exhibit also features live holiday performances. Of course, make sure to reserve plenty of time to explore the rest of the museum, which offers many attractions for everyone to enjoy.
5. Christmas in the Commons
1 Veterans Parkway, New Lenox, IL
For active adults visiting the city from Joliet, Naperville, or Aurora, a holiday activity in the southwest suburbs of Chicago is Christmas in the Commons in New Lenox. This outdoor holiday market opens each weekend through December 22 to ring in the holiday season with cheer.
At Christmas in the Commons, guests can enjoy holiday light displays, ice skating, horse-drawn wagon rides, local artisans, and plenty of warm beverages. This charming small town market offers a fun opportunity to find unique gift ideas and make memories with family.
6. See a Classic Holiday Show
Some of the most memorable holiday traditions can come in the form of annual holiday shows that tell favorite holiday tales from throughout the years. Chicago boasts an abundance of world-class entertainment options, and during the holiday season, famous theatres put on their best holiday plays, musicals, and ballets.
One of the most popular holiday shows is "The Nutcracker" performed by the Joffrey Ballet. The show runs from November 30 to December 29 at the Auditorium Theatre in the heart of downtown Chicago. If you have some time before or after the show, you can visit the wreathed lions at the Art Institute of Chicago or marvel at the holiday tree and ice skaters at Millenium Park, which is just over a half-mile away.
Another classic performance is "A Christmas Carol" at the Goodman Theatre from November 16 to December 29. This heartwarming story from Charles Dickens has been delighting guests for decades and features vibrant song-and-dance numbers. As a bonus, the theatre is within walking distance of Christkindlmarket.
The well-loved holiday musical "White Christmas" runs every year at the Cadillac Palace Theatre, and guests can enjoy it for a short time from December 10 through December 15. This classic Irving Berlin musical, hosted by Broadway in Chicago, is full of holiday cheer and catchy tunes.
Returning from last year, Strawdog Theatre Company presents "Hershel and The Hanukkah Goblins" from December 7 to December 28. This stage adaptation of an award-winning children's book by Eric Kimmel brings magic to the stage that the whole family can enjoy.
For a more interactive experience, check out the Music Box Christmas Double Feature, a lesser-known holiday tradition now in its 36th year. This special event hosts a double feature screening of "White Christmas" and "It's A Wonderful Life," inviting the audience to sing along to their favorite holiday songs with a live organ. Even Santa makes an appearance for this unique event that runs from December 12 through December 24.