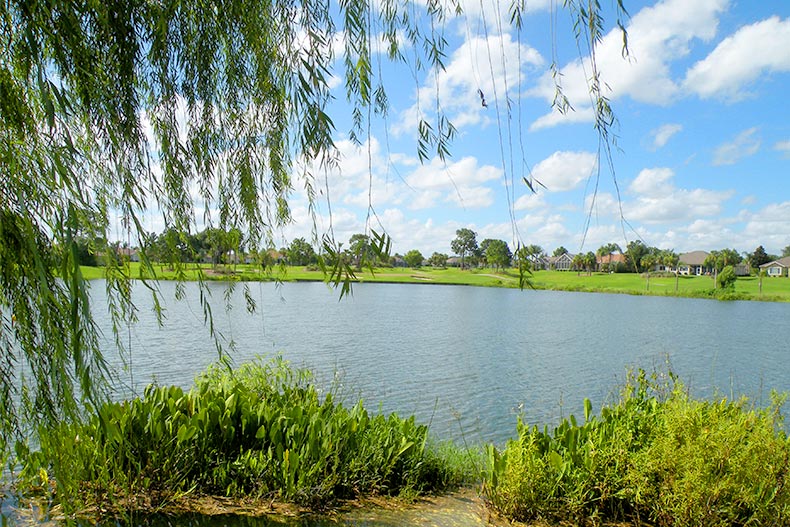 Many Boomers are attracted to the benefits of moving into a smaller home, whether that be a single-family home with less square-footage, an attached townhome, or a condo. In addition to buying a more affordable home, downsizing means there's less space to heat and cool, a smaller (or no) yard to maintain, less house to clean, and the general feeling of relief when you finally organize and part with all of your unused clutter.
In the Inland Empire area of Southern California, there are many 55+ communities to choose from, and the area offers plenty of activities and scenery for active adults to enjoy. Downsizing means more money and more time to enjoy all of the attractions the Inland Empire area has to offer.
Take a look at these 55+ communities in the Inland Empire area that offer beautiful homes, perfect for downsizing.
Sun City — Menifee
This sprawling 55+ community is one of the most popular in the Inland Empire, offering down-sizers a choice of small- to medium-sized, single-story resale homes. Sun City resides in Menifee, California, and it's near attractions such as gaming casinos, shopping districts, and Diamond Valley Lake.
In Sun City, downsizing your home doesn't mean skimping on amenities. With two outdoor pools, a fitness center, three town halls, and a variety of hobby studios, residents of Sun City stay active and social. An outdoor amphitheater, horseshoe pits, lawn bowling, bocce ball, and tennis courts are also available for residents and their guests to enjoy.
Built from 1962 to 1981, Sun City offers 4,762 attached and single-family homes with one to three bedrooms, one to two bathrooms, and a garage or carport. Many current resale homes for sale in this community offer smaller homes around 1100 square feet.
Maravilla Estates — San Jacinto
Maravilla Estates offers modestly sized, new-construction homes in an intimate 55+ community. Set in the picturesque city of San Jacinto, Maravilla Estates offers its residents amenities such as a 7,000-square-foot clubhouse, a fitness center, catering kitchen, ballroom, and library, as well as a pool, two spas, and a shallow wading pool for visiting grandchildren. Tennis courts and a chipping green are also in the plans.
Construction at Maravilla began in 2015, with 218 single-family homes built. Homebuyers can choose from brand-new, single-family ranch-style homes ranging in size from 1,502 to 1,652 square feet with one to two bedrooms, two bathrooms, and an attached two-car garage.
Sun Lakes Country Club — Banning
The gated and private Sun Lakes Country Club is a large 3,300-home 55+ community offering Boomers the option to downsize into one of its low-maintenance attached homes or smaller single-family homes.
At an elevation of 2,350 feet, Sun Lakes Country Club is nestled in the historic city of Banning, where residents enjoy the warm and dry, desert-like climate. Residents of this community also enjoy two private golf courses, three large clubhouses, an outdoor pool and patio area, a fitness center, a library, a grand ballroom and billiards room, and a full-service restaurant.
Current resale homes for sale include single-family and attached homes, ranging in size from 850 to 2,627 square feet. Homes feature two to four bedrooms, two to three bathrooms, and a two- to three-car garage.
Banning Estates — Banning
The affordable, low-maintenance lifestyle at Banning Estates is a big draw for Boomers looking to downsize. This 55+ community of manufactured homes offers residents access to the nearby shopping, dining, and entertainment in Banning.
Amenities at Banning Estates include a heated outdoor swimming pool and spa, a bingo hall, poker and pool tables, a fitness room, and tennis and pickleball courts. Golfers delight in the many golf courses in the immediate area.
There are 199 manufactured homes in this 55+ community, built between 1980 and 2001. Homebuyers have a choice of various floor plans ranging in size from 864 to 1,680 square feet. Each home offers two to three bedrooms, one to two-and-a-half bathrooms, and a one- or two-car garage.
Jess Ranch — Apple Valley
Active adults looking for a wide range of home styles and sizes should consider Jess Ranch, a larger 55+ community offering single-family homes, attached townhomes, and condos. Set in the high desert of Apple Valley, this large and friendly community of 2,120 residences is near shopping and restaurants as well as the California Route 66 Museum. It's also less than two hours from Orange County, Los Angeles, and Palm Springs.
Residents of this gated community enjoy an outdoor pool, a small clubhouse, shuffleboard courts, aerobics classes, tennis, bocce, arts and crafts, walking and biking trails, and more.
Construction at Jess Ranch started in 1985 and completed in 2002, and the community offers single-family, attached, or condo-style resale homes. Current homes for sale include perfect options for downsizing, from modestly sized single-family homes to smaller attached and condo homes.