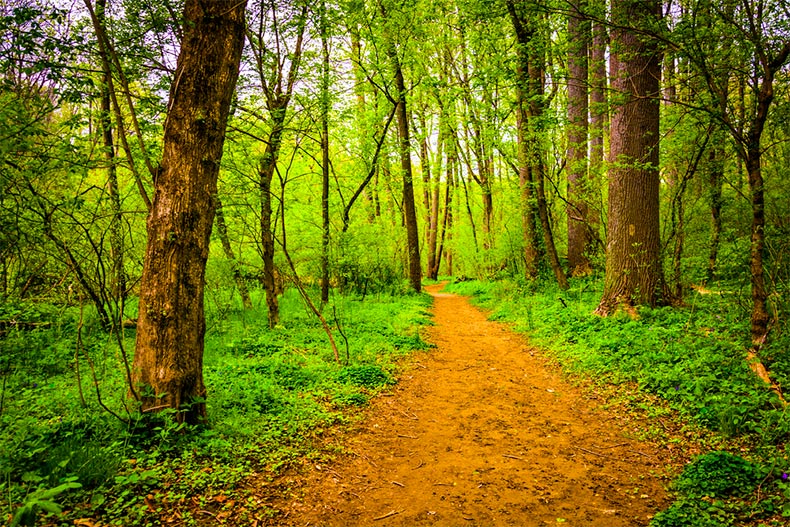 It's implied in the name "active adults" that you're trying to keep active. That's especially true in retirement and as you get older since staying physically and mentally fit can have a lasting effect on your health. One of the great things about living in Central Pennsylvania is that the surrounding hillsides, farmlands, and forests beckon you to enjoy them (so long as the weather agrees).
Even better, a crop of active adult communities in this region has made staying active a part of their core values as a community. Whether it's a fitness center, outdoor walking trails, or multiple sports courts, these Central Pennsylvania communities are all about staying active while here.
Alden Place - Lebanon
Alden Place in Lebanon is a 55+ community with 505 homes spread across 240 acres. It's in the community's 17,000 square-foot clubhouse, Alden Club, where many residents head each day to get their fitness fix. This amenity center includes an exercise room complete with multiple machines. Those looking to do some laps can instead head for the indoor pool, which includes lanes for those who want a serious swim. Exercise and yoga classes are also offered in Alden Club.
There's also plenty of space for staying active outdoors as well. The community has direct access to The Lebanon Valley Rail-Trail, a 12.5-mile walking trail full of greenery and wildlife spotting. There's also a lake located inside the community where fishing and canoeing are welcome.
Penn National - Fayetteville
While not age-restricted, Penn National offers an active lifestyle that many 55+ buyers can't pass up. That's especially true when it comes to all of the ways to stay active and healthy. In the clubhouse, residents have access to an exercise room and aerobics studio where exercise classes, yoga classes, and more are always on the calendar.
Outdoors, the list of activities residents can take part in seem to just keep going and going. The Iron Forge Golf Course and Founders Golf Course, both 18 holes, make sure there's always a chance to hit the links. If you'd rather play tennis, bocce, or pickleball, there are two courts for each sport available. There's also a basketball court if you want to get a game of three-on-three going. If you'd rather take it easy while staying active, the community also includes waking and biking trails, plenty of parks and natural space, and even some scenic ponds to explore.
Brookshire - Manheim
Completed in 2014, Brookshire in Manheim is a land-leased community that includes 230 single-family and attached homes. This neighborhood might seem quaint and quiet, but it doesn't skimp on activities to keep residents moving and having fun.
Inside the Brookshire Community Center, residents can get in a workout in the fitness room as well as an aerobics and dance studio. The community offers aerobics classes, yoga, table tennis, and a few more activity options.
Outside, head to the bocce and shuffleboard courts where you'll be able to play some sports while overlooking the three-acre community lake. There are also walking and biking trails to be found in and around the community. And if you don't mind a little drive, residents are about a half-hour from multiple large forests and greenspaces.
Four Seasons at Elm Tree - Mount Joy
Four Seasons at Elm Tree puts its 55+ residents right in the heart of Pennsylvania Amish Country. It also provides a beautiful backdrop of greenery for those who live here to stay active in plenty of ways. Inside the 7,000 square-foot clubhouse residents will find a fitness center complete with locker rooms so they can work up a sweat. Yoga, stretching, and strength training classes are offered regularly.
If you'd rather stay active outdoors, there are so many options available. You can swim in the outdoor pool, play some tennis, throw some bocce balls, get some practice on the putting green, or make your way around the walking & biking trails. There are community clubs for so many activities as well, including bowling, fitness walking, and other exercises.
Amblebrook - Straban Township
We're jumping the gun a little bit as Amblebrook was only recently announced and is currently under construction. However, based on the plans they have in store, this 2,000-home community sounds like a real haven for those who want to keep an active lifestyle.
Plans call for The Town Center at Amblebrook, which will include a community clubhouse where residents will undoubtedly be able to partake in fitness activities. Outside, however, is where there are a lot of opportunities to move around. Plans call for an outdoor pool, tennis courts and walking trails that weave through acres of beautifully preserved, natural space. The community is also extremely close to Gettysburg National Military Park, where residents can walk around while exploring historical artifacts and battlegrounds.