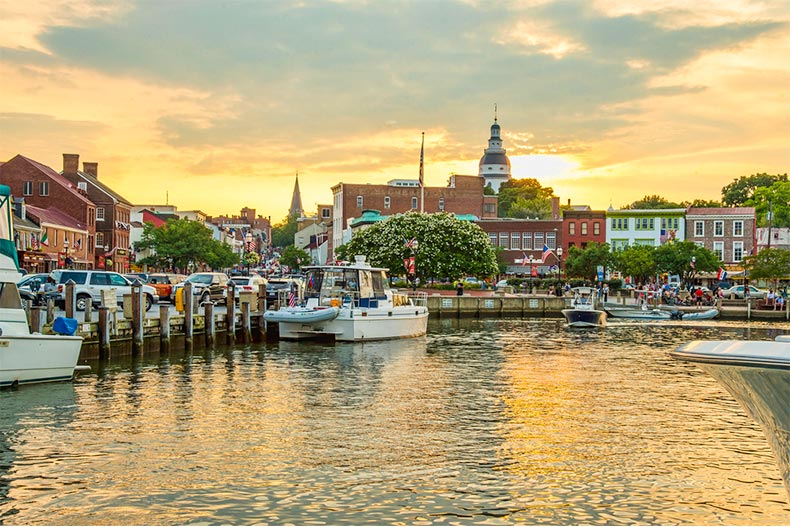 In Central Maryland, home prices in active adult communities can range from the low $100s for a small condo to over $600,000. Overall, this matches the fluctuation in average home prices throughout the state.
According to SmartAsset, no county has a median price under $100k, but some counties have median prices over a half million dollars. The average home price in the state is $287,500. And while many active adults would be happy with a home in the mid $200s, many residents also want the amenities that are typically found in age-restricted communities. Generally, large communities with a variety of home styles are able to offer low-priced homes with state-of-the-art facilities.
Here are four of Central Maryland's best lowest-priced communities.
Central Parke at Victoria Falls - Laurel
Central Parke at Victoria Falls is a mid-sized community of 609 homes in Laurel. The location gives residents easy access to Interstate 95 and the Baltimore-Washington International Airport, as well as Baltimore, D.C. and Annapolis. Central Parke offers single-family, attached, and condominium homes starting in the low $200s.
For around $250k, prospective homebuyers can find an up-to-date and easy to maintain condo with two beds and two baths. That price doesn't come at the expense of amenities. The Resort Club includes a state-of-the-art fitness center, pool, sauna and meeting rooms. Residents can enjoy an outdoor pool in the summer, along with tennis courts, gazebo, barbecue area and community garden.
Leisure World of Maryland - Silver Spring
In Maryland's largest active adult community, Leisure World of Maryland, residents can choose between single-family, condos, and attached homes. With over five decades of building, there are a variety of styles and layouts.
The homes are divided into neighborhoods, but everyone has access to amenities inside the gated community. Clubhouse I has the outdoor pool and classrooms, while Clubhouse II has the indoor pool, fitness center, and meeting rooms. Residents can also enjoy the tennis courts, golf course, and walking trails.
Residents also get together for clubs and activities, some organized by Leisure World and others resident-led.
Cameron Grove - Odenton
Cameron Grove is another mid-sized community that offers a variety of housing models and prices. Located in Odenton, the community includes 740 homes divided into single-family, attached, and condo models. The condos are usually priced in the mid $200s and feature two bedrooms and two baths, with easy layouts and garage parking.
The 20,000 square-foot clubhouse serves the community and includes everything residents need to stay active, including an indoor pool, saunas, a fitness center, and aerobics studio. Outside, the walking trails, tennis courts, and softball field also make staying active easy.
Activities in the community include special events, club meetings, and classes, while the location provides easy access to Interstate 495, the Capital Beltway, and the Odenton metro station.
Heritage Harbour - Annapolis
Heritage Harbour offers a quaint community near the water. Located in Annapolis just minutes from the city center, the age-restricted community of almost 1,700 homes is very attractive for active adults.The wide price range means that there are models for everyone and every budget. Condos provide a great value and sell in the low $200s. Like other large communities, Heritage Harbour provides homeowners who want to stay active several amenities. Gardners, plant-lovers, woodworkers, crafters, and hobbyists of all kinds will find spaces to work and learn with others, while physically active residents can enjoy the pools, fitness center, golf course, tennis courts, and sauna.
The community also provides many opportunities for socializing, with special event nights, clubs, and classes. Heritage Harbour is also not gated, giving it a welcoming, neighborhood feel.