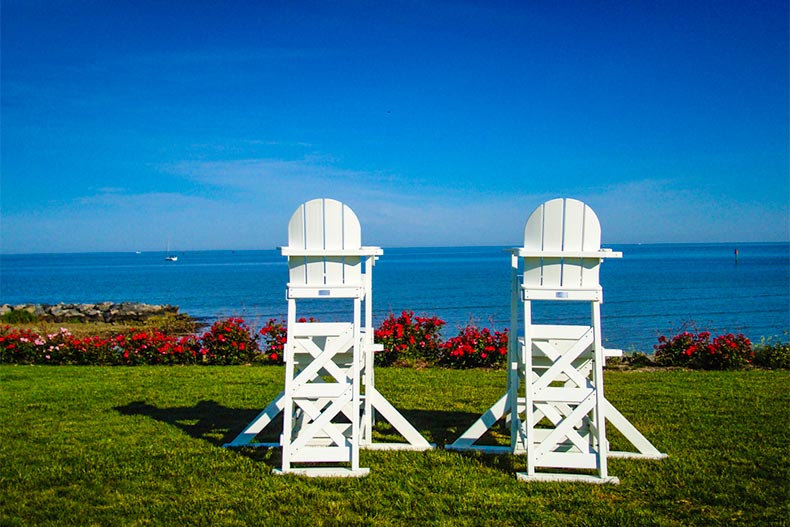 For many people, living at the beach is a dream and a representation of an active adult lifestyle. In Virginia, Virginia Beach and the tidewater area provide both easy access to the Atlantic Ocean and natural areas and inlets, as well as the large cities of Norfolk and Portsmouth.
This balanced lifestyle of culture and city with the outdoors and nature attracts many people to the area. However, this popularity also makes Coastal Virginia slightly more expensive than other regions in the state.
Coastal Virginia offers people over 55 eight age-restricted communities. Although prospective homebuyers can find affordable homes compared with other real estate in the area, home prices in these communities tend to range from the mid $200s to low $400s. The five best lowest-priced communities in Central Virginia list homes under $300,000.
The Villages at West Neck - Virginia Beach
The Villages at West Neck is a large community of almost 1,000 homes in Virginia Beach. This is the active adult community for those who want to live near the beach.
Residents are just a short drive from beaches at Virginia Beach and Sandbridge, while the community itself is secluded. Homeowners enjoy golfing and the ponds and trails that weave throughout the neighborhoods.
At the clubhouse, residents work out in the fitness center, swim in the pool, and get to know each other.
The single-family and condominium homes generally list anywhere from the low $200s to the high $400s. The lower-priced condos are under 2,000 square feet, with three bedrooms and two baths.
Church Square - Smithfield
Although not quite as close to the ocean, Church Square in Smithfield offers residents low-priced river-side homes. Located just across the James River from Newport News, the small community will include 118 single-family homes when completed. Residents are a very short drive from the historic Smithfield mainstreet, parks, and rivers.
Although small, Church Square offers residents a 3,000 square-foot clubhouse with meeting rooms, catering kitchen, exercise room, and resort-style pool. Rather unusual for the area, prospective homebuyers can find new homes for under $300,000. Two and three bedroom homes with two baths list in the mid to high $200s.
Eagle Pointe at Cahoon Plantation - Chesapeake
Eagle Pointe at Cahoon Plantation is another age-restricted community offering new homes in Coastal Virginia. Homeowners are about 15 minutes south of Portsmouth and Norfolk, and about 30 minutes from the beach. However, the Chesapeake area provides opportunities for boating and hiking.
Within the gated community, residents enjoy golfing at the 18-hole golf course and walking on trails along scenic ponds. At
, residents swim in the indoor and outdoor pools, stay active at the fitness center, and get to know each other and learn new things in the meeting and hobby rooms.
This mid-sized community will include 501 homes when complete and offers attached and single-family models. Prospective homebuyers can find smaller attached homes with two or three bedrooms.
Monarch Walk - Chesapeake
Monarch Walk is a small community offering low-priced homes for active adults. Although also located in Chesapeake, the community is on the southwest side of Norfolk/Portsmouth.
Residents can easily get to nearby parks, lakes, and rivers, or the shopping malls along Interstates 264 and 664. Nearby golf courses and country clubs also provide opportunities for recreation.
In Monarch Walk, the clubhouse includes a fitness center and meeting room. The two-bedroom, two-bath attached homes list in the mid to high $100s.
The Commons at Hunningdon Lakes
Located on the east side of Chesapeake, The Commons at Hunningdon Lakes is another small condo community. Residents are about 20 minutes from the beach and 20 minutes to downtown Portsmouth, but have many opportunities for shopping, dining, and leisure in the Greenbrier East area.
Residents can golf at nearby country clubs, walk in scenic parks, or simply enjoy the small Commons community. The condos have three bedrooms and two-and-a-half baths. Homes are offered for resale and generally list in the mid $200s to low $300s.