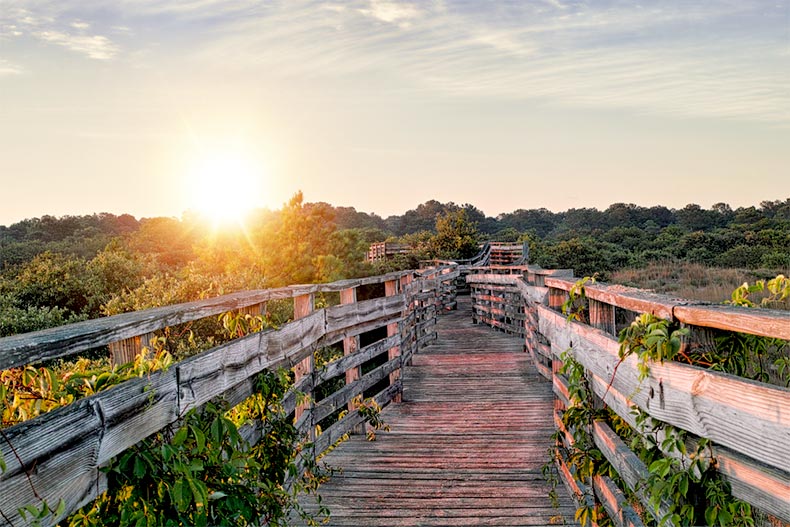 Many active adults are attracted to Eastern Virginia, an area that includes Williamsburg, Newport News, Norfolk, and Virginia Beach. Virginia as a whole has nice tax benefits for older adults, including deducting up to $12,000 of retirement income on taxes. The area also provides easy access to cultural attractions like museums, theaters, events, and outdoor areas.
Although some people move to the area to retire, others are already locals. About a quarter of the area's population is over 55, and according to AARP, most people of retirement age want to stay in the area where they are living. However, a study from Christopher Newport University found that only "15% of new retirees in Virginia in the next 15 years will retire with $201,000 or less in net worth, only half of which is easily accessible."
Eastern Virginia is home to 18 active adult communities. However, home costs in the area are generally higher than in other parts of the state, with only a few communities offering homes under $250,000.
Luckily, we've done the searching for you, and here are the four best lowest-priced communities in Eastern Virginia.
1. Church Square
Church Square is an intimate community of just over 100 single-family homes located about an hour from Williamsburg. Prospective homebuyers can find both new and resale homes in the low $200s. Models in this price range are between 1,400 and 2,000 square feet with two to three bedrooms and one to two baths.
And although not a large, resort-style community, Church Square offers the same caliber of amenities. Residents gather at the Signature Club, a clubhouse with meeting rooms, a catering kitchen, a dining room, and an exercise room. Residents can also enjoy the outdoor pool and patio, along with a community park and greenspaces. Homeowners get the small-town feel from nearby Smithfield while also being about half an hour away from Newport News and Hampton.
2. Kingsmill
Kingsmill is a large, planned community along the James River near Williamsburg. Although it's not age-restricted, active adults can find an inexpensive home in this lively community. Some larger, single-family homes can list over $1M, but Kingsmill also includes models in the very low $200s. Most of these are condominiums with two or three bedrooms, but some smaller, single-family homes also list under $300,000.
At Kingsmill, residents enjoy activities like golfing on three courses, eating at restaurants in the clubhouses, playing tennis or staying active at the fitness center, swimming in outdoor pools, and enjoying watersports and boating along the river.
3. The Villages at West Neck
Located in Virginia Beach, The Villages at West Neck offers residents a larger community with easy access to the shore. Among the nearly 1,000 homes, prospective homebuyers can find condominiums and single-family homes between the mid $200s and high $400s. The condos are under 2,000 square feet, while the single-family homes range from about 1,600 square feet to 2,500 square feet.
Offering plenty of opportunities for residents to socialize, learn new skills, and enjoy the community, the Village Hall includes a fitness center; meeting, hobby, and game rooms; and a library. Outside, residents enjoy a pool and patio, plus bocce ball courts and horseshoe pits. At The Villages at West Neck, residents can also obtain access to The Signature at West Neck, an Arnold Palmer Golf Course and clubhouse.
4. Colonial Heritage
Colonial Heritage is another large age-restricted community near Williamsburg. Here, prospective homebuyers can find both attached and single-family homes for resale or as new builds. Although some of the larger homes can list in the $600s, homes under 2,000 square feet can list under $300,000. With 1,800 homes planned, Colonial Heritage is large, but it offers prospective homebuyers a variety of options.
Residents can also enjoy the varied amenities in the community, including a very large clubhouse and a separate fitness facility. At the Heritage Clubhouse, clubs, groups, and classes meet in hobby and craft rooms, while other residents socialize in the restaurant and library. Residents stay active outside on the golf course or tennis courts, or by taking a swim in the resort-style pool. The Athletic Club includes a fitness center, dance studio, indoor pool, and pro shop.