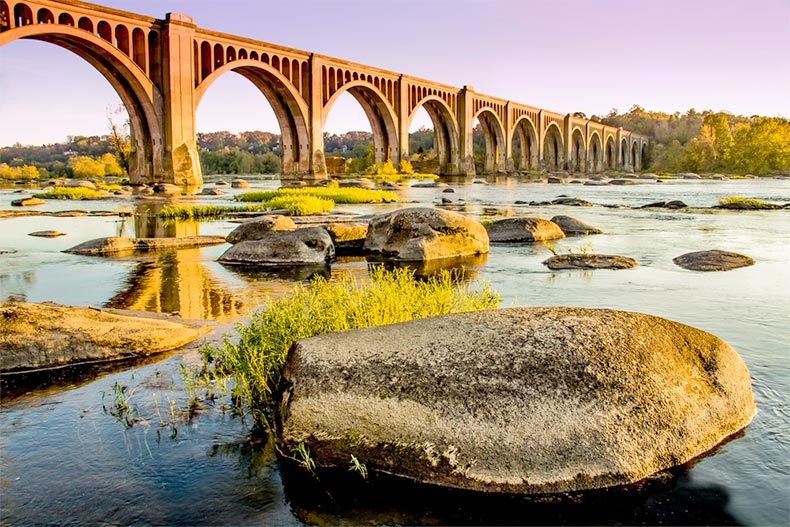 As Virginia's capital city, Richmond offers residents a mix of theaters, museums, college sports, outdoor recreation, restaurants, and shopping. The Richmond area is home to 41 active adult communities, spread across the greater metropolitan area. The northern and northwestern suburbs tend to have lower-priced homes than the southwestern suburbs, but homebuyers can still find a number of communities with homes for sale under $300,000.
Southwest Richmond is made up of communities technically located in the city of Richmond as well as the towns of Chester, North Chesterfield, Chesterfield, Midlothian, and Moseley. Here are the five best lowest-priced communities in Southwestern Richmond.
1. Magnolia Lakes
Magnolia Lakes is an age-restricted community made up of two neighborhoods in Chester, about half an hour south of Richmond. Situated on the Chester Club Lake, the community offers scenic walking trails, fishing spots, and an outdoor patio and pool. To get out further into nature, homeowners drive to parks like the Dutch Gap Recreation Area along the James River or Pocahontas State Park.
At Magnolia Lakes, residents can also enjoy getting to know each other at the clubhouse, which includes comfortable lounge areas, meeting rooms, a fitness room, and a catering kitchen. Just down the road in Chester, residents can visit the quaint restaurants and town amenities. While homes usually range from the low to high $300s, prospective homebuyers can also find villa-style homes under 2,000 square feet for under $300,000. These models have two bedrooms, two bathrooms, and a two-car garage.
2. Townes at Notting Place
Adults over the age of 55 looking for a new, affordable home in Richmond should consider Townes at Notting Place. StyleCraft Homes began construction on the community in 2018 and plans to build 128 attached homes.
The models are all about 1,500 square feet with two bedrooms, two bathrooms, open floor plans, and walk-in closets. Residents are just twenty minutes from Downtown Richmond, but there are also plenty of parks, golf courses, and shopping centers in the South Richmond area. More of a neighborhood than a planned community, residents enjoy the community garden, communal lawns, picnic pavilion, and walking trails.
3. Villas at Dogwood
Villas at Dogwood is an age-restricted community in Chesterfield, about half an hour southwest of Richmond's downtown. Although Eagle Construction only built 97 homes in this intimate community, residents get the benefits of a slightly larger community. They enjoy socializing and staying fit in the clubhouse, which includes a catering kitchen, meeting rooms, and a fitness center. Although close to many shopping centers and amenities, the trees, gardens, and nature around Villas at Dogwood keep the community green.
Just minutes away, residents can practice their golf swing at the Oasis Sports Club driving range or golf full 18-hole courses at the Birkdale Golf Club or Magnolia Green Golf Club. Villas at Dogwood is also just a short drive from the Swift Creek Reservoir, which provides scenic walking trails, parks and pavilions, and the opportunity for water sports.
4. Midlothian Wood Condominiums
Located in the near-suburb of Midlothian, the Midlothian Wood Condominiums is made up of 102 townhouses built between 2005 and 2006. The homes are located next to the Ivymont Square Shopping Center, where residents can find restaurants and a grocery store. Also, four nearby country clubs provide golf-loving residents with plenty of opportunities to play.
The community's clubhouse offers residents multi-purpose rooms for socializing and gathering, while the outdoor pool and patio provide a common space to enjoy the outdoors. The townhome condos range from about 1,500 to 2,400 square feet and include two to three bedrooms.
5. Villas at Providence
Villas at Providence is another new, lower-priced community in the city of Richmond. Eagle Construction began building homes in 2018 and plans to include just 86 attached homes in this age-restricted neighborhood.
The Emory model is about 2,000 square feet and includes three bedrooms and two baths on a single story. Active adult homeowners will appreciate the single-story layout and open floor plan. While the builders don't currently have plans for a clubhouse, homeowners can enjoy the Providence Golf Club located just across the street, the shopping along Route 60, and everything else the Richmond area has to offer.