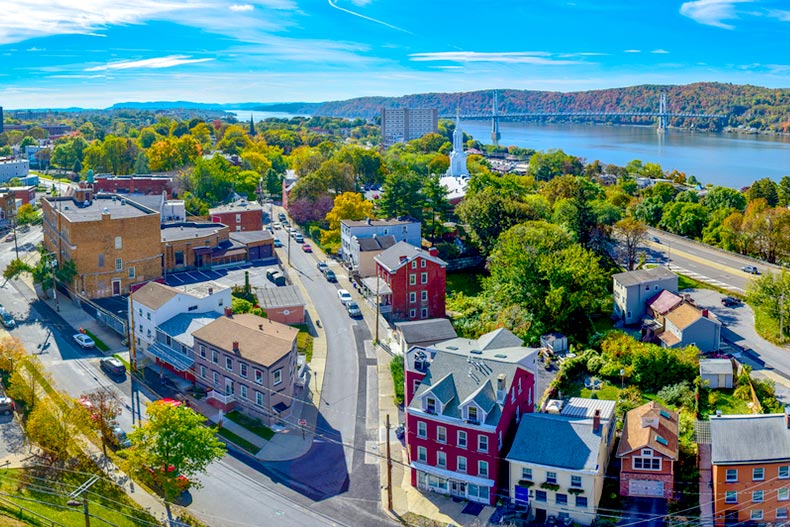 Traveling north into New York State's Hudson River Valley, you'll pass by cities like New Rochelle and White Plains. As the mileage increases, the Empire State opens up into picturesque areas like Westchester and Putnam Counties. Active adults seek out these are the kinds of places for retirement living because they are rich in scenic beauty yet close enough for travel to destinations like New York City and New England.
There are 18 active adult communities in NY's Carmel Area, priced from the low $100s to over $1 million. Many of these communities are quite affordable, whether they have under 100 or over 1,000 homes. Perks that come from living in this area include an abundance of pristine lakes and reservoirs like Croton Falls (awesome trout fishing) and lovely Lake Carmel (beaches and boating). Outdoor recreation can also be enjoyed at Franklin D. Roosevelt State Park and California Hill State Forest.
Top hospitals like Putnam Hospital Center and Hudson Valley Hospital Center provide quality medical care for area residents, and there are plenty of shopping malls, farmers markets, convenience stores, and specialty stores everywhere you look. This region has everything that 55+ adults need for low-maintenance, rewarding lifestyles. If you're looking into homes for sale in the Carmel area, have a gander at these four choices.
High $200s - Low $300s
This intimate, gated active adult neighborhood is a real find. With just 68 new and resale attached homes, it offers a private setting among wooded hillsides and lakes. However, Stoneleigh Woods is close to Route 6 and shopping outlets. The county hospital is also just minutes away, and there are several nearby golf clubs including Mahopac and Putnam County Golf Course.
Located in Putnam County, this active adult neighborhood broke ground in 2012. Builder Blue and Gold Homes created four thoughtfully-designed models, ranging from 1,343 to 1,519 square feet with two bedrooms, two bathrooms, and assigned parking spots out front. Upgrades may include patios or balconies, full walk-out basements, ceramic tiles, and extra storage. The reasonable monthly homeowners' association (HOA) fee includes trash collection, snow removal, common area maintenance, and water/sewer.
Stoneleigh Woods' private clubhouse is a perfect gathering place, with its cozy great room, fireplace, and catering kitchen. There's also an exercise room, an outdoor patio, plus a walking trail on the grounds.
Learn more information about Stoneleigh Woods at Carmel here.
High $100s - Low $200s
Built from 2006 to 2010 by Wilder Balter Partners, Inc, this second entry is also small in size and budget-friendly. Woodcrest at Jacobs Hill is just across the Hudson from Bear Mountain State Park, which offers over 5,000 acres of hiking, biking, ice skating, wildlife, and rugged mountain views. This community is surrounded by several other parks, and it's right down the road from a Home Depot, Walmart, Kohls, and the Hudson Valley Hospital.
Woodcrest is in Westchester County, and there are 58 resale condo units on the property with five models to choose from. They range from 750 to 1,240 square feet with one or two bedrooms and bathrooms, private balconies, and parking out front. Upgrades may include sliding glass doors, wooded views, and walk-in closets. The monthly HOA fee includes trash collection, snow removal, common area maintenance, and water/sewer.
Residents take advantage of the amenities at the community clubhouse, like the outdoor pool, community room, and media room. There are also walking and biking trails and a charming gazebo.
Learn more information about Woodcrest at Jacobs Hill here.
High $200s - High $600s
With 2,600 resale condo and single-family homes just outside of a golf course in Westchester County, Heritage Hills offers active adults a country club lifestyle. This established, gated community is in Somers, New York, a tight-knit town known for its concerts in the park series, town-wide events, and vibrant active adult population.
There are over two dozen condo models, sized from 955 to 1,900 square feet with one to three bedrooms, one to two-and-a-half baths, and assigned carports or attached garages. Options may include stainless steel appliances, hardwood floors, fireplaces, and private decks. There are a limited number of single-family homes, sized from 1,200 to 1,700 square feet with two bedrooms, two bathrooms, and attached two-car garages. The monthly HOA fee includes common area and exterior maintenance, plus snow removal and trash collection.
The Somers Pointe Golf Club is less than a mile away, and homeowners are invited to join for a separate membership fee. This includes access to its two courses, driving range, clubhouse, and restaurant. Heritage Hills has its own clubhouse, which is replete with a performance theater; woodworking and crafts studios; an exercise room; tennis, pickleball, and bocce courts; and five outdoor pools.
The property also boasts two restaurants, walking trails, and gardening plots. There are endless opportunities for fun and recreation with the many club and activity groups; resident favorites include travel club, gardening club, community theater, and ballroom dancing.
Learn more information about Heritage Hills here.
Low $100s - Mid $300s
Also on the larger side, Jefferson Village is a well-established 55+ neighborhood of 1,000 resale condos, also in Westchester County. It's just south of Route 6, and it's near everything you need, like a shopping mall (right across the street), a hospital, banks, grocery stores, and Westchester County Airport.
There are five floor plans, ranging from 843 to 1,555 square feet with one or two bedrooms and bathrooms, one-car garages, and additional street parking. Options include dens, private patios, eat-in kitchens, oversized closets, and crown molding. Jefferson Village's HOA fee includes common and exterior maintenance and snow removal.
Homeowners can be found at the private clubhouse, which has an outdoor pool, patio, and spa, along with tennis courts, a fitness center, and an arts and crafts studio. Nearby recreation areas include Turkey Mountain Nature Preserve and the Hilltop Hanover Farm and Environmental Center.