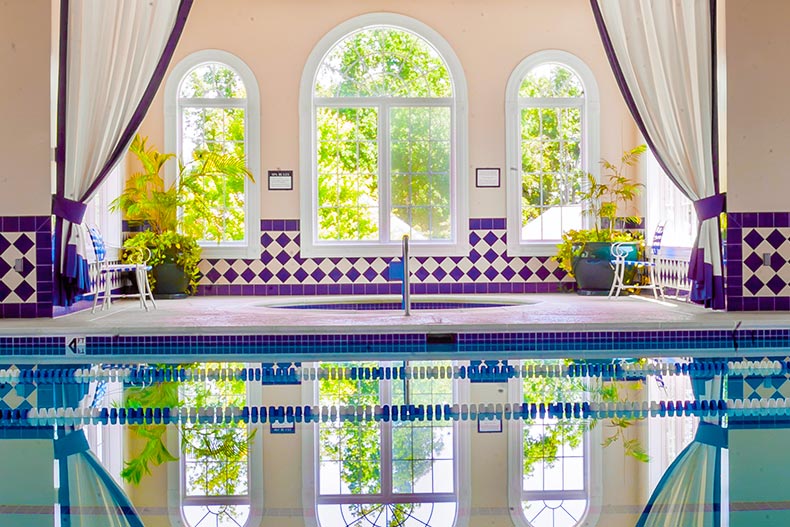 When planning a move to a 55+ community, many active adults are looking for a low cost of living and lower-priced homes, especially when on a fixed income. While other Mid-Atlantic states like Delaware are better known for their tax friendliness, tax benefits in Virginia make it a good place for retirees and active adults.
Virginia does not tax Social Security income and allows up to $12,000 of retirement income to be deductible. This is a great benefit for people living and working in the Washington, D.C. or Norfolk metro areas who are looking to retire but want to stay close to family, friends, and the amenities of the Mid-Atlantic.
Prospective homeowners will find more expensive communities in the D.C. area or near Williamsburg or Norfolk, where the cost of living is generally higher. However, potential homebuyers can find better deals in larger communities in these areas. In slightly less developed places, like Fredericksburg or Winchester, homebuyers can usually find two and three bedroom homes around $250k.
Across the state, homebuyers can find a lot of variety in the size, amenities, and home styles offered by active adult communities. Here are the four best lowest-priced communities in Virginia.
Summerlake - Fredericksburg
Summerlake is a well-established 55+ community about an hour-and-a-half south of Washington, D.C. that provides residents with an intimate community of 161 homes in a gated neighborhood with some of the amenities often associated with larger developments.
The clubhouse includes meeting rooms, a ceramic studio, craft room, woodworking shop, and a billiard room. Outside, residents can enjoy the heated pool, tennis courts, walking trails, and a lake. The variety of amenities and benefits allow residents to enjoy the feel of a larger resort-style community from within their tight-knit neighborhood.
The homeowners' association ensures that residents don't have to take care of yard maintenance, snow removal, trash pickup, or security. The two and three bedroom single-family and attached homes range from about 1,500 to 2,000 square feet.
Falls Run - Fredericksburg
Like Summerlake, Falls Run is another 55+ community in the Fredericksburg area between Washington, D.C., and Richmond. Del Webb built this large community of almost 800 homes between 2002 and 2005, which now offers resale homes for sale. The single-family and attached homes feature lower-priced home options, such as two bedrooms, two bathroom homes under $250k.
Like many large communities, Falls Run provides resort-style amenities to keep residents busy and active. The clubhouse includes social spaces like meeting rooms and a fireside lounge, where residents can meet up for clubs, classes, and special activities. Residents can stay active at the state-of-the-art fitness center, the indoor lap pool or outdoor pool, on the tennis courts, and on the walking trails around the community.
Kingsmill - Williamsburg
Kingsmill is a large resort-style community where prospective residents can find prices in any style and any price range. Many of the condominium homes and attached homes are offered for sale under $200k. The entire community is not age-restricted, but the open floor plans and homeowners' association provide easy living and easy maintenance.
Active adults who love golf will be right at home in Kingsmill. Nestled within the community are three 18-hole golf courses that challenge new and experienced players. Other amenities include clubhouses with spas, restaurants, and meeting spaces, outdoor pools, tennis courts, and a marina for boats.
The community borders the James River, which allows residents views of the water, scenic walking trails, and the opportunity to kayak and canoe right from their neighborhood. Downtown Williamsburg is just ten minutes away.
Lansdowne Woods of Virginia - Lansdowne
Lansdowne Woods of Virginia is a condominium community conveniently located in the Washington, D.C. metro area. Residents who want to travel to D.C. for work or leisure can commute under an hour by car or Metro Rail. Dulles International Airport is just twenty minutes away, while the Loudon County corridor provides shopping, recreation along the Potomac River, and plenty of wineries.
The community is large, with 1,200 homes spread across multiple buildings, but residents get to know each other through the clubs, special events, and classes offered at Lansdowne Woods of Virginia. Residents can also enjoy the 50,000-square-foot clubhouse, which includes a restaurant, fitness center, indoor pool, sauna, meeting rooms, craft studios, library, and theater.
Although home prices are slightly higher because of the location, prospective residents can still find two bedroom, two bathroom condos starting around $200k. Although the area has a lot to offer, residents may not see a need to leave the bustle of Lansdowne Woods of Virginia.