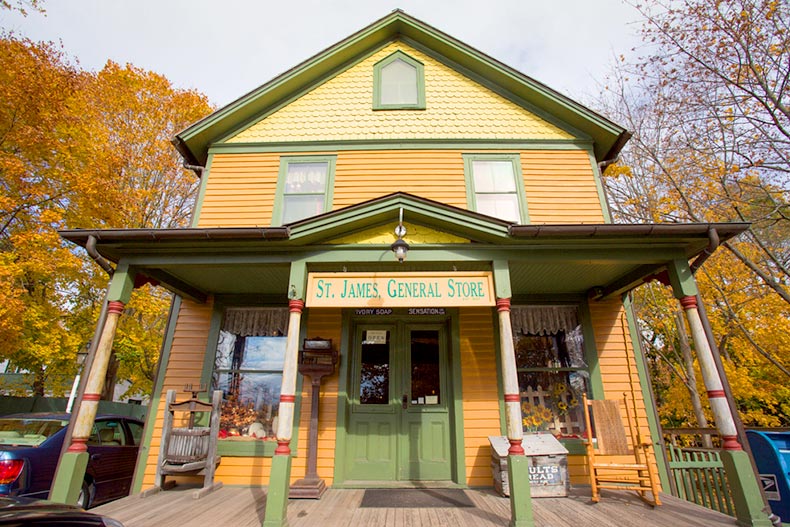 Millions of retirees dream of downsizing, but not everyone has the same picture in mind. For some, it means moving to a smaller home that requires less maintenance. Others want to lower their monthly payments by finding something at a lower price point. The overall theme is to have fewer worries, allowing active adults to spend more time doing the things they love.
Thanks to its abundance of cultural activities and natural beauty, New York state is a preferred retirement destination. Many active adult communities are located in the Long Island region, but there are some others farther north.
Here are several excellent options for downsizing in New York.
High $200s - High $400s
Fairfield at St. James is an established, gated active adult neighborhood in Long Island with 653 resale condo and attached homes. Located in Suffolk County, the community offers condominium units and a select number of townhomes.
The condos have one or two bedrooms, one or two bathrooms, and one-car garages or driveways. Most also offer a private balcony or patio. The attached townhomes have three bedrooms, two-and-a-half bathrooms, and either driveways or garages. Options may include patios, balconies, skylights, and walk-in closets.
The impressive clubhouse offers homeowners indoor and outdoor pools, a fitness center, tennis courts, and activity rooms. It's the perfect place for community gatherings like fundraising luncheons, parties, and guest speaker engagements.
There's also a community bus for resident use, which stops at local shopping centers and other neighborhood hotspots. Fairfield is close to numerous stores like Trader Joe's, Smith Haven Mall, and Lowe's. There's also a nearby movie theater, dozens of restaurants, clothing stores, and more grocery stores just minutes away.
Request more information about Fairfield at St. James.
High $300s - Mid $500s
Our second choice for downsizing is Dutchgate, a gated active adult neighborhood with 348 resale condo and attached homes completed in 2015 by Heatherwood. It's farther west in Nassau County, placing it somewhat closer to New York City.
The majority of Dutchgate's homes are condos, which are offered in five floor plans at 968 square feet. They have one bedroom, one-and-a-half or two bathrooms, outdoor terraces, in-unit washers and dryers, and one parking spot in front of the buildings. The attached model offers 1,400 square feet of living space with one bedroom, two bathrooms, and two parking spots. Three of the condo models and the townhomes also have dens.
Most of Dutchgate's amenities, including an outdoor pool and patio, game and activity rooms, and an exercise facility, are located at the community clubhouse. There are also walking and biking trails and a barbecue area on the grounds. Friends and neighbors gather together here to enjoy potlucks, game nights, exercise groups, and holiday parties throughout the year.
The property is close to many popular landmarks, like Valley Stream State Park and North Woodmere Golf Course. Also, it takes about 30 minutes to get to the beach, depending on traffic.
Request more information about Dutchgate.
Mid $400s - Low $500s
Also in Nassau County, The Seasons at Plainview is an exclusive active adult community of 134 resale condo and attached homes built from 2006 to 2007 by Engel Burman Group. There are 106 condos offered in two floor plans at 1,379 or 1,591 square feet. They have two bedrooms, two bathrooms, and lofts or basements. Exclusive upgrades may include custom window treatments and decks, granite counters, and hardwood floors.
The 28 attached homes aren't subject to age restrictions, and they're available to first-time homebuyers (income requirements apply). These homes are 1,386 square feet with two bedrooms, one-and-a-half baths, and attached one-car garages.
The refined clubhouse offers homeowners an outdoor pool and patio, an exercise room with lockers, plus a meeting room, lounge, and catering kitchen. It's well-used for pot luck dinners, barbecues, knitting club meetings, and Mahjong games.
The Seasons is close to the intersection of the Long Island Expressway and the Northern State Parkway, so you can rest assured that the area is full of shops and services. For a day out, options like Manetto Hills Park, Hicksville Gregory Museum, and Oyster Bay are worth the (short) drive.
Request more information about The Seasons at Plainview.
Below $100k - Mid $100s
If affordability is a priority, Greenwood Village is definitely worth a look. This gated 55+ neighborhood of 512 resale attached and single-family homes was built from 1980 to 2000 in Suffolk County. It's a land-lease community where homeowners pay an added monthly fee for their property.
Most of its homes are cozy single-family models, and there are eight floor plans ranging from 900 to 1,300 square feet with one to three bedrooms, one to two baths, and attached one-car garages. Options may include Florida rooms and basements. The attached homes come in at about 1,100 square feet with two bedrooms, one bathroom, and attached one-car garages.
This 55+ neighborhood has outstanding amenities including bocce ball and tennis courts, a picnic area, an outdoor pool, a community bus, and RV parking. The welcoming clubhouse has a woodworking shop, a great room and catering kitchen, and an exercise room. Greenwood Village is mere minutes from Rock Hill Golf and Country Club and Robert Cushman Murphy County Park, and there are endless beaches, bays, and rivers to explore nearby.