We're looking at those best-selling Florida communities today.
Below $100k – Low $400s
Everyone in central Florida is talking about On Top of the World, a huge 55+ community in Ocala with 10,000 new and resale homes. Why is it so popular among buyers right now? Variety, for one thing.
Both single-family and attached homes are available, and there's still plenty of new construction so that buyers can participate in the planning and building process by making decisions about upgrades and design points.
Buyers looking for something that's move-in ready have nearly 100 properties to view. This community covers a range of price points and floor plans. There are two-bedroom, two-bathroom villas with just over 1,000 square feet as well as huge homes with 3,000 square feet, three bedrooms, a den, and attached three-car garages.
Buyers are also impressed with the Recreation Center, Hobby Building, and the Arbor Club & Conference Center, the two community centers, and Circle Square Commons. All of these areas provide amenities such as swimming pools, fitness centers, meeting rooms, card rooms, libraries, and coffee shops.
There are restaurants and gardening plots; a woodworking shop and a gift shop. Residents can enjoy the racquetball courts, shuffleboard, pickleball, basketball, and softball. With almost 100 social events, clubs, and other community activities, active adults love living here, and people are increasingly buying at OTOW.
Learn more information about On Top of the World here.
Mid $100s – High $500s
A sandy beach, a nature preserve with a boardwalk, butterfly gardens, and a fishing pier are just a few of the special amenities available at Pelican Preserve in the southwestern part of the state, on the Gulf Coast. Buyers have been quick to claim the new and resale homes designed as single-family houses, attached villas, and condos.
This master-planned community for buyers 55+ covers 1,100 acres and allows residents an opportunity to enjoy golf course living even if they're on a budget. Affordably priced condos are spacious, ranging from 1,229 to 1,450 square feet. They have two bedrooms and two bathrooms, and many have dens. Larger homes offer between two and four bedrooms, three bathrooms, and lots of additional square footage.
Golfers will want to check out the Pelican Preserve Golf Club, where there's a 27-hole championship golf course, a pro shop and day spa, and a fitness center. There's also a clubhouse with restaurants and a ballroom.
Other amenities include swimming pools and space for volleyball, shuffleboard, pickleball, and tennis. Environmentally aware buyers are picking Pelican Preserve when they're looking for sustainable Fort Myers real estate. This was the first community to be awarded the Gold Seal of Sustainability from Audubon International's Sustainable Development program.
Learn more information about Pelican Preserve here.
Mid $200s – Mid $400s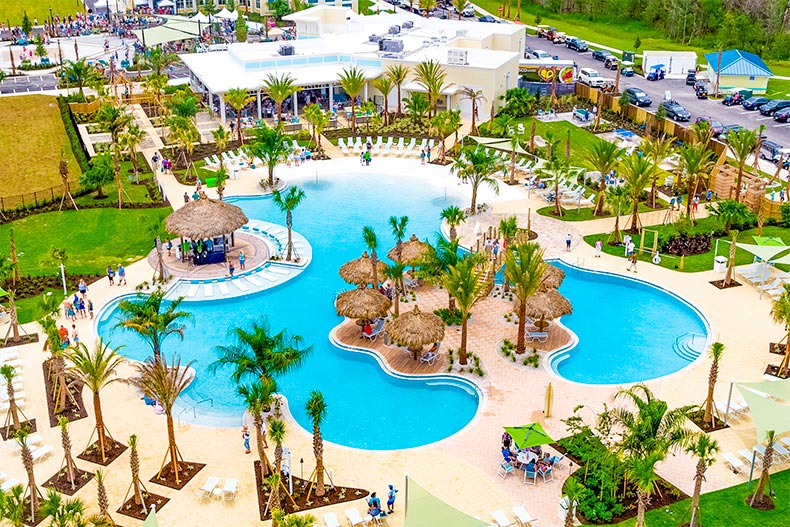 Latitude Margaritaville has captured the imagination and the retirement planning process of an entire generation of active adults looking for a 55+ neighborhood that doesn't feel like every other Florida retirement community. It's no wonder this is one of the top-selling communities; it's fun and youthful, and inspired by the music and the lifestyle of Jimmy Buffett. Parrotheads rejoice; he even owns a home in the community.
Single-family and attached homes are available in three collections – the Caribbean, Beach, and the Island collection.
New Year's Eve parties, birthday parties, live music, group outings, and fitness classes are just some of the things that residents do together at this thriving community. That's set to increase as the community recently held a grand opening party for its town center
The newly opened Latitude Bar & Chill Restaurant is an excellent place to sip a margarita or enjoy a cheeseburger in paradise, while the zero-entry pool, Fins Up Fitness Center, and pickeball and tennis courts also opened.
The 200,000 square-foot retail center that's under construction will eventually house shops, restaurants, grocery stores, and convenient outlets like banks and pharmacies to make living life even more relaxed and stress-free for LM residents.
Learn more information about Latitude Margaritaville here.
Mid $200s – High $500s
Homes are selling fast at Del Webb Ponte Vedra, and one reason is because this 55+ community's location is hard to beat. Ponte Vedra is a seaside town on the Atlantic Ocean and right between Jacksonville and St. Augustine.
Residents are only minutes away from the beach as well as numerous state parks and nature preserves. It's an easy trip into Jacksonville for some shopping and entertainment or St. Augustine for some history and culture.
In Del Webb Ponte Vedra, residents have access to amenities such as The Anastasia Club, a 37,000 square-foot recreation and meeting center that includes a fitness center, a movement studio, and an indoor lap pool.
Continuing education classes and club meetings can be found at Champions Learning Lounge, and there's a day spa, steam room, computer center, and cafe. There's also a putting green and fishing lakes, as well as six miles of nature trails for residents who enjoy hiking, biking, and wildlife watching.
Buyers can choose a new or resale home that's a condo, attached villa, or single-family home. Dozens of models and floor plans are available in a wide range of sizes and prices.
Learn more information about Del Webb Ponte Vedra here.
Mid $100s – Low $400s
Buyers who prioritize amenities are flocking to Solivita, a popular 55+ community in Kissimmee where the golf carts get right-of-way and residents enjoy living in a large neighborhood that feels small.
The single-family and attached homes that come in new and resale options are doing a great job of selling themselves. Homes start at one-bedroom and one-bathroom models with 891 square feet and rise to four-bedroom homes with more than 3,000 square feet. There are plenty of floor plans in between, too.
The amenities, however, do most of the legwork when it comes to bringing in new residents. Consider the Waterfront Galleries, for example, where there's an art and ceramics studio, a library, and three computer labs. There's a spa and fitness center, as well as the Palms Amenity Complex, where buyers will find tennis, pickleball, and bocce. There's even fireside piazza, pools and a covered terrace.
Clubs exist for artists, animal lovers, quilters, and card players. There are yoga classes and swim lessons. With so much going on in the community, it's easy to forget that Solivita is located near some of the nicest parks and best restaurants in the Orlando area.