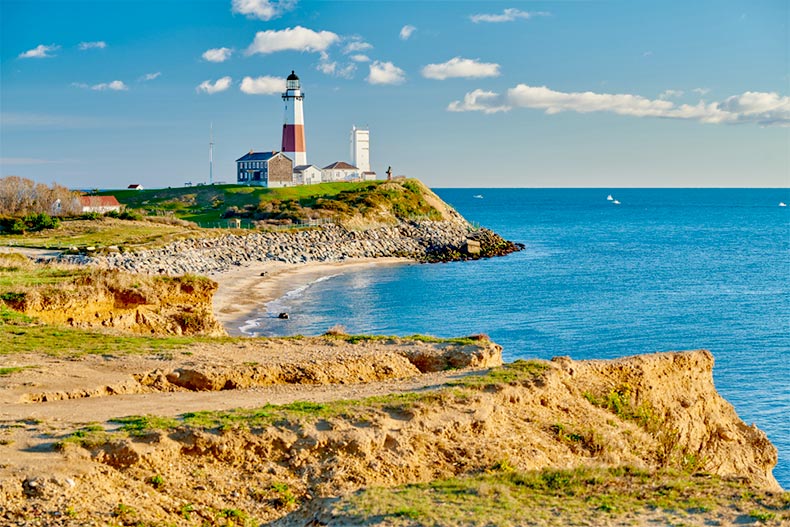 When you're looking for the best places to retire, it helps to see what other active adults are up to, and researching the top-selling communities is an excellent way to hone in on the best of the best. 55places.com is happy to do the work for you, and we compile lists of top-sellers in various regions throughout the year.
The 69 communities in New York State exhibit an outstanding array of home size, price, and amenities. It's not surprising the top-selling 55+ neighborhoods from July 17, 2018 to July 17, 2019 are all located in Long Island's Suffolk County.
Spectacularly draped around beaches and harbors, the "Island" is bordered by the Long Island Sound to the north and by the Atlantic Ocean to the south. It has four distinct counties that are dotted with charming towns, historic landmarks, and opportunities for outdoor fun. They are all considered part of the New York Metro Area, and many city residents choose to spend summers and weekends out here.
Here's our most up-to-date list of New York's best-selling active adult communities.
1. Leisure Village - Ridge
It's a winner! The established, gated community of Leisure Village was completed in 1986 with 1,500 resale attached homes. It's neatly sandwiched in between Rocky Point State Park and Panamoka Pine Forest, and it's less than five miles from the shores of the Long Island Sound.
There's much to do right at home though, as Leisure Village has its own 9-hole golf course and putting green. There are also walking and biking trails, plus bocce courts on the property. The spacious clubhouse features an outdoor pool, crafts studios, and an exercise room. Residents gather together for theater and social clubs, aerobics class, men's and women's cubs, and wood crafting.
The 11 affordable attached models offer single-story living, with one to two bedrooms and bathrooms. Options include garages, breakfast nooks, and porches. The monthly homeowners' association (HOA) fee covers trash and snow removal, lawn care, and exterior building maintenance.
2. Woodridge Strathmore Terrace - Mount Sinai
Also gated, Woodridge Strathmore Terrace was completed in 1985 and has a total of 226 resale attached homes. Though smaller in scale than Leisure Village, this community is also just minutes from the Sound and a short drive from golf clubs like Willow Creek and Pine Ridge.
Woodridge also has standout amenities, like its community bus and private miniature golf course. Living the sporting life is easy here with the property's many racquetball, tennis, bocce, and shuffleboard courts; there are also walking trails, a lovely outdoor pool, and a vibrant clubhouse. The latter is the perfect place to enjoy holiday parties, potlucks, card games, and exercise classes.
The attached ranch-style homes are sized from about 1,000 to 2,000 square feet with one to two bedrooms and bathrooms. Upgrades include attached one-car garages, skylights, sunrooms, and walk-in closets. Residents also love the privacy afforded by the wooded backyards. The HOA fee here covers snow removal and lawn maintenance.
3. Fairfield at St. James - St. James
This gated 55+ community is perfect for downsizing, as it has 653 resale condo and attached homes, built from 1972 to 1989. It's also close to the water with the added convenience of being near the Smithtown Bypass, where you can find a Lowe's, a Petco, movie theaters, grocery stores, restaurants, and the Smith Haven Mall.
The private clubhouse at Fairfield at St. James offers many perks, like tennis courts, a fitness center, meeting rooms, and three swimming pools. There's also a community bus, and ongoing activities like guest speakers, luncheons, fundraising events, and the popular Twin Ponds Senior Club.
Most of the homes here are condo units, and they feature one to two bedrooms and bathrooms. Upgrades include one-car garages, balconies, or patios. There's also a limited number of townhomes, which have three bedrooms and two-and-a-half bathrooms as well as options like garages, hardwood floors, and granite countertops.
4. Leisure Knoll - Ridge
This aptly-named 55+ community is just down the road from Leisure Village, and with 701 resale single-family homes completed in 1982, it's about half its size.
In addition to all of the hiking, biking, watersports, and outdoor recreation available around here, there are also plenty of indoor activities to enjoy. Museums like the Long Island Museum and theaters like the Paramount provide ample opportunity to get a little culture. Suffolk County is also full of well-reviewed restaurants, farmers markets, shops, and services.
5. Greenwood Village - Manorville
Our number five spot goes to Greenwood Village, a land-lease active adult community of 512 resale attached and single-family homes. Built from 1980 to 2000, this gated property is towards the southernmost part of Suffolk County, near beautiful Moriches Bay and Wertheim Wildlife Refuge. Rock Hill Golf and Country Club is two miles away, and the surrounding area has many grocery stores, farmers markets, pharmacies, and medical offices.
Greenwood Village's popular clubhouse has an exercise room, a catering kitchen, activity and game rooms, plus a sparkling outdoor pool and sports courts. Homeowners can make good use of the community bus, walking trails, and picnic area, and there are also clubs for tennis, woodworking, and more.
There are a limited number of attached homes, sized at around 1,100 square feet with two bedrooms, one bathroom, and attached one-car garages. The single-family models are sized from 900 to 1,300 square feet, with one to three bedrooms, one to two bathrooms, and attached one-car garages. Upgrades include Florida rooms, basements, porches, and stainless steel appliances.