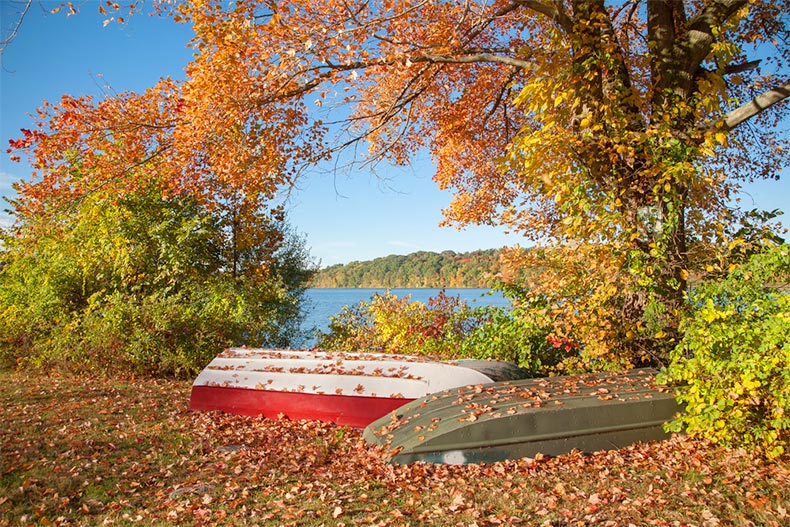 New York's Carmel area is perfect for retirees looking for a tranquil, small-town setting with plenty of outdoor recreation yet still close to big-city entertainment. Clarkstown, Cortlandt, Yorktown Heights, Middletown, and Central Valley are just some of the cities that make up the Carmel area, which is scattered across the counties of Rockland, Dutchess, Orange, Putnam, and Westchester.
Area Attractions
This area continues to attract plenty of retirees due to its serene country lifestyle and affordability. Active adults get to enjoy the best of both worlds in this prime location. They have the quiet, scenic beauty of natural landscapes while also having easy access to the Big Apple. Typically, residents can reach the city by car or public transportation in just under two hours.
But residents don't have to travel to New York City in order to access cultural attractions. Many of the 55+ communities in the area are centrally located near charming downtown areas that provide quaint boutiques, retail centers, restaurants, entertainment, and recreational activities. Active adults can check out local talent, live entertainment, concerts, and plays at various performing arts venues like Brewster Theater Company in Carmel or The Yorktown Stage in Yorktown Heights.
The Great Outdoors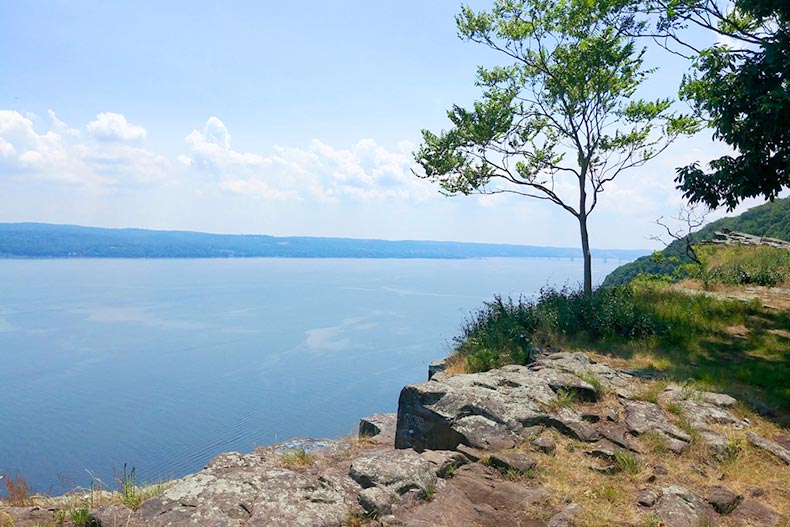 Active adults who love spending time outdoors will fall in love with the Carmel area.
Active adults who love spending time outdoors and want to remain active throughout their retirement will fall in love with the Carmel area. There are plenty of state parks, rugged terrain, mountains, hiking trails, nature sanctuaries, woodlands, lakes, and the popular Hudson River Valley that provides additional boating and water activities.
Outdoor enthusiasts are surrounded by nature in every corner of the region. Blauvelt State Park, Hook Mountain State Park, and Palisades Interstate Park all offer hiking trails, picnic areas, and scenic woodlands for a beautiful afternoon adventure.
The 1,538-acre Blue Mountain Reservation in Westchester County provides miles of scenic trails for mountain biking, strolling, and challenging hiking with two large peaks: Mt. Spitzenberg and Blue Mountain. The Franklin D. Roosevelt State Park in Yorktown Heights also offers active adults a public swimming pool, a lake, a pond, ball fields, and hiking trails. The 170-acre Lake Mohegan offers more hiking trails and swimming areas. The Hudson River Valley offers additional recreational activities and lush landscapes. Also, retirees can go boating, canoeing, or kayaking along the Delaware or Hudson rivers.
Trails, Courses, and Mountains
Active adults can also tour the Dutchess County Wine Trail that connects two wineries and features vineyards, orchards, and farms in a beautiful valley. Golfers will also love having multiple courses in the area, ensuring their next game is never far away. In Westchester County, retirees can play at Hollow Brook Golf Club, Mohansic Golf Course, and Anglebrook Golf Club.
Dutchess County also has several courses in the area that include Fishkill Golf Course. During the winter months, the area features ski resorts including Thunder Ridge Ski Area in Patterson.
Weather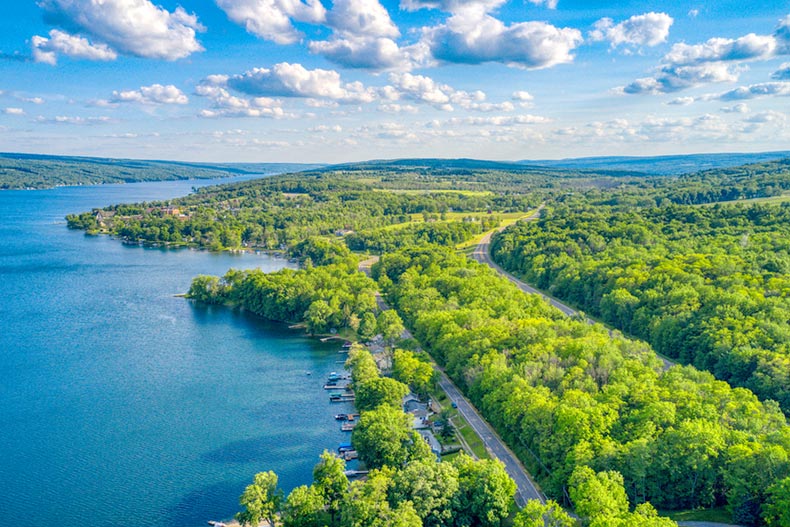 Summers are warm and humid while winters can get cold with temperatures dipping below zero.
The Carmel area enjoys a four-season climate with occasional severe thunderstorms due to its location between the Atlantic Coast and the Great Lakes. Summers are warm and humid with temperatures ranging between 70 and 80 degrees while winters can get cold with temperatures dipping below zero with heavy snowfall. Active adults who are looking to relocate to a beautiful yet quiet country setting with plenty of outdoor recreation and convenient access to New York City will love the Carmel area in Eastern New York.
Communities
Although the cost of living is a bit higher when compared to the rest of the country, retirees still enjoy a reasonable standard of living. The Carmel area is much more affordable than New York City and much of Long Island. Retirees can find homes starting in the low $100s in active adult communities like Jefferson Village or Woodcrest at Jacbos Hill, while pricier homes can be found in Wolfe Landing or Glassbury Court at Cold Spring.