Many homebuyers who want to move to an active adult community like to stay up-to-date on the latest news and trends in active adult real estate. Recent lists like the 55places.com's 100 most popular and 50 best-selling active adult communities of 2019 give insight into which communities active adults head to most.
While this information can help homebuyers find their next home in an active adult community, it's also worthwhile to consider the popularity of the surrounding area.
Current population estimates from the U.S. Census Bureau help shed light on some of the most populated retirement destinations in the country. So, let's take a closer look at the metropolitan areas with the highest population increases from 2017 to 2018, measured from July 1, 2017 to July 1, 2018. Although this data considers an area's population as a whole, it certainly includes 55+ active adults who relocated to a desirable area.
By determining which places had the largest population growth in just one year, it can reveal which places expanded at the fastest rate. The quick population increase can also correlate with a vibrant lifestyle, diverse community, and broad range of cultural activities, qualities that many active adults seek in their retirement destination.
Keep reading to discover the fastest-growing places to retire in 2019.
1. Dallas-Fort Worth Area, Texas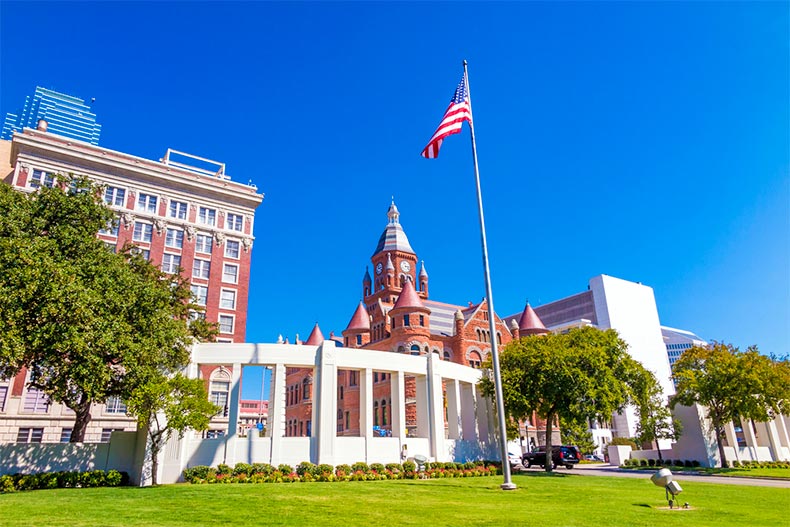 The fastest-growing place to retire in the United States is the Dallas-Fort Worth area of Northern Texas. The cities of Dallas, Fort Worth, and Arlington added 131,767 residents total in just one year, indicating a rapid period of growth in a relatively short amount of time.
As an up-and-coming retirement destination, active adults can consider many reasons to retire near Dallas. The area offers an abundance of things to do, including access to world-class museums. And with retirement-friendly taxes, many active adults can afford to retire near family in Dallas or Fort Worth.
The area's 30 active adult communities provide options to suit almost any lifestyle and budget, from communities ideal for downsizing to some of the state's most affordable.
One of the area's largest communities, Frisco Lakes, offers a resort-style lifestyle with luxury amenities like a 28,000 square-foot Village Center and a state-of-the-art fitness center with an indoor walking track.
Those looking for a more intimate lakefront community can consider Tuscan Hills, which consists of just 106 spacious single-family homes.
2. Phoenix Area, Arizona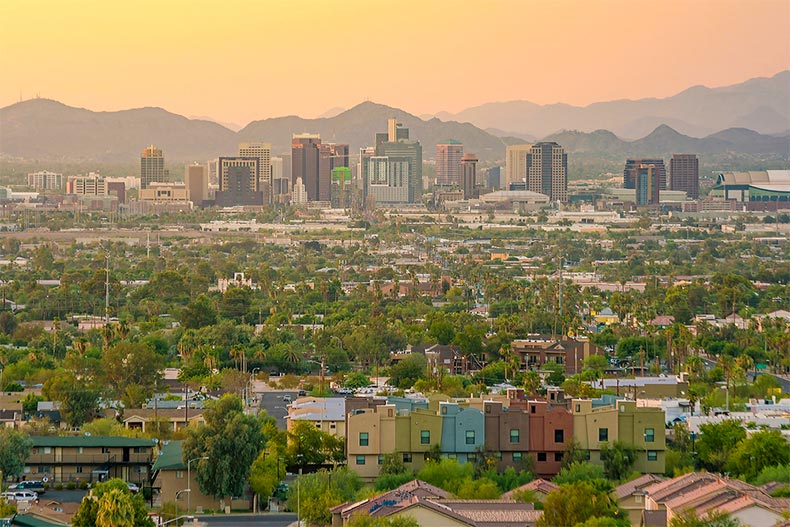 The population of the Phoenix area of Arizona, which includes popular cities like Mesa and Scottsdale, increased by 96,268 people from 2017 to 2018. This might be nearly 35,000 fewer individuals than the Dallas-Fort Worth area, but it does represent the most significant population growth across Arizona.
Just some of the reasons to retire in Phoenix include the year-round sunshine that allows adults to stay active with an abundance of outdoor recreation. The lower taxes mean that residents can often afford to pursue their hobbies and explore the area.
Phoenix might be most famous for its Sun City communities, some of the first 55+ communities in the country to offer resort-style living. Active adults looking to downsize or find communities with 40+ age restrictions also have plenty of options to explore.
The most popular active adult community in Arizona is located in the Phoenix area. Sun City Grand features bountiful amenities including five clubhouses and four championship golf courses.
Another popular community is Province, which plans to include 2,217 single-family and attached homes surrounded by about 175 acres of scenic lakes, parks, and natural spaces.
3. Houston Area, Texas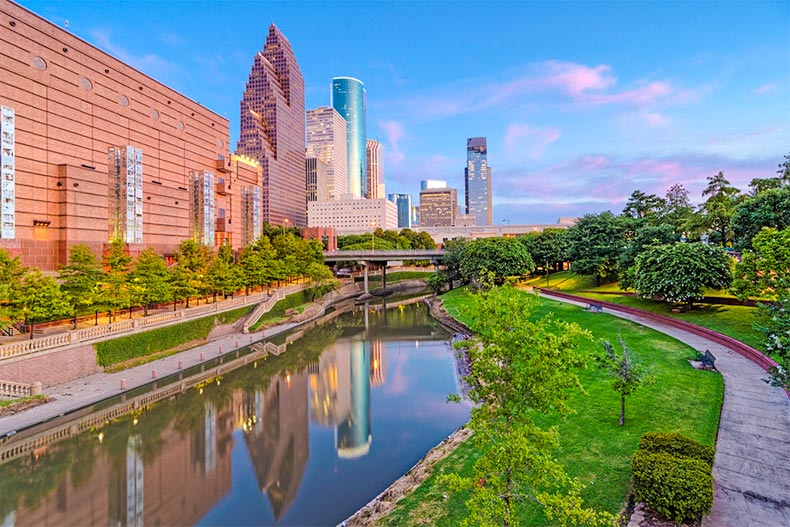 After gaining 91,689 residents in just one year, the Houston area distinguishes itself as another fast-growing city ideal for an active retirement. The population estimate accounts for cities like The Woodlands, Katy, and Sugarland within this Coastal Texas retirement hotspot.
In addition to the state's retirement-friendly taxes, the Houston area features many affordable and low-priced 55+ communities for retirees to call home. Active adults have plenty of opportunities to find a community near the area's best golf courses or even one with its own on-site course.
Life in an active adult community can keep residents near all of the best things to do in Houston, but with so many on-site amenities, active adults may need a good reason to venture far from home.
In Del Webb Sweetgrass, residents enjoy amenities like a 50-acre lake, 27,000 square-foot clubhouse, and continuing education center. Within the master-planned Woodforest development, Bonterra at Woodforest offers exclusive 55+ living with access to private amenities that include a ballroom, grand event space, and event lawn.
4. Atlanta Area, Georgia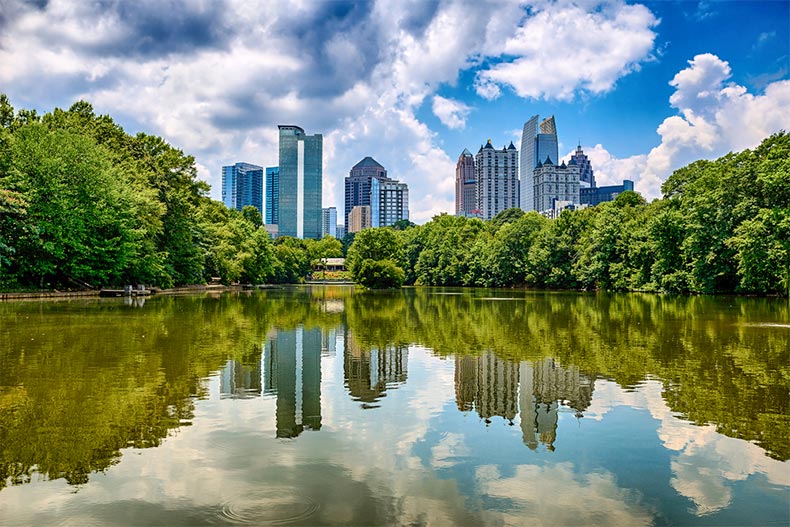 Another one of the fastest-growing places to retire surrounds the capital of the Peach State. The Atlanta area of Georgia increased its population by over 75,000 people in one year, which shows that more and more active adults consider the benefits of a Georgia retirement near Atlanta, Sandy Springs, Roswell, and the area's other cities.
Some of the things that draw active adults to the Atlanta area include its big-city attractions and impressive museums. But the variety of high-quality 55+ communities also has an important role to play, as active adults can find many low-priced and tight-knit communities to call home.
Sun City Peachtree, the state's most popular active adult community, plans to include 3,387 single-family homes upon completion. Some of the luxury amenities include a spacious 45,000 square-foot clubhouse, 146-seat theater with a stage, and an outdoor amphitheater.
Another option worth considering is Cresswind at Lake Lanier in the sought-after Gainesville area, which will include just 934 single-family homes upon completion. Residents here especially enjoy the desirable amenities like a resort-style lagoon swimming pool and the 70-slip marina and dock.
5. Orlando-Kissimmee Area, Florida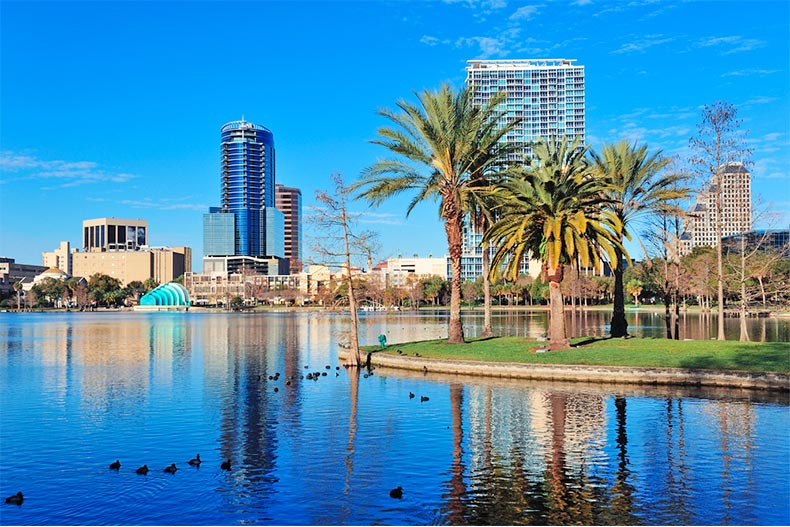 With over 400 active adult communities to choose from, Florida may be one of the most popular retirement destinations in the country. But one region in particular experiences more growth than any other. More than 60,000 people joined the population of the Orlando-Kissimmee area in one year, which likely includes several active adults making their dream of a Florida retirement a reality.
This Central Florida hotspot provides residents with plenty of things to do in Kissimmee and things to do in Orlando, which include playing a round of world-class golf, visiting parks and preserves, and exploring local small towns.
The third most popular active adult community in the country, Solivita, will include approximately 5,900 single-family and attached homes across 4,300 acres upon completion. This master-planned gated community attracts retirees who desire a golf cart-friendly community with outdoor amenities such as heated swimming pools and spas, 18-hole golf courses, and dozens of athletic courts.
6. Seattle-Tacoma Area, Washington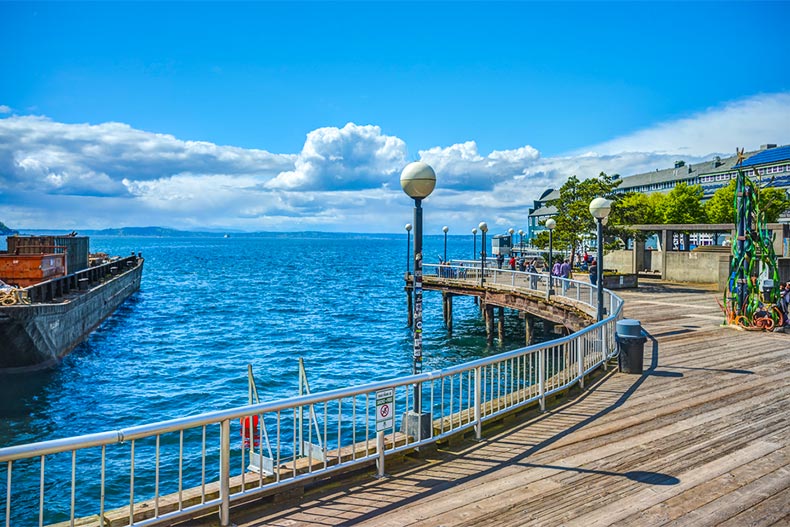 The fastest-growing retirement destination beyond the south is the Seattle-Tacoma area of Washington. This thriving area offers urban culture and Pacific Northwest scenery, and the larger Western Washington area as a whole can be an affordable place to retire, especially for those with family nearby.
Two of the area's most popular active adult communities come from Shea Homes, a renowned active adult builder. Trilogy at Redmond Ridge offers views of the Cascades Mountains approximately 30 minutes from downtown Seattle. The log-cabin inspired community clubhouse is a 32,000 square-foot facility called Cascade Club. Indoors, residents enjoy a state-of-the-art fitness center, pool and spa, walking track, and a University of Washington Center for Learning.
Shea Homes at Jubilee is located a bit farther from downtown Seattle, approximately one hour away, but this comes with more tranquil scenery, including views of Mt. Rainier and Puget Sound. With 1,120 ranch-style single-family homes, residents can join a mid-sized community with plenty of opportunities to meet neighbors. Some of the clubs and activities offered include line dancing, bino, water aerobics, chorus, and breakfast club.
7. Austin-Georgetown Area, Texas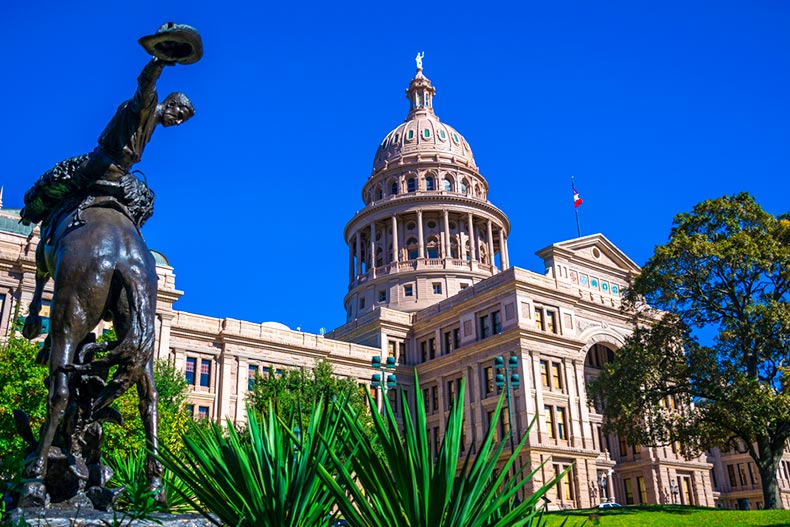 Active adults who want to retire in Texas have yet another fast-growing place to contemplate. The Austin-Georgetown area may be the third Texas locale to appear on this list, but it still beat out hundreds of other cities across the country as one of the fastest-growing places to retire.
The most popular active adult community in The Lone Star State, Sun City Texas, puts residents approximately 50 minutes from the heart of Downtown Austin, where there's plenty to do for active adults. Some of the best things to do in Austin include dancing to live music and visiting the state's largest restaurant.
The resort-style amenities in this large 55+ community include some of builder Del Webb's best, including an 86,000 square-foot amenity complex, three 18-hole championship golf courses, and four swimming pools. Some of the more unique amenities include gardening plots, a veterans memorial plaza, fishing lake, and stained glass studio. See what residents have to say about life in Sun City Texas.
8. Riverside-San Bernardino Area, California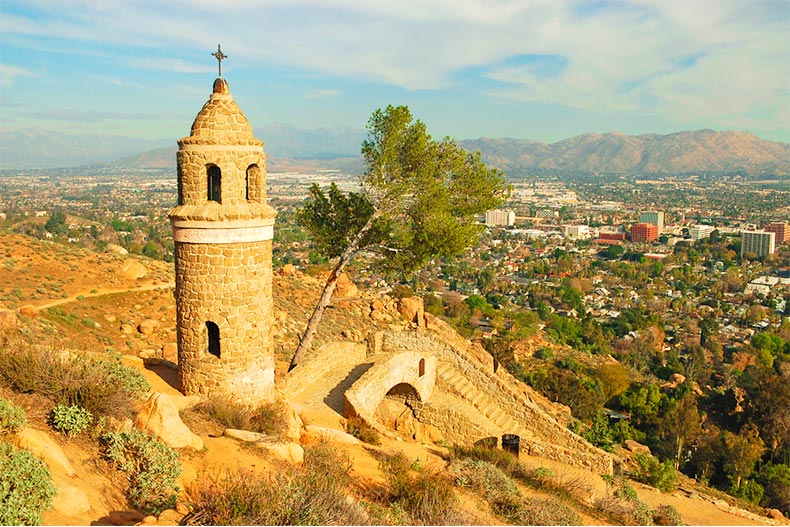 The Southern California cities of Riverside, San Bernardino, and Ontario combine into one of the fastest-growing places in the United States.
These cities are located along the northern edge of California's Inland Empire, one of the state's most popular retirement destinations. Even though California has relatively high taxes, retirees choose the area again and again, and there are even affordable and low-priced communities to be found.
Some of the things that draw retirees to the Inland Empire include the Mediterranean climate, outdoor recreation opportunities, and plentiful selection of 55+ communities. The popular active adult communities in the Inland Empire range from luxury to affordable, which means that retirees on most budgets can find a community to call home.
One of the communities closest to San Bernardino is Trilogy at Glen Ivy, a 55+ community that consists of 1,317 single-family and attached homes. Residents of this community can choose to stay as active and social as they want, with a wide range of clubs and events, including casino trips, holiday parties, movie nights, wine tasting, and dancing lessons.
9. Tampa Bay Area, Florida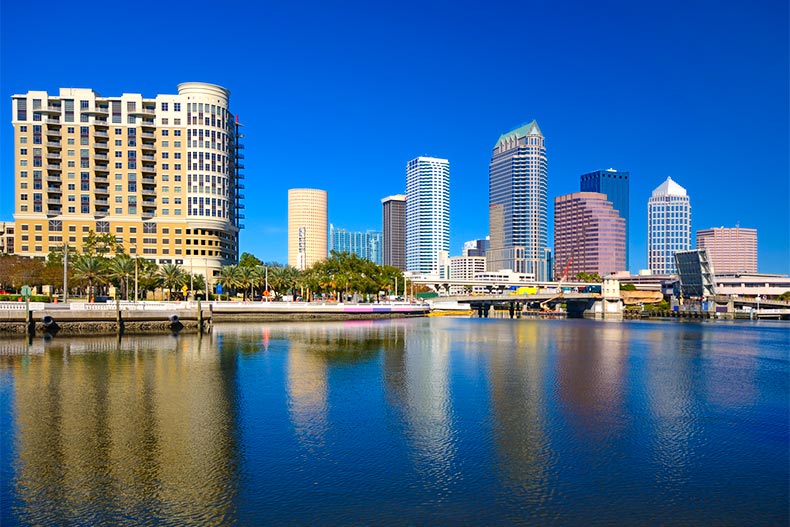 Active adults who want a Gulf Coast retirement might consider the fast-growing Tampa Bay area. Including cities like Clearwater and St. Petersburg, this area boasts benefits like a low cost of living, warm weather, and variety of activities.
The area's largest community, Sun City Center, is considered a self-contained village that provides residents with most of the daily conveniences they need. The golf cart-accessible streets and internal tram system both connect residents to shopping centers, restaurants, and all of the amenities. Some of the luxury offerings include a wellness center, heated indoor and outdoor pools and spas, and two theaters.
Those who want to live less than 15 minutes from the beach might see if Heritage Pines Florida fits their lifestyle. This gated 55+ community consists of 1,407 affordable single-family and attached homes sectioned into separate villages. The shared amenities include a clubhouse with 18,500 square feet of amenities, such as a restaurant, performing arts center, and fitness center.
10. Washington, D.C. Area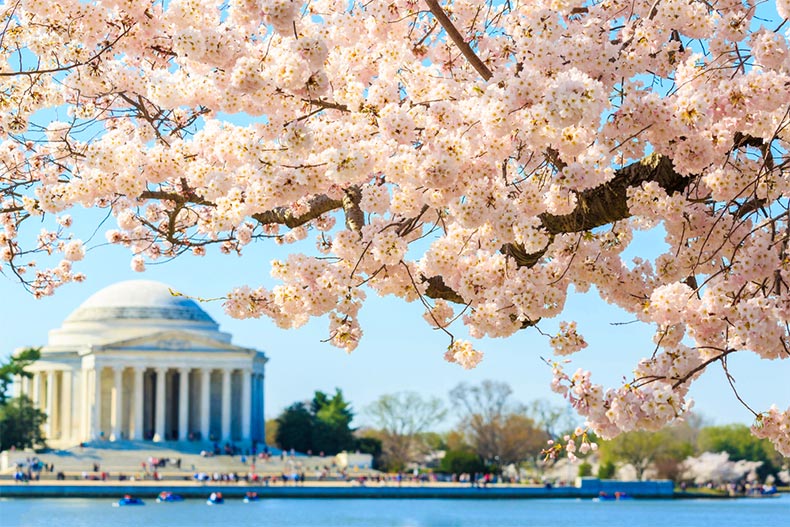 The Washington, D.C. area and the nearby Virginia cities of Arlington and Alexandria represent another one of the fastest-growing places to retire.
Active adults who want access to an expansive public transportation system, a diverse lineup of museums, and top-rated hospitals often find a lot to love about the nation's capital. Plus, active adults can live throughout the area and still have easy access to Washington, D.C., with an easy commute from Virginia or commute from Maryland.
One of the area's communities with the best value is Leisure World of Maryland in Silver Spring, Maryland. With 5,600 single-family, attached, and condominium homes, active adults have plenty of options for low-maintenance living and downsizing. With more free time to explore the community, residents can enjoy amenities like two clubhouses, two swimming pools, a ballroom, and an auditorium. Daily conveniences throughout the community include churches, medical facilities, pharmacies, a bank, and a post office.