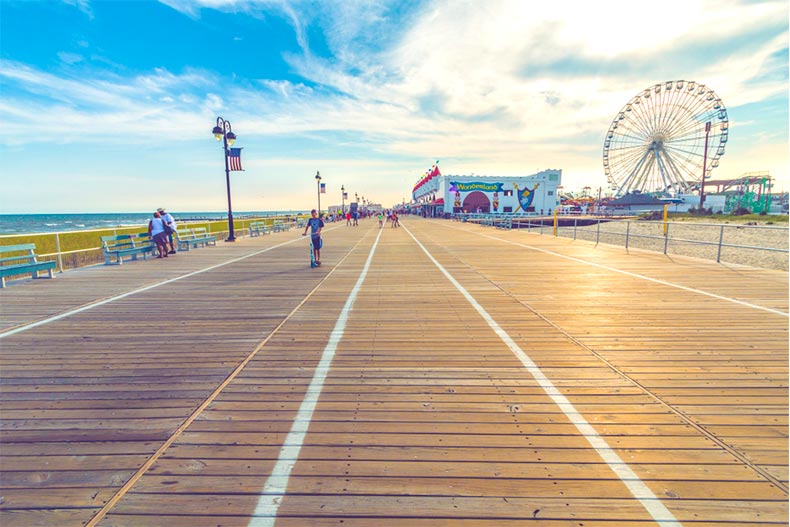 If there's one part of New Jersey that makes people wonder why legions of people vacation here, it's Ocean County. The county's miles of public and private beaches, boardwalks, shopping centers, charming downtown areas, parks, and golf courses draw in countless numbers of visitors every year, and many end deciding to make their stays more permanent.
Active adults in particular are drawn to Ocean County, NJ real estate because it is plentiful and penny-wise, with all of life's conveniences nearby.
OC is also easy to get in, out, and around, with several major airports in the region, plus local trains and buses. Top medical facilities like Hackensack Meridian Health and Monmouth Medical Center in Lakewood offer trusted care, and shopaholics get their fix at area malls like hubs like the Ocean County Mall and the Jackson Premium Outlets.
There are 66 retirement communities in Ocean County. and they run the gamut from small to large, with new construction and resale homes available in a variety of price points. Here are some of the most affordable ones out there.
Lions Head North - Brick
The nice thing about living in Lions Head North is that its private, wooded property is just minutes from the bay and ocean, so you can have the best of both worlds. Other good things about Brick: Ocean County Golf Course at Forge Pond and Cordi's Italian Gourmet restaurant.
This established 55+ neighborhood has 360 resale attached and single-family homes. The attached floor plans range from 1,000 to over 1,300 square feet, with two bedrooms, one-and-a-half to two bathrooms, and one-car garages. Lions Head's 15 single-family homes offer approximately the same number of square feet, and rooms, while larger models feature dens, eat-in kitchens, and atriums.
There is a private clubhouse with several activity rooms, a ceramics studio, tennis, bocce, and an outdoor pool. Residents are also invited to join Lions Head South Golf Club, which is a mere three minutes' drive.
Friends and neighbors spend quality time together on planned trips, golfing, playing mahjong, playing cards, and at singing group. A monthly homeowners' association (HOA) fee provides for lawn care and snow removal.
Fawn Lakes - Manahawkin
Manahawkin has four active adult communities, including Fawn Lakes, an established neighborhood of 250 resale attached and single-family homes. Residents enjoy visiting Manahawkin Lake Park to relax or attend events; it is also just minutes from a Costco, Walmart, and Long Beach Island.
Fawn Lakes offers three attached home floor plans in duplex and quad styles. The floor plans are sized from 810 to 1,368 square feet, with one or two bedrooms, one to one-and-a-half baths, and one-car garages. Most homes have at least one bedroom, one bathroom, and a carport or garage.
The three single-family floor plans range from 1,126 to 1,534 square feet, also with one or two bedrooms, one to one-and-a-half baths, and one-car garages. Some models include dens, ceiling fans, and eat-in kitchens.
Active homeowners enjoy participating in activities like Dancercize, game nights and happy hours, movie days, potluck dinners, and holiday parties. Many take place at the community clubhouse, which has a catering kitchen and a ballroom, a library, gathering rooms, and a sunny outdoor pool. Manahawkin is also just 35 minutes from the bright lights of Atlantic City.
Mystic Shores - Little Egg Harbor
An intriguing name and an enviable location near Bass River State Forest and Beach Haven are just two reasons to consider the well-priced 55+ community of Mystic Shores. This established neighborhood has 365 resale attached and single-family homes, with perks like a community bus and private lakes & ponds.
The majority of homes here are single family, with some attached homes also. They range from 930 to 1,760 square feet, with two bedrooms, one to two bathrooms, and attached one-car garages. Some include dens, porches, and double closets.
This property caters to vibrant living, with a 11,000 square-foot clubhouse that includes a catering kitchen and ballroom, a fitness center, activity rooms, shuffleboard, bocce, an outdoor pool, and walking trails. Well-attended clubs and activities include the walking group, travel club, yoga, and the annual yard sale. Plus, the HOA fees are the same for all home models.
Pheasant Run - Forked River
The last entry on this list is Pheasant Run, which is across the Garden State Parkway from Forked River Mountains. The river here runs into Barnegat Bay, and favorite beach towns like Island Beach State Park and Harvey Cedars.
Also an established community, Pheasant Run has 434 resale single-family homes on a wooded property not far from downtown Lacey Township. These affordable homes come in five single-family models sized from 986 to 1,405 square feet, with two bedrooms, two baths, and one-car garages. Upgrades include sprinklers, patios, skylights, and screen rooms.
Pheasant Run's private clubhouse offers residents a craft room, a library, tennis, bocce, shuffleboard, and a heated outdoor pool. More fun can be found at the community clubs and activities, including bunco, movie nights,a travel group, and the busy social club. A reasonable HOA fee covers certain maintenance items and amenities.