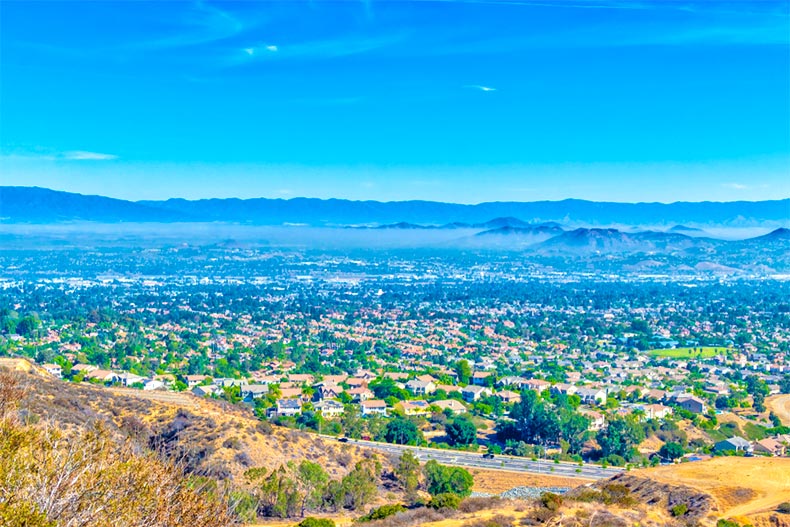 The most affordable active adult communities in Southern California are found in the Inland Empire. This diverse region in Riverside and San Bernardino Counties extends south and east of Los Angeles and Orange Counties.
Known locally as the "high desert" for its northern plateau, and the "low desert" for its southern valleys, the region enjoys a generally Mediterranean climate with local extremes, from the arid environs near Palm Springs, to the alpine climes around Lake Arrowhead.
The Inland Empire – or "the IE" to locals – enjoys a lower cost of living than its neighbors to the north and west, making it a relative bargain in the California real estate market. For example, San Bernardino housing is 25% less expensive than the rest of the state, and even less expensive than the rest of the country. The IE's 55+ communities follow suit, offering better affordability than just about any of their counterparts in California.
Life in the IE
Residents of the Inland Empire enjoy a diverse region with rolling hills, vast deserts, and high mountain forests, with abundant opportunities to stay active. Outdoor enthusiasts enjoy hiking, camping, fishing, boating and horseback riding.
The San Bernardino Mountains are among the area's biggest attractions, featuring over 100 miles of hiking and biking trails, Big Bear Lake, Lake Arrowhead, Lake Gregory for fishing and boating, and a variety of ski and snowboarding slopes in the winter season.
The IE also hosts a wealth of popular recreation venues, cultural attractions include live theater and musical performances, shoppers prowl malls and factory outlet stores, and wine lovers sample the fruits of countless vineyards.
Naturally the IE is a popular destination for active adults. Based on 55places.com pageviews for 2018, the following communities generated the most interest among prospective residents.
1. Four Seasons at Beaumont
Four Seasons at Beaumont is an exclusive gated community in the San Gorgonio Pass area of Riverside County. It's quietly isolated from the crowds of Southern California, yet conveniently close to all the region has to offer. Built by K. Hovnanian in 2005 for active adults, outdoor enthusiasts love the proximity to nearby mountains and protected forests.
Within the community's gates, there are over 500 acres of native vegetation and natural water features. Eight miles of walking and hiking trails meander through the neighborhoods following the gradual elevation changes within the community. A large outdoor sports complex in the community spans 10 acres and includes an outdoor pool, spacious patio and barbecue area.
There are numerous options for homebuyers within this community. A diverse mix of single-family and attached duplex homes are available in more than 30 different floor plans that range from 1,183 to 2,775 square feet.
2. The Colony - Murrieta
The Colony is a 1,500-home active adult golf course community in Murrieta. Its prime location is an hour from the ocean, towering mountains, scenic lakes and the desert. This well-established community is surrounded by great shopping, dining and entertainment attractions.
The Colony Country Club, also known as California Oaks Golf Course, is a 5,218-yard, par-70 course. The Colony's clubhouse is the central hub for all community social and fitness activities.
Constructed between 1989 and 2005, homebuyers can select from a wide range of over 60 different floor plans. All residences are single-family, detached homes available in one- and two-story designs that range from 947 to 2,100 square feet.
3. Sun City Apple Valley
Sun City Apple Valley offers the Del Webb lifestyle in the high desert where this active adult community with small-town charm enjoys wide-open spaces and panoramic views. Isolated from the urban sprawl of Los Angeles by the San Gorgonio Mountains, LA's thriving job market remains accessible via the Cajon Pass for those still working.
Among the amenities is the Aspen Clubhouse, a 22,000 square-foot recreation center that is the main hub for all community social and fitness activities. It includes a state-of-the-art fitness center that has the latest high-tech cardiovascular and weight training equipment and an indoor lap pool.
The community opened in 2004 and boasts 1,700 single-family homes. There are four different collections that offer twenty different floor plans. Buyers can select from homes that range in size from 1,099 to 2,340 square feet.
4. Trilogy at Glen Ivy - Corona
Trilogy at Glen Ivy is a Shea Homes active adult community on the far western border of the IE, in Corona.. It is perched in the foothills of the Santa Ana Mountains, adjacent to the Cleveland National Forest, overlooking Temescal Canyon and Trilogy Golf Club.
Along with the 18-hole golf course, Trilogy at Glen Ivy offers a main clubhouse in the Pacific Crest Lodge and the Blue Water Sports Club, where residents can stay physically active. The community is uniquely close to the beach, near the desert, and surrounded by green foothills.
Homebuyers have several options in Trilogy at Glen Ivy, with both attached and single-family homes. There are 15 floor plans offered that range in size from 1,290 to 2,253 square feet. Many homes offer majestic views of the golf course, green belts, or the Temescal Canyon.
Jess Ranch - Apple Valley
Jess Ranch, also in Apple Valley, enjoys similar distance from, yet accessibility to, Los Angeles.
Jess Ranch was developed in 1985 and completed in 2002 with 2,120 residences. Homebuyers have a variety of home options ranging from single-family homes, condos and attached garden homes.
The condos offer one to two bedrooms, one to two bathrooms and a carport. The attached homes offer one to two bedrooms, one to two bathrooms, and a garage or carport.
Within the community there is a clubhouse for residents to gather – outside they can play shuffleboard, enjoy the pool or bask in the sun on the patio.