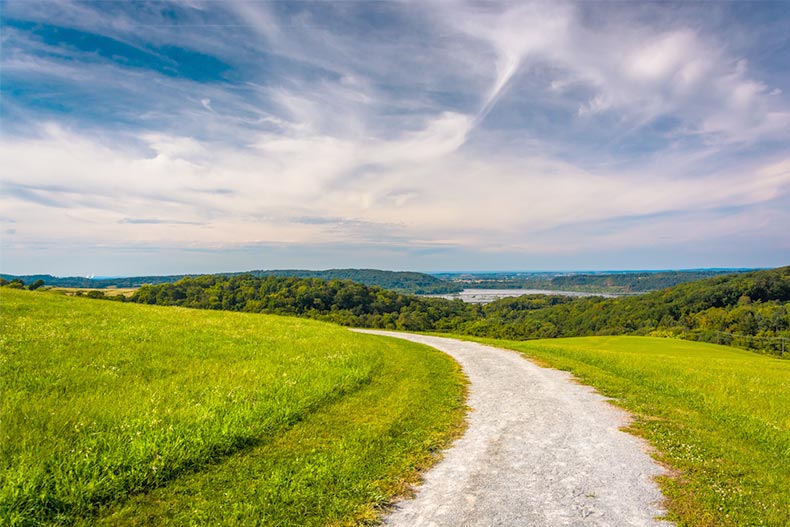 Why do active adults like to read lists that show the best of the best? To begin with, they offer practical information and are easy to read. Lists like this one are especially useful because they show retirees which 55+ neighborhoods their peers are looking at. Neighborhoods that generate the most interest have a good variety of floor plans, sought-after amenities like modern clubhouses, and (we can't say this enough) desirable locations.
All of our Eastern Pennsylvania 55+ communities get a lot of hits, as this region is near major hubs like Philadelphia and Allentown. The benefits of living around here include a lower cost of living, retirement-friendly taxes, excellent healthcare, vibrant arts communities, a rich cultural history, and an abundance of outdoor beauty and recreation.
Based on pageviews from Jan. 1 to Sep. 9, here are the most popular Eastern PA retirement communities on 55places.com.
1. Hershey's Mill - West Chester, PA
It's no surprise that Hershey's Mill tops this list. This gated 55+ community of 1,720 resale attached homes has an incredible menu of amenities and activities for its residents. Built from 1978 through 2005, Hershey's Mill is divided into 25 villages, and there are nine townhome models sized from 1,159 to 3,153 square feet. They include one to three bedrooms, two to four bathrooms, and one- or two-car garages. Some models include dens, decks, and second-story lofts.
Hershey's Mill Golf Club is part of this 800-acre property, and membership includes use of its 18-hole course, practice facilities, restaurant, and clubhouse. Additional community perks include an outdoor pool and sports courts, a TV studio, a pet park, and a woodworking shop. There's also a community center with additional activity rooms and the Sullivan House banquet facility.
There are too many clubs and activities to list here, but some of the most popular include bicycling, village parties, golf club, pickleball, and bus trips. Hershey's Mill is located in West Chester, about 30 miles outside of Philadelphia.
2. Village of Buckingham Springs - New Hope, PA
Next, we have Village of Buckingham Springs, an exceptional active adult neighborhood with 646 resale single-family homes built from 1985 to 2001 in desirable Bucks County. The nine low-maintenance models range from 1,056 to 1,680 square feet with two to three bedrooms, two bathrooms, and either off-street parking or attached garages. Some of these charming homes have upgrades like new windows, decks, and floored attic space for extra storage.
The private clubhouse offers residents a heated outdoor pool and spa, indoor bocce courts, a ballroom, and an exercise room. There's also a community bus for resident use as well as activity clubs and events like casino trips, aerobics classes, oil painting, and ladies' nights.
3. The Villages of Flowers Mill - Langhorne, PA
Follow the Delaware River north of Philly for about 26 miles, and you'll run into the town of Langhorne, home to The Villages of Flowers Mill. This gated active adult community of 675 attached and single-family homes was completed in 2004, and it offers a wide variety of floor plans ranging from 1,488 to 2,300 square feet, all with garages. Some models also include dens, patios, and spacious family rooms.
Homeowners can be found enjoying their free time at the clubhouse, which has a catering kitchen and ballroom, activity and crafts rooms, indoor and outdoor pools, a modern fitness center, sports courts, and a practice putting green. Organized group activities include ceramics class, educational talks, art classes, salsa nights, movie nights, and photography club.
4. Foxfield - Garnet Valley, PA
Just 12 miles from Wilmington, DE, Foxfield was finished in 2013 with 520 resale condo, attached, and single-family homes. There are more than a dozen models, with five condo floor plans, four attached floor plans, and four ranch-style single-family plans. Overall, they range from 1,114 to 1,836 square feet and offer one to three bedrooms, one-and-a-half to three baths, and one- or two-car garages.
Some of Foxfield's most appealing amenities include its 6-hole golf course and putting green, indoor and outdoor pools, exercise facility, and RV parking; there's even more to see and enjoy inside its clubhouse. There are plenty of group activities too, like book club, Friday night socials, game nights, computer classes, yoga, and outdoor water aerobics. Also, Foxfield is just a few miles from the Delaware state border, and many homeowners head over there to shop since there's no state sales tax.
5. Fox Hill Farm - Glen Mills, PA
Located in the Philly suburb of Glen Mills, Fox Hill Farm is a delightful retirement community with 491 attached and single-family homes, built between 1995 and 2003. The three attached models range from 1,373 to 1,679 square feet with two bedrooms, two or two-and-a-half baths, and one-car garages. Some of the floor plans also include second levels or basements. The single-families range from 1,561 to 2,109 square feet with two bedrooms, two or two-and-a-half bathrooms, basements, and attached garages. Some of these also have second levels as well as dens.
Inside Fox Hill's 14,000-square-foot clubhouse, you'll find an indoor pool, exercise room, spa, sauna, and locker rooms; a catering kitchen and ballroom; activity and game rooms; and a library. There are also bocce, shuffleboard, and tennis courts as well as walking trails and ponds on the property. Also, homeowners can use the community transit van. Fox Hill is within walking distance of Concord Township Park, which has trails, a children's playground, and a library. It's also a short drive from a shopping center with a Target, Home Depot, Petsmart, groceries, and restaurants.