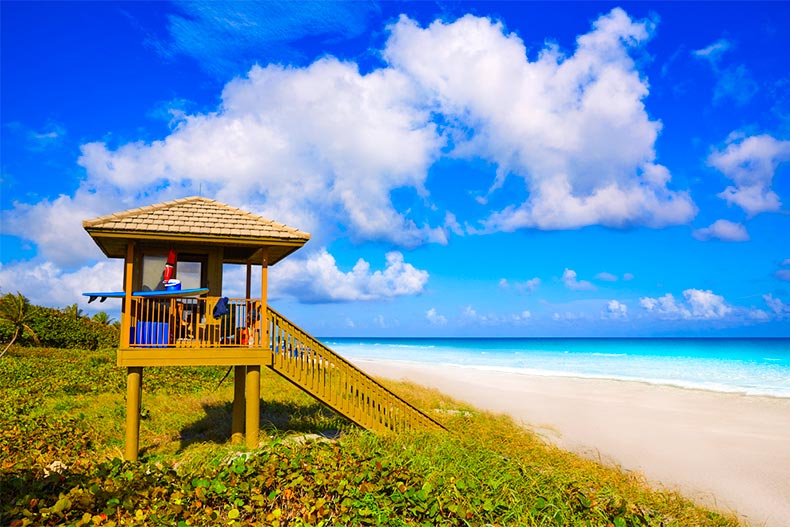 Taking a look at the most popular 55+ communities in Palm Beach County last year, it's easy to see that Delray Beach, Florida real estate is on a lot of minds, especially among active adults. West Palm Beach homes for sale and Boca Raton properties were also well-searched online in 2018.
Today, we're getting a closer look at the five most popular 55+ communities and why we find them so appealing.
1. Kings Point - Delray Beach
Affordability and low-maintenance living are the appeal at Kings Point in Delray Beach, which was the most popular 55+ Palm Beach County community in 2018. There are 7,200 condo units in this community, with over 200 currently available for purchase.
Three clubhouses include theaters, swimming pools, fitness centers, tennis, and shuffleboard. A par-three golf course gives residents the opportunity to hit the links, and community transit takes people into town to do their shopping, banking, and anything else they want to do without driving.
Condos have one or two bedrooms and between 762 and 1,100 square feet. The beach is a few miles away, and the homeowners' association takes care of security, landscaping, and all community spaces.
2. Century Village at Boca Raton - Boca Raton
For some active adults, a Boca Raton address is essential, thanks to the shops, the restaurants, and the entire ambiance in one of Southeastern Florida's most desirable cities. This explains the popularity of Century Village at Boca Raton, where residents can enjoy the neighborhood feel of this 7,200-unit condo community. It's a popular place for local Floridians to move, and new residents from out of state are welcomed every year.
There's a putting green, a fitness center, an indoor pool, and plenty of activities inside the 125,000 square-foot clubhouse. Residents enjoy the art club, tennis club, fishing club, and photography club. Active adults never run out of things to do, and the nature trails winding through the property provide outdoor exercise and serenity. One- or two-bedroom condos are between 600 square feet and 1,563 square feet.
3. Century Village at West Palm Beach
Another Century Village property made the most popular list, this one in West Palm Beach. Like the Boca property, Century Village at West Palm Beach is a 55+ community with a gated collection of condominiums. They are one-bedroom and two-bedroom homes ranging in size from 600 to 1,500 square feet.
The amenities are just as impressive, with a library, an indoor resistance pool, and 39 shuffleboard courts. There are six satellite pools, plenty of nature trails, and community transit available. Lots of golf and shopping are available near to this affordably priced and friendly community.
4. Palm Isles - Boynton Beach
Buyers looking for Boynton Beach real estate should consider another popular option, Palm Isles. In this gated, 55+ community, there are single-family homes, attached villas, and condos available in a variety of sizes and floor plans. Palm Isles is popular for its resort-like atmosphere.
A large outdoor pool with plenty of patio space is inviting to sunbathers and swimmers, and the state-of-the-art fitness center makes staying in shape easy, whether you prefer weight training machines or cardio classes. A full-time activities director helps residents organize clubs and social activities. Championship golf courses like Pine Tree Golf Club are in the area, and there are plenty of parks and preserves for hiking, fishing, and boating.
5. Indian Spring Country Club - Boynton Beach
It's no mystery why Indian Spring Country Club is so popular among active adults in Palm Beach County. This exclusive 55+ community provides a lifestyle that's comfortable and fun.
Indian Spring Country Club offers memberships and amenities in addition to the pair of 18-hole championship golf courses. There are tennis courts, restaurants, a day spa, and a fitness center. Single-family homes, attached villas, and condos are available in sizes that start at 1,000 square feet and increase to 2,500 square feet.
Live entertainment can often be found in the clubhouse, and brunches and happy hours are frequently held. Indian Spring Country Club is an excellent option for active adult buyers who love golf and luxury.
These are the five most popular communities in the area for 2018, but Palm Beach County has 87 55+ communities that appeal to every taste, budget, and lifestyle. If you're planning your Florida retirement, they're all worth checking out.