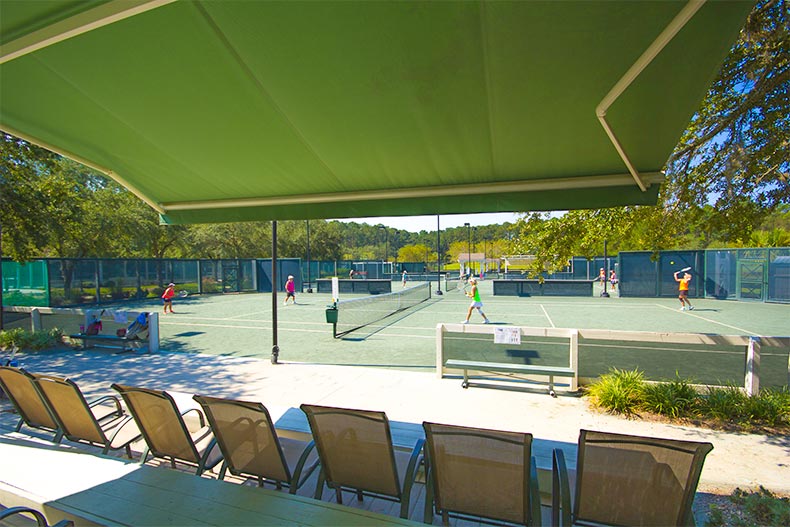 There is absolutely no shortage of incredible places to live in the state of South Carolina, but there are some that undoubtedly stand out above the rest. Below we've highlighted the top five age-restricted communities in South Carolina based on the number of page views and visitors each community page received on 55places.com starting on January 1, 2018.
1. Sun City Hilton Head - Bluffton
As the largest active adult community in the state of South Carolina, Sun City Hilton Head has plenty to offer its residents from its idyllic location in the peaceful low country to its preferable climate with average temperatures in the 70s, and wealth of activities.
The community has several different home collections and a variety of styles of homes available. There are also several choices when it comes to the number of bedrooms, bathrooms, and square footage. Homes within Sun City Hilton Head feature anywhere from two to four bedrooms, with the option to have a den and attached garage.
There's no excuse not to be active with 54 holes of golf on the property as well as 12 tennis courts, a softball field, bocce and pickleball courts, and countless miles of walking and biking trails to explore. There are also more than 200 organized clubs to choose from and a wide variety of classes to take part in that range from ballroom and line dancing to chess and water aerobics.
2. Latitude Margaritaville Hilton Head - Hilton Head
Located only 30 minutes from the coast and near plenty of championship golf courses, Latitude Margaritaville Hilton Head, is currently under construction and is the ultimate location for residents looking to buy a new home in a community that offers a laid-back, vacation-like atmosphere with more than your average amenities.
When Latitude Margaritaville is completed it will feature its own 290,000 square-foot retail center, a town square, state-of-the-art fitness center, theater, ballroom, business center, on-site restaurant, and even a pet spa. As an added bonus, any home maintenance will be covered by the homeowners' association, which allows residents to live a low-maintenance lifestyle.
As far as homes go, there are plans for 3,000 home upon completion. The community offers a wide array of options that include both attached and single-family homes with varying designs and floor plans available. Best of all, the first homeowners will be moving in sometime in November 2018.
3. Sun City Carolina Lakes - Fort Mill
Fort Mill's Sun City Carolina Lakes community provides homeowners with peaceful surroundings that include picturesque tree-lined streets, rolling hills, 10 tranquil lakes, and miles of secluded walking trails. Sun City has single-family homes, villa townhomes, and carriage homes for buyers to choose from. Several different sizes and floor plans available.
While the neighborhood's setting is serene, there is no shortage of things to do with two clubhouses, a golf course, a ballroom, several athletic courts, a community garden, and a demonstration kitchen for cooking lessons. Plus, residents can take their pick from the more than 135 organized clubs that are highly active within Sun City Carolina Lakes.
The community is also conveniently located near Charlotte, and all the Queen City has to offer from Broadway plays to upscale shopping and numerous museums that cover a broad array of topics, including Southern history, NASCAR, art, and more.
4. Lakeside Crossing - Conway
Combine a low-maintenance lifestyle with a resort-style community and you've got Conway, South Carolina's Lakeside Crossing. The popular community is located near the sandy beaches of Myrtle Beach, plus all of its restaurants, entertainment, and shopping destinations. Lakeside was built in 2005 and has both new and resale properties available for affordable prices. Homes are ranch-style with at least two bedrooms, two bathrooms, a den, and an attached one-car or two-car garage.
Within Lakeside residents will find a variety of perks and amenities that include an expansive clubhouse, library, business center, ballroom, pottery studio, an on-site pub, walking trails, tennis courts, and more. The fitness center features state-of-the-art cardio and weight equipment, an indoor pool, an aerobics and dance studio, and a massage therapy room that comes in handy after a hard workout.
Along with plenty of ways to stay physically active, there are countless clubs and classes for homeowners to participate in that include everything from card crafting and Cha Cha dance classes to water walking and singles' meetings.
5. Savannah Lakes Village - McCormick
Rounding out the top five most popular communities in South Carolina is the resort-style Savannah Lakes Village located in McCormick. The community was built in the late 1980s and features an impressive amount of amenities that includes two golf courses, a four-lane bowling alley, dance studio and ballroom, fitness center, indoor and outdoor pools, and two on-site bar and grills.
Additionally, Savannah Lakes has plenty of activities to keep residents busy, including aqua fitness, archery, art classes, concerts, camping, and skeet shooting – just to name a few.
Home options in Savannah Lakes Village include detached as well as attached single-family homes that are new or resale. There is also a wide selection of sizes, with houses ranging from 1,200 to 4,000 square feet.