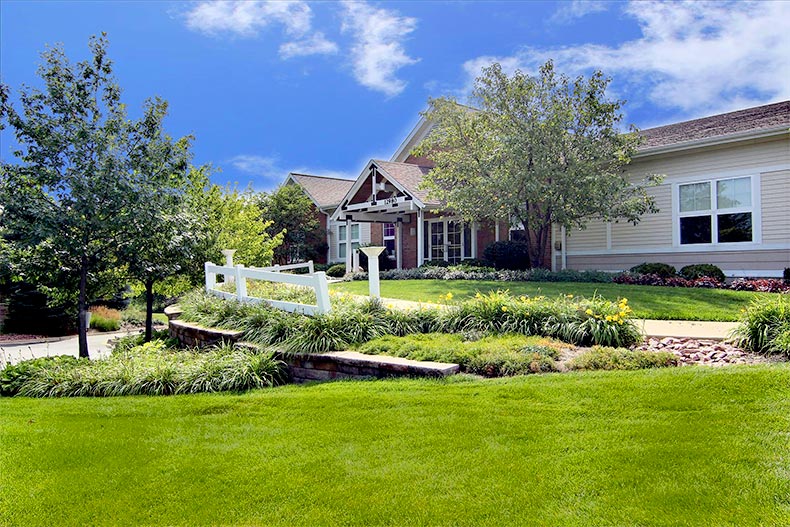 For much of the country, the dog-days of August heat and the chirping of cicadas signal the beginning of the end of summer and a transition into the shorter days of autumn. This is also the time of year when home sales really begin to heat up, as evidenced by some of the movement on this month's top ten list. Now's the perfect time to really ramp up (or begin) your search for a home in an active adult community.
1. On Top of The World - Ocala, FL
On Top of The World is once again on top of our list of the most popular active adult communities for this month. This trendsetting community continues to attract the interest of a huge number of homebuyers throughout the country.
Located in Central Florida, this truly massive community (there are few better ways to describe it) offers its residents so much that it's a wonder they ever leave. Golf courses? Check; they have three stellar 18-hole courses. Clubhouses? You bet; there are four of them with amenities that could merit their own article. Variety of housing? Between single-family and attached homes, there are 10,000 of them with an incredible number of floorplans and styles to choose from.
2. Sun City Hilton Head - Bluffton, SC
Coastal South Carolina is one of the "it" areas in all corners of the real estate market but especially in the 55+ world. Charming, historic cities, an internationally renowned food culture, and pleasant year-round weather tick off many of the boxes on most active adult homebuyers' list of wants.
Whether you're looking for a modest seasonal home or a stately palace suitable for entertaining, Sun City Hilton Head has 17 home collections. The incredible number of floor plan options really do ensure just about any homebuyer can find a place to call home here. In a region famous for its golf options, Sun City Hilton Head really stands out with a total of 54 holes among 3 courses, ensuring that you'll have plenty of opportunities to work on your game or to enjoy a friendly round with neighbors.
3. Latitude Margaritaville - Daytona Beach, FL
With its new Town Center up and running, this active adult community is still attracting interested homebuyers from around the country in record numbers. Taking inspiration from the famously laid-back Jimmy Buffett, this community offers a unique take on Florida retirement.
The easy-going beach vibe isn't just a marketing gimmick either, residents will have access to a private beach club, giving them all the opportunity in the world to live the lifestyle they've sought out. For more practical considerations (or when you really can't find that lost shaker of salt), an on-site 200,000-square-foot retail area makes it easy to go shopping without leaving the community. You can take that beach feeling back to your home too, with four custom home interior styles featuring beach and nautical themes.
4. Holiday City at Berkeley - Toms River, NJ
Moving up a spot is Holiday City at Berkeley in Ocean County, New Jersey—unsurprising given its northern location which is very desirable in the summertime. This is an ideal community for those searching for a more northernly home or for snowbirds looking to come closer to home for part of the year.
This community is unique in that it's made up of six smaller villages, each with its own unique clubhouse and feel. Also, you'll never be hurting for home choices because this community features a charming patchwork of home styles, many perfect for those looking to put in some time customizing the look and feel of their home.
5. The Villages - The Villages, FL
The Villages, in many ways, defined what's possible for an active community and continues to push the boundaries by constantly innovating. This storied community continues to evolve by responding to the changing needs and desires of new generations of active adult homebuyers.
The Villages is home to more than 50,000 residents and has very few peers in terms of not only its size but the scope of its amenities. Shopping centers, clubhouses, golf courses, and, heck, even golf cart mechanics' shops make this even more like a small metropolis. If your idea of retirement is putting the "active" in active adult, be sure The Villages is on your list.
6. Solivita - Kissimmee, FL
Construction started in 2000 on this immensely popular community in the Orland-Kissimmee area, and it continues to this day, which certainly suggests the lasting appeal of Solivita among active adult homebuyers. Is it due to the whopping eight amenity centers? Or perhaps the near-perfect location with easy access to a world of entertainment, golf, and theme parks?
Maybe it's the homes themselves with everything from cozy courtyards to large homes with three-and-a-half garages, perfect for storing both the cars and the toys. Whatever the reason, it isn't hard to see why this community is a perennial favorite of both homebuyers and our editorial staff.
7. Sun City Center - Sun City Center, FL
Heading from Central Florida to the Tampa area, we find ourselves at number six on our list, Sun City Center. This golf-car friendly community pulls in residents from across the country, and it's an excellent choice for homebuyers looking to stretch their dollar without giving up on any of the world-class amenities that have made the Sun City brand a household name.
It's quite possible to find a home in this community for under $100K. Those looking for a larger or full-time residence aren't left out either with plenty of options for homes over 2,000 square feet.
8. Sun City Huntley - Huntley, IL
A regular feature on our list and a must-visit for homebuyers who believe in the old "Midwest is Best" motto. This impressively large community is just a short drive along I-90 from Chicago, making it easy for residents to enjoy the major league sports, dining options, and internationally known summer festivals like Blues Fest and the Taste of Chicago.
Housing options are as diverse as the residents with condos, attached, and single-family homes available with an impressive range of price points and features. If you do plan a visit, be sure to allow plenty of time to explore the enormous 94,000-square-foot Prairie Lodge which is definitely the center of this community's active social scene.
9. Oak Run - Ocala, FL
Once again we're back to Ocala in Central Florida with Oak Run, a 55+ community of 3,509 homes that's the ideal blend of small-neighborhood feel with big-community amenities.
This community sits on the grounds of the Royal Oaks Golf Culb, a 6,703-yard, par-72 course that showcases the verdant House Country landscape. Memberships to the golf club are quite affordable, allowing a large number of residents to enjoy the course and its amenities. When not on the greens, residents can spend their time at the community's four clubhouses with a healthy array of indoor and outdoor activities.
10. Laguna Woods Village - Laguna Woods, CA
Making its first appearance on our list is Laguna Woods Village, a magnificent 55+ community in Orange County, California. Though some may say pictures don't do it justice, I'd implore you to head over to our community page and have a look for yourself. The natural scenery surrounding this community is simply breathtaking.
In addition to the postcard-worthy views, residents enjoy 36 holes of golf, an equestrian center, seven clubhouses, a community center, and several bars and restaurants, just to name a few. Should you ever want to leave, there's also plenty of RV parking. Homes range from the mid $100s all the way up to truly luxurious estates that belong on HGTV.