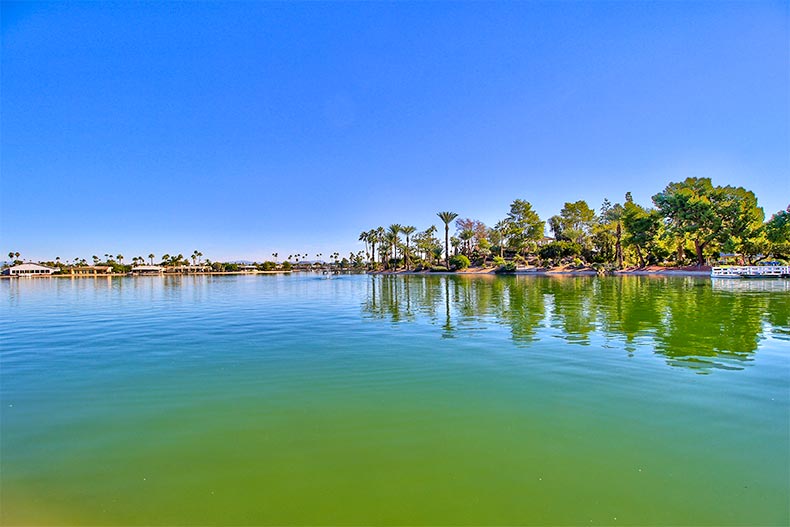 Back in May, 55places.com announced the 100 most popular active adult communities of 2018 as a way to highlight the places that 55+ buyers are focusing their attention. We thought it might be a good idea to check back in with our audience to see which communities they have their eye on now that the end of the year is fast approaching.
We looked at 55places.com traffic between November 1 and November 30 and determined the ten communities that received the most visits overall. You'll probably recognize a lot of these names as they're among the most popular communities in the nation.
1. Latitude Margaritaville - Daytona Beach, FL
Once again, Latitude Margaritaville tops the list. The excitement has yet to slow down for this Daytona Beach community offering the Jimmy Buffett-inspired lifestyle. Developer Minto recently released a new round of homesites and the impending arrival of many amenities inside the community likely means this community will remain up here for some time to come.
2. Latitude Margaritaville Hilton Head - Hardeeville, SC
The second Latitude Margaritaville shot up the charts in November, perhaps thanks in large part to the brand's appearance on Wheel of Fortune in October. The first wave of residents also started moving into the community in November, which likely attracted a whole lot of attention from those waiting to see what all the fuss is about.
3. On Top of the World - Ocala, FL
OTOW can usually be found somewhere on the top three of this list. The appeal of OTOW is in its ability to provide residents with just about anything they can think about doing. With three golf courses, several clubhouses, fitness centers, swimming pools, tennis and pickleball courts, restaurants, an R/C airplane field, and an R/C car track, no one runs out of things to do here. One resident recently told us it's "adult Disney World" and it certainly sounds like it.
4. Sun City, AZ
There are plenty of 55+ communities around the country that include the Sun City name these days, but there was only one original Sun City, which opened in 1960. Now, the community includes over 26,000 homes, 11 golf courses, and countless amenities and social clubs worth exploring. Just because it's an original that doesn't mean they're not keeping things modern.
5. The Villages, FL
It would be weird not to see The Villages on any kind of most popular list. Spanning three counties, three zip codes, and over 20,000 acres, The Villages is really its own city made up of hundreds of communities. You could move into a residence here, never leave, and have all of your daily needs met, including entertainment, healthcare, and educational. No wonder there are so many myths and rumors about this gigantic, sprawling community.
6. Solivita - Kissimmee, FL
Solivita is another 55+ community that always seems to be near the top of any kind of popular list we do. It's easy to understand why. "It is a large enough community so that it offers a variety of things to do, people to meet, and consistent activities, but is small enough to give that small-town feel," according to 55places.com partner agent and community resident Jamie Dorn.
7. Sun City Hilton Head - Bluffton, SC
We're not surprised to see Sun City Hilton Head among the most popular communities of August. Buyers surely noticed all of the same qualities we did when we named it the Best 55+ Community of 2018 and named its clubhouse one of the best of 2018 as well. What's great is that while the community is filled with amenities and lifestyle opportunities, they're able to offer something for all kinds of potential buyers, with homes ranging between the high $100s all the way up to the $700s.
8. Lakeside Crossing - Conway, SC
Lakeside Crossing returns to this list thanks to its reputation as a community where you can get a lot without paying a lot. This Carolina Lowcountry community gives residents ample amenities to choose from (including a pub and massage therapy room) and also puts them less than 15 miles from Myrtle Beach and various golf courses.
9. Sun City Center, FL
For more than 50 years homes have been constructed in Sun City Center, one of the largest 55+ communities in Florida. Now, the development has reached its final build-out and the last new home has been sold. Clearly, readers are interested in finding out where the community goes from here as there are plenty of resale options available to potential homeowners preparing a move to the Tampa Bay area.
10. Oak Run - Ocala, FL
Ocala remains a very popular destination these days for buyers thanks to a mixture of reasonable prices, plenty to do, and some of the best active adult communities in the region. Oak Run ranks among the most popular communities thanks to a collection of reasonably priced resale homes and a robust lifestyle offering over 100 clubs and interest groups.