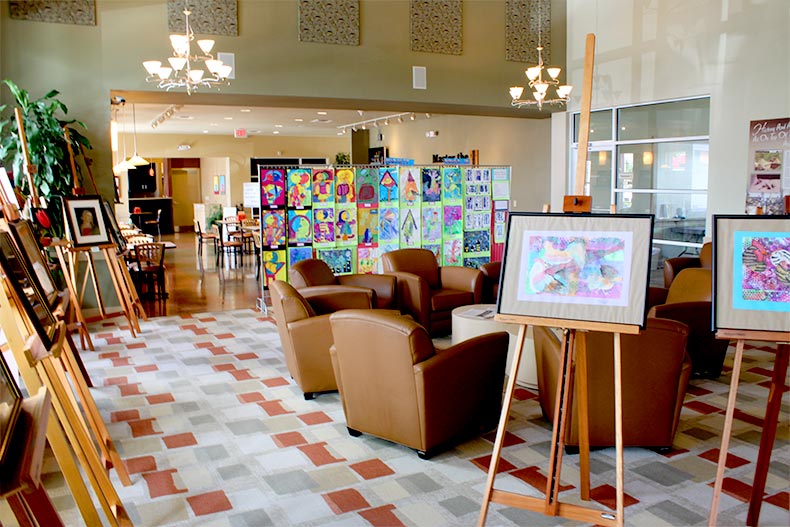 July is a popular month for homebuying. With summer in full bloom, it's the best time to stroll tree-lined streets, explore local businesses, and check out the community pool. For many active adults, this is the season to finally find that dream retirement home and create a cozy, fair-weather retreat.
If you're beginning (or continuing) your search for that perfect community with your preferred amenities and a coveted location, why not check out some areas where other active adults have already found their new homes? Here are the most popular active adult communities of July 2019 (and what makes them so desirable).
1. On Top of The World - Ocala, FL
On Top of the World stays on top of our list of best-selling communities for good reason. Take a look at the carousel of photos on our community page, and you'll begin to get a good sense of the world-class amenities that draw homebuyers to this truly one-of-a-kind community.
It has restaurants, a spa, a 1,500-seat theater, and enough social clubs to ensure every resident has the opportunity to enjoy this remarkable community with like-minded neighbors. Whether you're looking for a full-time residence or a seasonal retreat, eight home model collections offer an abundance of choice both in terms of price point and features. Better still, both Tampa and Orlando are both about 90 minutes away, making day trips for shopping, site-seeing, or theme-park fun within reach of an easy day trip.
2. Sun City Hilton Head - Bluffton, SC
If you're a golfer, odds are you already know about the outstanding golf options in and around the Hilton Head area. Residents of Sun City Hilton Head certainly know this, and that's why we see this beautiful coastal South Carolina community on our list at number two.
Golfers from around the world are drawn to the Hilton Head area by not only its world-class golf courses but also its lovely weather. Average highs, even in the dead of winter, often surpass 60 degrees Fahrenheit, making it possible to enjoy a four-season golf lifestyle. There's plenty of excitement to be had at Sun City Hilton Head as well within its 45-acre Town Center and Amenity Complex which serve as the beating heart of this vibrant and active community.
3. Latitude Margaritaville - Daytona Beach, FL
The community that took the active adult real estate world by storm when it debuted about a year ago continues to attract the interest of homebuyers looking to take part in the relaxed and fun-loving lifestyle depicted in its namesake Jimmy Buffet song. Homebuilding is moving along as a brisk pace, making this an ideal community for those looking for a new home that they can customize according to their own unique tastes and interests.
Notably, Latitude Margaritaville just held a ribbon-cutting ceremony in June for their brand-new Town Center. This is sure to be the center of the community, whether you're looking to hit the gym followed by a trip to the spa or you simply want to meet up with neighbors for a margarita. Access to a private beach elevates this community to the level of a confirmed best-seller.
4. The Villages – FL
In many ways, The Villages sets the standard by which other active adult communities are judged. This pioneering community in Central Florida transformed both perceptions and standards of 55+ communities, and instead of resting on its laurels, it continues to innovate and redefine just what such a community can offer to its residents.
It's, by far, the largest active adult community in the country with more than 50,000 happy residents calling this community home. A network of community and shopping centers are linked by miles of golf cart trails, allowing residents to leave their cars in the garage and take part in the cart fun. The community is so fond of its golf cart lifestyle that it holds the Guinness World Record for the largest golf cart parade.
5. Holiday City at Berkeley - Toms River, NJ
For the fifth position, we move away from the southeast and welcome our first New Jersey community to the list. With more than 10,000 homes, Holiday City at Berkeley offers homebuyers a truly impressive range of housing options at surprisingly affordable prices. This makes it a stand-out community for those looking to live near family and friends in the area or for those who maintain more than one home and move with the seasons.
Five amenity centers and a very active social calendar make this a great community for those looking to stay busy, putting the "active" in active adult.
6. Solivita - Kissimmee, FL
Another Central Florida entry on this month's list suggests that the region's popularity among active adult homebuyers is unlikely to diminish any time soon. Take a look at the inspired Mediterranean architecture of its Palms Amenity Complex. Walking up the dramatic, palm tree-lined path, you'll discover a sprawling community center with fitness facilities, an impressive outdoor pool, and numerous sports courts among the vast lineup of amenities.
Now consider that this is just one of eight amenity centers throughout the community. Home options are equally diverse, offering homebuyers everything from low-maintenance courtyard homes to stately single-family homes. As a part of the Orlando-Kissimmee area, residents have easy access to excellent dining, more than 30 golf courses, and the world-famous theme parks that have made the region a destination for generations.
7. Sun City Huntley – IL
Another entry from the famed Sun City brand takes us to the Midwest for an outstanding entry in the greater Chicagoland area. This community draws homebuyers from around the region who not only appreciate being near the cultural attractions of the Second City but who also demand best-in-class amenities and excellent value for dollar spent.
With nearly 5,500 homes covering 2,300 acres, this is one of the largest and certainly most popular communities in the Midwest. Much of the activity is centered around the eye-popping 94,000-square-foot Prairie Lodge which features everything from a state-of-the-art fitness center to a performing arts center and ballroom.
8. Sun City – AZ
The community that started it all continues to be a regular on our monthly top ten list, but don't think just because it was a trailblazer that it's now a sleepy and outmoded community. That couldn't be further from the case as this original active adult community has continued to evolve with homebuyers' changing tastes and needs.
Today, Sun City boasts 11 golf courses, 19 shopping centers, and so many art studios, pools, and bocce courts that it would take a whole article just to list them. Home options are as vast as the amenities, offering everything from cozy condos to larger homes with three or more bedrooms and plenty of space to spread out. Located just west of Phoenix, this community gives residents access to everything this cultural capital of the Southwest has to offer.
9. Sun City Center – FL
Heading back to Florida, we visit another Sun City community that more than 11,000 residents call home. The community is located just 25 miles north of Downtown Tampa, and it's something of a self-contained village with numerous shopping centers, grocery stores, houses of worship, and even its own medical center.
Like other entries on this month's list, this is a golf cart-friendly community and, on any given day, you're more likely to see your neighbors cruising in their cart than driving their car. The delightful Florida weather is another key draw of this community with almost 300 days of sunshine annually. The climate makes it a pleasure to enjoy the huge variety of outdoor amenities, offering everything from game and sports courts to several resort-style pools.
10. Oak Run - Ocala, FL
Turning back to Ocala, we end our list where we started. Oak Run is one of the smallest communities on our list with a comparatively modest 3,500 homes. That makes this a must-see 55+ community for those drawn to the Ocala-area but who prefer a more close-knit feel.
But just because this one is a little smaller, doesn't mean residents are forgoing the amenities one would expect from a top-ten community. Oak Run has five amenity centers that cater to residents' every interest, whether that be an invigorating swim in the indoor and outdoor pools or spending time with neighbors and new friends in one of the more than 50 interest and social groups. Low-maintenance attached and single-family homes are available at a wide range of price points, making this community one to check out regardless of budget.