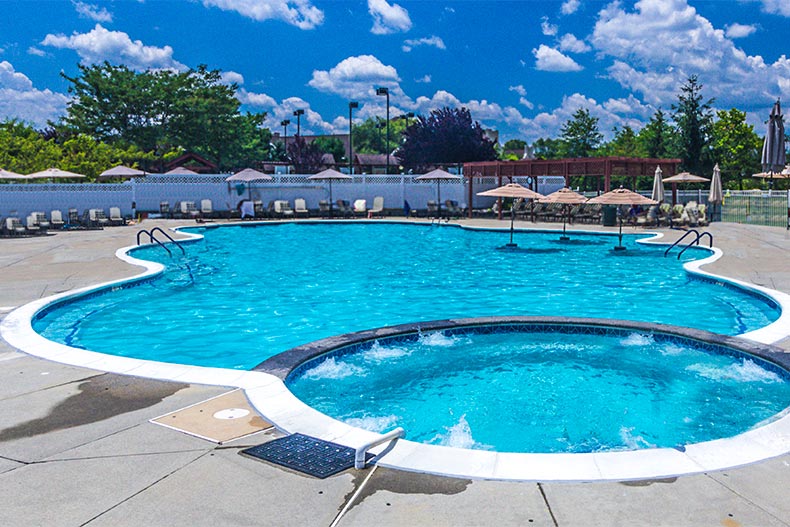 Like much of coastal New Jersey, Ocean County offers active adults unlimited possibilities for leisure activities. With a long coastline, there are ample opportunities for boating, fishing, and relaxing on the beach.
Further inland, there are recreation areas like Double Trouble State Park and public golf courses like Bey Lea. This region doesn't slouch on indoor fun either, with plenty of theatres, restaurants, museums, and shopping malls.
It's no wonder why there are so many retirement communities in Ocean County, and choosing the right one is no easy task. 55places is happy to offer some guidance by finding the most popular in the region
Out of the 65 active adult neighborhoods in OC, the five listed below received the most page views between May 1, 2018 to April 30, 2019. Read on to learn more about the top choices for Ocean County, NJ real estate.
Below $100k - Low $300s
Yes, it's big, but those who live at Holiday City at Berkeley reap the benefits of being in a self-contained small town. Built from 1969 through 1996, this 55+ Toms River development has over 10,000 resale single-family homes divided into four subdivisions: Holiday City Carefree, Holiday City Heights, Holiday City South, and Holiday City West.
There are six clubhouses and other perks including a community bus. Homeowners pay a monthly homeowners association fee (HOA) for lawn and common area maintenance, and snow removal.
On offer are 20 different models, ranging from a cozy one-bedroom, one-bathroom, 757 square-foot floor plan up to a two-bedroom, two-bathroom, 1,852 square-foot model. Almost every home includes an attached one-or-two-car garage, while some include dens, breakfast nooks, porches, and greenhouses.
The different clubhouses feature sports courts, outdoor pools, auditoriums, arts and crafts rooms, and other activity spaces. Social clubs for photography, singles, exercising, card games, and other interests meet on or off-site, and there is also a vibrant travel group.
Learn more information about Holiday City at Berkeley here.
Below $100k - High $100s
The two main draws for Leisure Village West are its a golf course community and offers incredible value for the price. This established neighborhood has 2,682 attached resale homes built from 1972 to 1993 on a gated property in Manchester.
The 21 models range from 737 to 2,013 square feet and include one to two bedrooms, one to two-and-a-half baths, and a garage or nearby parking. The HOA fee provides for snow removal and lawn maintenance.
Leisure Village West's amenities are indeed attractive, with two 9-hole golf courses and three clubhouses. Highlights include a performance stage, photography and ceramics studios, pickleball, bocce, and outdoor pools. There are over 30 activity clubs and groups, including model railroads, ballroom dancing, fishing, golf, horseshoes, and art appreciation.
Learn more information about Leisure Village West here.
Below $100k - Mid $100s
Similar in size and scope to Leisure Village West, Lakewood's Leisure Village is about 15 miles north of Manchester near the intersection of Route 70 and the Garden State Parkway.
This gated 55+ community was built from 1960 to 1970 with a total of 2,433 resale attached homes, and like its predecessors on this list, it has an HOA fee to cover common area maintenance, landscaping, and snow removal.
There are 10 floor plans, most with two bedrooms, two bathrooms, and one-car garages. Larger models feature porches, center hallways, and comfy breakfast nooks. Sports enthusiasts appreciate the 30+ shuffleboard courts, bocce courts, horseshoe pits, and 9-hole pitch & putt golf course.
There are also two outdoor pools, two fitness centers, a private health care center, and activity rooms in the clubhouses. Popular activities include the Waddill Shores Yacht Club, the Hear We Are Support Group, the Kiwanis Club, yoga, and quilting.
Learn more information about Leisure Village here.
Low $200s - Low $400s
As the youngest community in this list, Renaissance at Manchester was completed in 2007, with 1,904 resale single-family homes.
This gated property features 11 models sized from 1,522 to 2,256 square feet, with one to two bedrooms, two bathrooms, and attached two-car garages. These appealing single-story homes feature attractive master suites, breakfast nooks, and patios. A monthly HOA fee takes care of lawn maintenance and other chores that you won't have to worry about.
Renaissance at Manchester's property has many amenities, like scenic lakes & ponds, a playground for the grandkids, a deli & cafe, tennis, bocce, and pickleball courts; and a par-63, 18-hole golf course.
The 30,000 square-foot clubhouse houses indoor and outdoor pools, a state-of-the-art fitness facility, activity rooms, and a ballroom. You can also get involved with any of the diverse activity clubs and social groups, such as the garden club, Friends of Philharmonic, martial arts, artisans & crafters, performing arts, retired educators, or the singles' club.
Learn more information about Renaissance at Manchester here.
Below $100k - Low $200s
Manchester is definitely sought-after by 55+ homebuyers, as this final community on our list is also located here. With 1,626 resale single-family homes, Leisure Knoll, a gated community, was built from 1973 to 1999 on a scenic, gated property that boasts sparkling lakes, tree-lined streets, and mature landscaping.
The 15 models are sized from 980 to 1,728 square feet, most with two bedrooms, one bathroom, first-floor master suites, and attached garages. Some homes may include appliances, granite countertops, and upgraded kitchens and bathrooms.
The community HOA fee provides for lawn maintenance, snow removal, and access to its exclusive community amenities. Residents take advantage of the modern clubhouse, with its activity rooms, fitness center, and library.
Outside, homeowners can find a putting green, tennis and shuffleboard, an outdoor pool, walking trails, and a picnic area. There are clubs for bowling fans, Bible study, health & fitness, veterans, mahjong, and more.