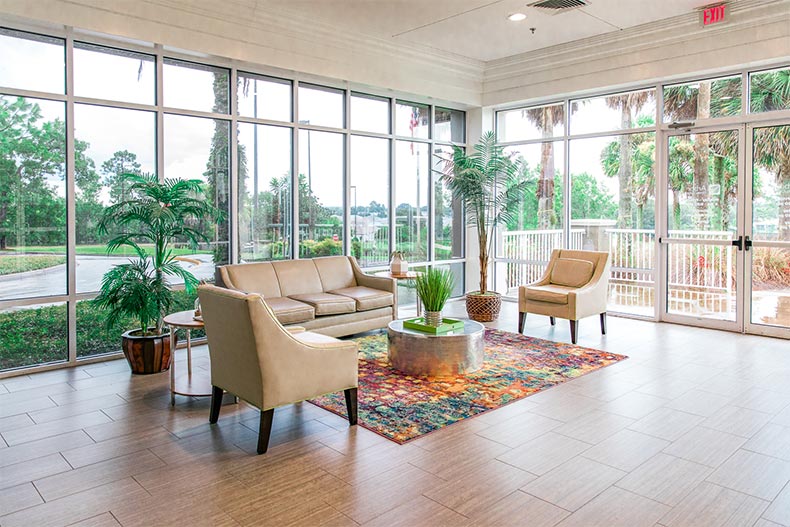 As much of the country heads into winter, we've seen somewhat of a shift in interest while compiling this month's list of the top ten communities. Seven of the ten communities this month are located in Florida, which comes as no surprise this time of year. To many of us in the cold northern states, living the snowbird lifestyle seems awfully appealing right now. In addition to the Florida communities, we find a few other perennial favorites including the Arizona community that has set the standard in active adult living for the better part of a century.
Join us as we dive into the most popular active adult communities of November 2019.
Below $100k - Low $400s
This massive active adult community located in Central Florida just a few miles from I-75 has been drawing residents since its opening in 1981. However, just because it's a well-established community doesn't mean it rests upon its laurels. New home construction is ongoing, and its expansive lineup of amenities is consistently refreshed to meet the everchanging needs and wants of 55+ homebuyers. Around 10,000 happy residents currently call On Top of the World home, making it one of the largest communities on our list this month.
Learn more information about On Top of the World here.
Mid $200s - Low $500s
Interest in Latitude Margaritaville has been robust ever since it was announced back in 2017. Now, with the first residents settled into their homes, the rave reviews are coming in. Homebuyers are drawn to this community for its truly impressive set of amenities designed with the laid-back Parrothead spirit in mind. Its newly opened Town Square is the center of most of the amenities, several restaurants and bars, the huge Last Mango Theater, and numerous other entertainment venues. Just outside the community, residents also enjoy easy access to shopping at the 200,000-square-foot Latitude Landings retail center.
Learn more information about Latitude Margaritaville here.
High $100s - Mid $1Ms
Recognizing that the Hilton Head area has long been a destination for golfers, Del Webb decided to bring the Sun City Brand there in 1995 with the opening of Sun City Hilton Head. There are three 18-hole championship golf courses in this community of 8,200 homes, giving golfers of all abilities the chance to hit the links with friends and neighbors. Residents also enjoy a mild marine climate that has a yearly average temperature in the 70s, making it possible to partake in outdoor activities throughout the year.
Learn more information about Sun City Hilton Head here.
Below $100k - High $800s
Making another appearance on our monthly top ten list is Sun City, the first active adult community not only in Arizona but in the entire country. It set the standard of what a 55+ community could be, and it has long captivated the imaginations of those seeking an Arizona retirement. The amenities are as vast as the community itself, with 11 golf courses, 19 shopping areas, and seven amenities centers, almost all of which are easily accessible by golf cart.
Learn more information about Sun City here.
Mid $100s - Low $400s
Headed back to Florida, we find number five on our list: Solivita. This community is located in the ever-popular Orlando-Kissimmee area, offering its residents easy access to theme parks and abundant sunshine and pleasant weather with which to enjoy them. Homebuyers are also drawn in by the combined 90,000+ square feet of amenity centers along with 36 holes of golf at the on-site Stonegate Golf Club. Best of all, home prices currently start in the mid $100s, making this a must-see community for snowbirds or those looking for a second home.
Learn more information about Solivita here.
Low $100s - Mid $500s
Central Florida has been a popular retirement destination for generations, no doubt due to its delightful weather and its prime location near entertainment and travel options. Stone Creek opened its gates in 2006 to its first residents, and it has continued to be a runaway success ever since. New homes are still available with prices ranging from the low $100s to the mid $500s, making this an attractive option for those looking to stretch their retirement dollar without sacrificing amenities or nearby attractions.
Learn more information about Stone Creek here.
Low $100s - High $1Ms
Simply put, The Villages is in a class of its own in the world of 55+ communities. Over 50,000 people call The Villages home, making this something of a metropolis in Central Florida. These residents have access to a massive number of amenities including 35 community centers, 41 golf courses, and more than 80 outdoor pools. Though many residents own cars, the golf-cart lifestyle is strong in The Villages with many residents preferring to get around in their efficient (and often customized) golf carts.
Learn more information about The Villages here.
Below $100k - High $400s
Located between Bradenton and Tampa, this Del Webb community is an ideal destination for those looking to enjoy the snowbird lifestyle. Sun City Center is anchored by a 97,000-square-foot clubhouse complete with a fitness center, a theater, loads of hobby and meeting rooms, and several outdoor pools. Currently, home prices start under $100,000, making this an affordable community for those who still want to experience the lifestyle offered by a large 55+ community.
Learn more information about Sun City Center here.
Below $100k - Low $300s
During the winter months, it's no surprise that interest shifts to communities in the Sunbelt. After all, what sunshine-starved northern doesn't occasionally dream about heading south for the winter? That said, many prefer to stay close to home during retirement, and Holiday City at Berkeley offers that option to those on the East Coast. This Ocean County community has long been a favorite of 55+ homebuyers in New Jersey, offering the ideal combination of lovingly maintained homes, excellent amenities, and a location that can't be beat.
Learn more information about Holiday City at Berkeley here.
Below $100k - Mid $300s
For the final entry on this month's list, we once again return to Central Florida, a permanently popular area among 55+ homebuyers. Located just 30 miles from the Gulf of Mexico and 90 minutes from popular destinations in Orlando and Tampa, Oak Run is a good bet for retirees seeking an active lifestyle. Within the community itself, the Palm Grove Club serves as a hub of recreation and socializing with residents gathering here to workout at the fitness center or relax by the luxurious outdoor pool.