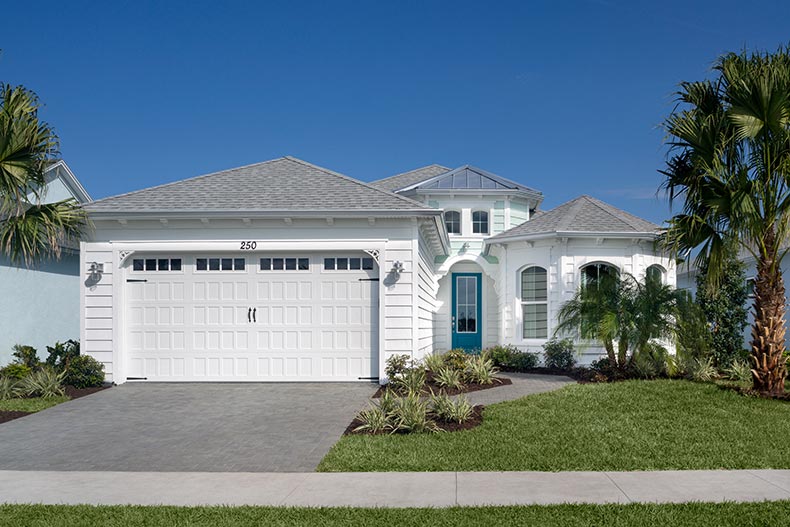 Shorter days and cooler weather have a way of generating increased interest in 55+ communities, especially those in the Sun Belt. We've definitely seen this annual trend reappear in our list of the most popular communities of October. Interestingly though, it isn't only Florida communities that made our list. Two notable and ever-popular northern communities have held their own while two southern communities have resurfaced this month.
Whether they're well-established or new, there's one thing these communities have in common: the ability to keep up with the changing needs and desires of their residents. Many of the more established communities are constantly evolving, improving amenities, and offering homebuyers the latest in energy-saving technology. The newer communities, especially our number one, are distinguishing themselves by reinventing what an active adult community can be and catering to the needs of a new generation of 55+ homebuyers who want it all.
Join us as we break down the top ten most popular communities on 55places.com for the month of October 2019.
Mid $200s - Low $500s
The interest generated by Latitude Margaritaville has, unsurprisingly, put it at the top of our list for another month. The community was recently featured on Wheel of Fortune where viewers could enter to win a home valued at $350,000 in the "Home Sweet Home" giveaway. While that promotion had ended, there's still ample opportunity to visit this blazing hot Daytona Beach community to take in the laid-back lifestyle yourself.
Be sure to check out the newly opened Town Center which serves as both a luxurious amenity center and a hub for shopping and dining within the community.
Learn more information about Latitude Margaritaville here.
Below $100k - Low $400s
Coming in at number two again is On Top of The World, a stalwart 55+ community in the Ocala area. The community opened in 1981, but by no means does that mean it's stuck in the past. New homes continue to be built at a remarkable pace, and they've kept up with the times by incorporating the latest in energy-saving technologies.
To take advantage of the abundant sunshine, new homes in the Carriage Collection all feature builder-installed solar panels to reduce energy consumption and save homeowners money. Outside of the home, On Top of the World gives its residents plenty to do with six amenity centers and just short of 200 social and interest clubs.
Learn more information about On Top of the World here.
High $100s - Mid $1Ms
Hilton Head Island is synonymous with golf; the island alone has 24 championship golf courses with many more in the metro area. Three of those golf courses are onsite at Sun City Hilton Head and available to residents year-round, weather permitting. New to the game? There's even a staff of instructors to get you "golf-ready" in as little as five days.
But homebuyers aren't just drawn to the links. With 8,000 homes starting in the high $100s, this community welcomes future residents with everything from cozy winter homes to estates with course views.
Learn more information about Sun City Hilton Head here.
Low $100s - High $1Ms
When some people look for a 55+ community, they seek out a small, quiet community in an out-of-the-way place. While this suits some homebuyers quite well, The Villages in Central Florida is anything but. It's a community that dwarfs all others by a longshot with some 5.7 million-square-feet of commercial space, approximately 60,000 homes, and nearly 100,000 happy residents.
In fact, from 2010 to 2017, it was the fastest-growing metropolitan area in the United States. The amenities are as plentiful as you'd imagine. In addition to the numerous retail areas and clubhouses, there are 38 executive golf courses that are available to residents free of charge.
Learn more information about The Villages here.
Below $100k - Low $300s
The allure of a Sun Belt retirement is what, for many, has come to define the active adult lifestyle. However, there are plenty of good reasons homebuyers look for a 55+ community further north, whether it's being closer to friends and family or the ability to maintain two homes. Holiday City at Berkeley makes another appearance on our list, no doubt due to these factors.
Since its opening in 1969, Holiday City at Berkeley has established itself as one of the largest and most popular communities in the Garden State. Better still, it offers four distinct neighborhoods, each with its own clubhouse and lineup of amenities.
Learn more information about Holiday City at Berkeley here.
Mid $100s - Low $400s
Solivita represents the first newcomer on our list this month, and it's a worthy one indeed. This 4,300-acre, golf cart-friendly community is a true standout in the Orlando-Kissimmee area, boasting seven amenity centers and its own membership gold course with a total of 36 holes and country club amenities.
Attached and single-family homes are available both as resale and new construction. Despite the resort-like slate of amenities, this community is surprisingly affordable with reasonable HOA fees and homes that start in the mid $100s. As if this weren't enough, Solivita is conveniently located near the theme parks, resorts, and other attractions that have made this part of Florida world-famous.
Learn more information about Solivita here.
Below $100k - Mid $300s
Just in time for the snowbird season, we turn our attention to Oak Run in Ocala's horse country. There are just over 3,500 homes in Oak Run, many starting below $100k, making this a must-see community for northerners looking for sunshine and warmth during the cold winter months.
Don't be fooled by the modest home prices however, you won't have to make a tradeoff in terms of lifestyle or amenities in this Central Florida community. There are fitness centers, indoor and outdoor pools, meeting spaces, and loads of other amenities spread among Oak Run's four clubhouses. A membership golf course rounds out the offerings, ensuring residents never want for something to do at this high-quality 55+ community.
Learn more information about Oak Run here.
Below $100k - Low $300s
Another new entry for October, Kings Point is a bit of a unique option because it's a part of the much larger Sun City Center located near Tampa Bay. Residents enjoy the feel of a somewhat smaller community while having access to all of the amenities that make Sun City Center a regional destination for active adults.
Kings Point is anchored by a 97,000-square foot amenity center with everything from a state-of-the-art fitness center and indoor pools to cafes and a theater that hosts Broadway productions. With more than 5,000 homes, this community offers homebuyers a diverse range of choices suitable for just about any budget.
Learn more information about Kings Point here.
Below $100k - High $400s
If Kings Point doesn't suit you, why not expand your focus and look at the larger community that it's a part of? Sun City Center opened its gates in 1961, and it hasn't looked back since, continuing to innovate on the formula that catered to the interests of 55+ homebuyers for more than half a century.
More than 11,000 residents have chosen this community for its golf cart lifestyle, eight golf courses, and the 300+ days of sunshine a year. Should you ever want to leave, Sun City Center is conveniently located near I-75 and just 25 miles south of Tampa, making it quick and easy to pop into town for everything from shopping and dining to catching a flight or a cruise.
Learn more information about Sun City Center here.
Mid $100s - Mid $400s
Last on our list is, once again, the lone midwestern entry, Sun City Huntley. This gleaming Del Webb community is not unlike Holiday City Berkeley in that it combines the feel of a classic active adult community with proximity to one of America's great metropolises.
Sun City Huntley is an ideal combination for homebuyers seeking the amenity-rich lifestyle of a 55+ community without giving up the cultural amenities and big-city lifestyle that proximity to a major urban center offers. That said, residents appreciate being able to enjoy the community, with its sprawling 94,000-square-foot Prarie Lodge and 18-Hole Whisper Creek Golf Course, at their own pace.