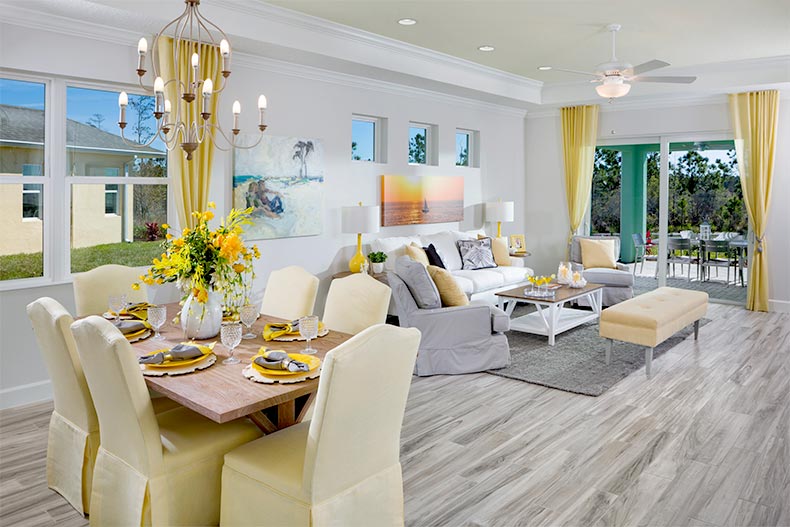 October is here and, in many parts of the country, we're beginning to see the leaves change color as the days grow shorter. The beginning of the month also brings a new Top 10 Most Popular list here at 55places.
This month, we see the staying-power of some of the most consistently popular communities along with the addition of the community that "started it all." We're also beginning to see some seasonal change in the lineup as we move into the latter part of the year, traditionally an exciting time in the world of active adult real estate as buyers look longingly towards the warmth and sunshine of the southern states.
Mid $200s - Low $500s
It looks like Jimmy Buffett and the team at Latitude have struck a chord with a new generation of active adult homebuyers, as shown by Latitude Margaritaville claiming the top spot last month. Sales at this Daytona Beach community continue to be high with interested homebuyers dropping by to check out the newly opened Town Center which serves as the beating heart of this lively yet laid-back community.
The appeal of being able to customize a new home is also very attractive to a new generation of 55+ homebuyers who tend to take a more active role in personalizing their homes and integrating the newest smart home features.
To learn more about Latitude Margaritaville, request info here.
Below $100k - Low $400s
Surrounded by rolling hills and ancient oaks, this massive 55+ community makes regular appearances in the top five of our list. Looking for a country club lifestyle? On Top of the World has three 18-hole golf courses along with the facilities and course-side restaurants to truly give it that exclusive club feel.
Looking to pursue lifelong interests or pick up a new hobby? On Top of the World has a huge array of clubs and organizations like theater groups, social groups, and volunteer organizations. With 10,000 homes in a diverse range of styles, floor plans, and options, you're sure to find something to fit your budget and tastes at On Top of the World.
To learn more about On Top of the World, request info here.
High $100s - Mid $1Ms
If you've switched on HGTV or the Food Network recently, then you've surely heard about the culture, foodways, and distinct style of Coastal South Carolina. The buzz around this region is at a fever pitch lately, and what better way to take in the lifestyle than living at Sun City Hilton Head.
Holding the title of the largest 55+ community in South Carolina, it follows that this community offers amenities that hold their own against some of the region's finest resorts. In addition to a 45-acre Town Center, complete with retail and dining, the community also boasts three 18-hole golf courses, offering a challenge for everyone from casual duffers to certified ringers.
To learn more about Sun City Hilton Head, request info here.
Low $100s - High $1Ms
This Central Florida 55+ community is a record-setter that makes regular appearances on our lists. Many people know that this community is the largest active adult community in the world, but it holds another record certified by the Guinness Book of World Records. In September of 2005, a fun-loving group of 3,321 residents set a record for the largest parade of golf carts ever recorded. Though impressive, this is hardly shocking as golf carts are the favored method of transportation among residents, so much so that this community has several dealerships and mechanics dedicated to keeping homeowners' often-customized carts in tiptop shape.
With over 60,000 homes ranging in price from the low $100s to over $1 million, you're sure to find a home to suit your needs and budget.
To learn more about The Villages, request info here.
Below $100k - Low $300s
Again on our list, Holiday City at Berkely is one of the largest and most popular communities in New Jersey. While many active adult homebuyers head south, there's a dedicated class of homebuyer that values being close to big-city amenities.
Holiday City at Berkely is located in Toms River, New Jersey, making it quite easy to take day trips to New York City, Philadelphia, and Atlantic City. This community is made up of six 'villages'—each with their own unique feel—that offer residents loads of amenities. Speaking of choices, there are more than 10,000 surprisingly affordable homes in this community with more than 20 floor plans.
To learn more about Holiday City at Berkeley, request info here.
Mid $100s - Mid $400s
With over 5,400 homes spread across 2,300 acres, Sun City Huntley is the largest and most amenity-rich 55+ community in the Midwest, offering a lifestyle unmatched by just about any community in the area. As such, it has continued to attract interest since its first home was sold just over 20 years ago.
Many residents chose Sun City Huntley for its easy access to the Chicagoland area while others find it perfect for a second "summer home". The 94,000-square-foot (that's not a typo) Prairie Lodge is one of the largest clubhouses on our list, and it offers residents everything from its own steakhouse to a state-of-the-art fitness facility, perfect for keeping in shape after all those rich meals with friends.
To learn more about Sun City Huntley, request info here.
Below $100k - High $800s
A new entry on our monthly list, but by no means a new kid on the block when considering active adult communities, Sun City is where it all began with the legendary Del Webb breaking ground in 1960. You'd be mistaken, however, if you believe that this community is stuck in the past. This community brings in homebuyers from across the country with its diverse range of homes, many thoughtfully upgraded and expanded upon over the years.
Also, the region's low taxes make this an ideal community for the budget-conscious homebuyer who doesn't want to sacrifice anything by way of amenities and lifestyle. Speaking of amenities, how do 11 golf courses; 19 shopping centers; and more clubhouses, tennis courts, and pools than we can possibly list here sound?
To learn more about Sun City, request info here.
Below $100k - High $400s
At number eight, Sun City Center is a community that incorporates much of the philosophy of the original Sun City but clear across the country near Tampa, Florida. The community has a fascinating history, much like its Arizona cousin. Del Webb began construction back in 1961, but since then, a wide variety of other builders have stepped in to meet the demand for ever more homes. Because of this, there's a huge variety of home options at Sun City Center, with everything from right-sized townhomes to impressive single-family homes with plenty of space for entertaining.
Amenities are also as diverse as the homes, with many neighborhoods having their own clubhouses with amenities and meeting spaces for the exclusive use of homeowners in those neighborhoods.
To learn more about Sun City Center, request info here.
Below $100k - Mid $300s
For number nine, we head back to Ocala, renowned as Florida's highly desirable Horse County. Set among rolling, green hills, Oak Run offers what many residents describe as a perfect blend of big-community amenities with a small-neighborhood feel. Whether you're looking for an intimate villa or an estate home with a view of the golf course, there are choices for almost any buyer. Like many communities on our list, construction at this Central Florida community spanned decades, ensuring a very diverse lineup of resale homes.
To take advantage of the year-round pleasant weather, many of the community's five clubhouses offer amenities with the outdoors in mind. Whether you're looking to hit the links or relax with a good book by a resort-style pool, you're sure to enjoy living at Oak Run your way.
To learn more about Oak Run, request info here.
Mid $100s - Mid $1Ms
In a list filled with superlatives, Laguna Woods continues the trends, holding the record as the largest active adult community in Califonia. The community sits on 2,100 acres of prime Orange County real estate and, despite its location, it offers homes starting in the mid $100s.
The community is famous for its lifestyle with more than 250 clubs and activity groups like its highly regarded equestrian club. There are also community gardens, two golf courses, and a private library rivaling many public libraries. If a Southern California lifestyle is something you aspire to, do yourself a favor and check out our community page and get the full story on Laguna Woods Village.
To learn more about Laguna Woods Village, request info here.