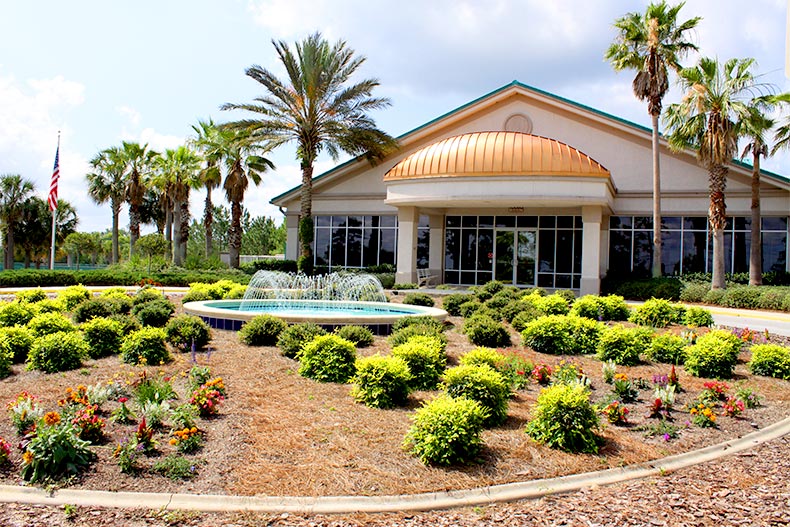 When 55places.com introduced user accounts in mid-February, it created a new tool to help active adult homebuyers find their next community and their next home. With thousands of site visitors signed up, the popularity of user accounts speaks to how many homebuyers enjoy the new features.
One of the most popular new features is the Saved List, which allows account holders to save their favorite communities and even individual home listings. By favoriting communities and homes, users can see all of their most desired neighborhoods in one place.
The Saved List feature also sends users notifications of any changes and new listings in their favorite communities. Users can even share communities on social media or contact a 55places.com Partner Agent to take a closer look.
While we often analyze the best-selling and most popular active adult communities of every month, a list of the most saved communities provides another way to see which communities currently reign supreme for site visitors. Keep reading to find out the most saved communities through user accounts on 55places.com.
And, if you want to get started with your own user account, click here to sign up.
On Top of the World - Ocala, Florida
As one of the most consistently best-selling and popular active adult communities, it's no surprise that On Top of the World in Ocala, Florida is also the most saved community through user accounts on 55places.com. The affordable homes for sale and active lifestyle opportunities make this gated 55+ community ideal for a Central Florida retirement.
With plans for 10,000 single-family and attached homes, On Top of the World feels much like a small town with many daily conveniences (such as restaurants, grocery stores, retail shops, and banks) accessible by golf carts. The town square, Circle Square Commons, includes a continuing education center, deli, and ice cream shop.
The Villages - The Villages, Florida
The Villages in Central Florida is not only the largest 55+ community in Florida, it's the largest in the world. Residents of The Villages, or Villagers, have been enjoying an active and social retirement in this expansive community for decades.
One happy Villager recently left a review, sharing her experience in the community. She wrote, "This lifestyle may not be for everyone, but if you want to stay healthy, keep your body and mind active, and feel like you're on vacation every day, this is the place for you! Every day, I wake up and look outside to my paradise and count my blessings that I live in the best retirement community in the world!"
Solivita - Kissimmee, Florida
Located about twenty minutes from Walt Disney World Resort, Solivita in Kissimmee, Florida puts residents within easy reach of everything that Central Florida has to offer. In addition to Disney and the world-class attractions of Orlando, residents can also enjoy some of the area's best waterways.
But with so much to do in Solivita, residents won't need to travel far for things to do. The full social calendar features scores of activities and events for almost every interest, such as bingo, watercolor painting, cooking classes, singles club, and golfing. Popular community events include movie nights, pool parties, game tournaments, farmers markets, and seasonal festivals.
Sun City Hilton Head - Bluffton, South Carolina
Outside of The Sunshine State, the most saved community through user accounts is Sun City Hilton Head in Bluffton, South Carolina. This Del Webb 50+ community offers resort-style retirement near one of the most popular beach vacation destinations in the country: Hilton Head Island.
With three 18-hole golf courses, four outdoor pools, and even croquet fields, Sun City Hilton Head provides almost endless opportunities for residents to spend time outdoors and stay active. Many of the luxury amenities center around the 45-acre Town Center and Amenity Complex, which features two restaurants, three fitness centers, and a 540-seat performing arts center.
Latitude Margaritaville - Daytona Beach, Florida
There are many reasons why Latitude Margaritaville in Daytona Beach, Florida earned the distinction of 55+ Community of the Year for 2018, but one of the biggest reasons is how much active adult homebuyers love the community. Here's what residents have to say about Latitude Margaritaville.
This highly anticipated 55+ community boasts resort-style, island-inspired amenities such as a Town Square with a fitness center, a restaurant, a pet spa, and spaces for live music and entertainment. In addition to a tropical beach-entry outdoor pool, residents will be able to enjoy a private beachfront club right on the Atlantic Ocean.
Sun City Center - Sun City Center, Florida
Those with user accounts who dream of a Gulf Coast retirement have been taking a closer look at Sun City Center near the Tampa Bay Area of Florida. With a location between Tampa and Bradenton, residents can enjoy a day on Tampa Bay or the Gulf Coast any time they want.
Residents of Sun City Center have also created nearly 200 clubs and interest groups to gather with neighbors and pursue hobbies, old and new. Some of the clubs and activities include cabaret, fun squad, dog owners group, lawn bowling, music, and many more.
Pelican Preserve - Fort Myers, Florida
With amenities like a 70,000-square-foot clubhouse, a 27-hole championship golf course, and a 38-acre nature preserve, Pelican Preserve in Fort Myers is a retirement oasis. This gated 55+ community plans to include 2,500 single-family, attached, and condominium homes upon completion.
For an ultimate low-maintenance home, the condominiums offer a lock-and-leave lifestyle. This allows residents to enjoy more leisure time and travel as often as they like. Some of the largest homes in the community, the single-family homes, boast luxury features like large lanais, spacious master suites, and even private glass-enclosed swimming pools.
Oak Run - Ocala, Florida
When residents of Oak Run in Ocala, Florida want to relax or meet with neighbors, they have five clubhouses to choose from, each with its own amenities. Just to name a few, the Island Club has three outdoor pools and spas, while the Orchid Club has a fitness center, a ballroom, and an abundance of multipurpose rooms.
The Royal Oaks Golf Course is a 6,703-yard, par-72 championship golf course with 18 holes. Pros and novices alike can enjoy the well-manicured course with mature trees. The clubhouse also offers a 6-acre, 6-hole practice facility as well as a pro shop and restaurant.
Sun City Grand - Surprise, Arizona
Arizona has long been a retirement destination for active adults thanks to its warm, dry climate, affordable cost of living, and abundance of active adult communities. Currently, one of the most popular active adult communities in Arizona is Sun City Grand in Surprise.
This Del Webb 45+ community boasts a vast array of quality amenities designed to make the most out of retirement. For those who want to enjoy the pleasant Arizona weather, there are four championship golf courses, athletic courts, a fishing lake, and an outdoor amphitheater.
At The Adobe Spa and Fitness Center, residents enjoy a state-of-the-art fitness center, an indoor pool, and an indoor walking track. Also, there are four other clubhouses to explore.
Stone Creek - Ocala, Florida
Stone Creek in Ocala, Florida is another world-class 55+ community in the heart of Central Florida. Here, residents can enjoy spacious and affordable single-family and attached homes that provide them with access to everything the community offers.
The impressive amenities begin with Reflection Bay, which boasts 29 acres, or 60,000 square feet, of recreational amenities. At the Elan Spa & Resort, active adults can use a state-of-the-art fitness center, indoor and outdoor pools, and massage services.
Outdoors, an 18-hole championship golf course designed by Terry Doss spans 187 acres, providing a memorable experience for players of all skill levels. With courts for bocce ball, pickleball, and tennis, residents can always gather for friendly competition.