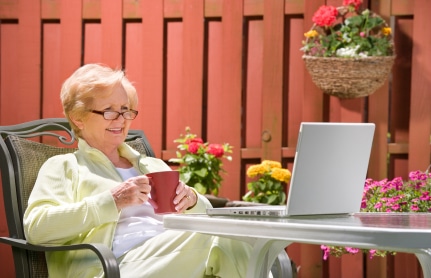 Today's homebuyers no longer have to wait for a call from their real estate agents to find out about potential listings. The Internet has made it easy for anyone to track the market, search for desirable homes and even take virtual video tours without ever leaving the house. Yet there's more to online house hunting than looking up a neighborhood on Zillow or Realtor.com.
National websites like Zillow, Trulia, Redfin and Realtor.com are great resources for homebuyers or for sellers following their local market. These sites let you search for homes based on location and your price range. You can also narrow the search with specific criteria, such as the number of bedrooms and bathrooms, or whether the home has a fireplace, basement or garage. However, there are limits to searching national sites.
A recent study by the WAV Group, a real estate consulting firm, found that homebuyers could find more accurate information by searching on local real estate brokerage websites than by looking at the same listings on national portal sites. Sites run by local brokers showed listings sooner and removed sold homes more quickly. This is because local real estate sites are directly connected to a Multiple Listing Service (MLS) database which nearly always update daily, while national portal sites may update their information less frequently (such as, once a week).
In a seller's market, finding out about an available home as soon as it is listed could easily mean the difference between getting the home and missing out to another buyer. Wasting time on homes that are no longer available can also be frustrating during your online search.
Although most homes are listed through an MLS, homes sold directly by their owners are not. This means that there may be more available homes in your area than what you see when searching national portal sites or through local real estate websites. You can find out about these homes online by searching websites such as ForSaleByOwner.com.
Your online house hunting is also unlikely to turn up new construction homes unless you expand your search to sites devoted to new homes. If you have a favorite builder, you can visit their website to find out about new developments in your area. In some regions, you can also search by location with resource sites like NewHomesGuide.
To make the most of your online search, use multiple sources to find your new home. National portal sites are a great place to start, but also include at least one website from a local real estate agent. If you are working with a specific real estate agent, you can ask to be added to an automatic MLS search based on your criteria as well. When you do find a home that you like online, be sure to act on it quickly. Contact your real estate agent to confirm that the home is still available and arrange a visit.
Online house hunting is convenient, but it can still take time to get the results you want. Checking multiple sites regularly will help you get a jump on the other homebuyers and soon find the home of your dreams. Of course, if you are looking for a home in an active adult community, 55places.com is your best resource. We now feature listings of homes for sale in each community on our website and the information is updated daily. Be sure to check back often for new listings.