Tampa and the communities in the Bay area are known for cuban sandwiches, history and art, professional sports, and unique views of both the Tampa Bay and the Gulf of Mexico. Living in Tampa means year-round sunshine, lots of golf days, and plenty of opportunities to relax at the beach or spend the day shopping. It's a popular destination for active adults planning a Florida retirement.
For any homebuyer looking for real estate in the Tampa Bay area, reading reviews can be a great way to get to know what it's like to live in a community. We're highlighting the 10 communities with the best reviews in the Tampa area. If you're narrowing your search to focus on this well-established metropolitan area in Central Florida, consider what residents are saying about these neighborhoods.
Mid $100s – Low $400s
"We feel like we have a second family here," says a resident who bought a home at Bay Island in South Pasadena in 2019. This 55+ community of condos is designed to attract socially minded, active adults who plan to take advantage of everything that waterfront living has to offer. Buildings have elevators and gated entries, and most homes have a view of the Intracoastal Waterway.
Reviewers are especially fond of the amenities, which include a clubhouse, a lounge, a fitness center, and spaces for games, cards, and billiards. There's also a library and table tennis. Outside, residents enjoy six outdoor pools, tennis courts, shuffleboard courts, and a fishing dock and marina. In addition to this, there's a boat launch and lots of natural space for walking, biking, or quiet contemplation. A social director is available to help with event planning and activities.
Request more information about Bay Island here.
Below $100k – Low $300s
Golfers will enjoy living at Highland Lakes on Lake Tarpon, which is less than an hour from Tampa. The executive golf course has 27 holes to play, and it's free for residents and their guests. Barbara writes that there's always something new to enjoy. "We look forward to many more years, new friends, and new hobbies," she writes. "Retirement is fun at Highland Lakes." The low-maintenance villas are perfect for downsizing, but single-family homes are also available, providing options for screened patios and private pools.
In addition to the golf course, residents enjoy the Lake Tarpon Lodge, where there's a banquet room and a catering kitchen as well as a pool and pontoon boats. Other amenities include tennis, pickleball, shuffleboard, and bocce. Also, an entire building is dedicated to arts and crafts, where homeowners can have fun in the lapidary studio, woodworking shop, and ceramics studio.
Request more information about Highland Lakes on Lake Tarpon here.
High $100s – Low $1Ms
There's a wide variety of homes for sale at Lake Jovita Golf and Country Club, a highly rated active lifestyle community just off Interstate 75 in Dade City. Most homeowners join the country club so they can access amenities like the 36-hole golf course, 15-acre practice facility, clubhouse, and modern fitness center with an aerobics and dance studio. Members also enjoy pickleball, basketball, and a pool. Swimming and tennis lessons are available, and there are many opportunities for socializing.
Homeowners who have reviewed this community say they feel like they're on vacation every day. Residents appreciate the patios and outdoor space, which offer golf course views. The attached villas have 1,734 square feet with three bedrooms, two bathrooms, and an attached one-car garage. Single-family homes are available in more than 25 models, and buyers who are looking for new construction will find several lots available at this desirable community north of Tampa.
Request more information about Lake Jovita Golf and Country Club here.
Low $200s – Low $2Ms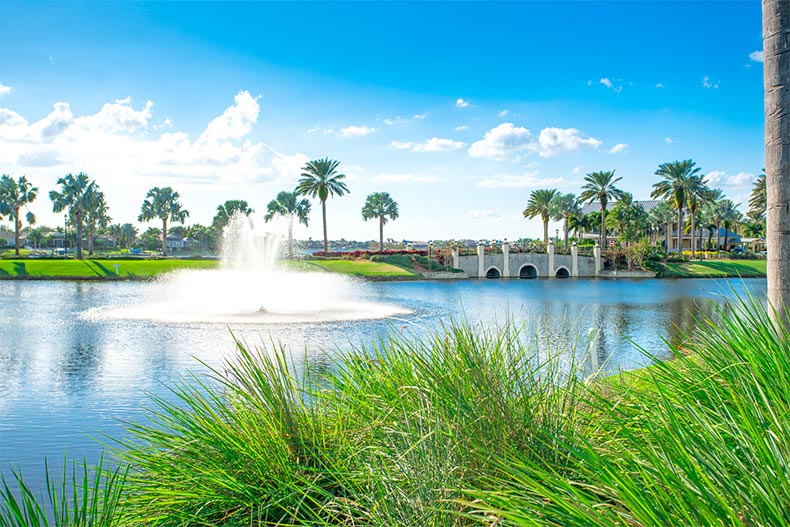 Nature lovers are especially fond of MiraBay, a community of new and resale single-family homes in Apollo Beach. It's located next to the Wolf Branch Creek Nature Preserve, where watching seabirds and reptiles is a daily activity. The community is on the water, making fishing, sailing, and swimming possible. Residents can also launch their boats and kayaks from their backyard. Other amenities include a spa, a zero-entry pool, and a lap pool.
Prospective buyers will find a generous helping of five-star reviews from current owners who love their community. "In my opinion, this is an up and coming community," says Gary, who especially appreciates community activities like the Fall Festival. Denise was introduced to the community as a renter and eventually bought a home of her own in MiraBay. Multiple builders continue to contribute single-family homes, and buyers will have a large selection of models and floor plans to choose from. Also, the community has no age restrictions, offering a great opportunity for multi-generational living.
Request more information about MiraBay here.
Below $100k – Mid $200s
Anyone looking for high-rise condo living with a view of the water will want to consider Sea Towers, a 55+ community in St. Petersburg. Nine buildings offer 800 homes with elevators and security. Interested buyers will find condo units offering 850 to 1,140 square feet and one or two bedrooms. The community includes a clubhouse, a fitness center, a sauna, two pools, a putting green, lawn bowling, shuffleboard, a fishing dock, and a pier.
Potlucks, stage shows, and day trips around the Tampa Bay area are frequently held. Sea Towers is close to downtown St. Pete, providing easy access to restaurants and entertainment. Residents can enjoy a Tampa Bay Rays game at Tropicana Field or visit the Dali Museum. It's an affordable option for active adults hoping to downsize without giving up amenities and activities.
Request more information about Sea Towers here.
Low $100s – Mid $400s
Living outside of the city has its benefits, and residents at Silverthorn in Brooksville appreciate the serenity and forested surroundings of their active lifestyle community. The trail that winds through Silverthorn connects with the Suncoast Trail, which is popular among hikers, bikers, and wildlife watchers. Attached and single-family homes are available in a number of spacious and unique floor plans and models.
Susan owns a home in the community and appreciates the value she received for the price she paid. " It's a gated community, has tons of amenities including a really nice golf course, and there is a ton to do," she writes, "Plus it has RV storage!" Other amenities include a community center, a fitness center, and a swimming pool. There are also horseshoe pits and tennis courts. The Silverthorn Country Club offers golf and social memberships.
Request more information about Silverthorn here.
Low $100s – Low $300s
One of the hottest selling and best reviewed 55+ communities in the Tampa Bay area is consistently Timber Pines in Spring Hill. More than 20 positive reviews reflect the enthusiasm residents have for their community. Linda loves the neighbors and felt immediately welcomed by the community. Mike and his wife moved to Timber Pines from Ohio and calls it "Heaven on Earth." The amenities are frequently mentioned as one of the best reasons to buy in the community.
Those amenities are extensive. The Lodge has meeting rooms and a catering kitchen as well as tennis, pickleball, shuffleboard, and bocce. At the Resident Activities Center, homeowners can play on one of the three golf courses. There's also a driving range, a putting green, and two chipping areas. Within this community, there's fine dining, a performing arts center, and plenty of social activities to keep people busy. Homes are available in attached or single-family models.
Request more information about Timber Pines here.
Low $200s – Mid $600s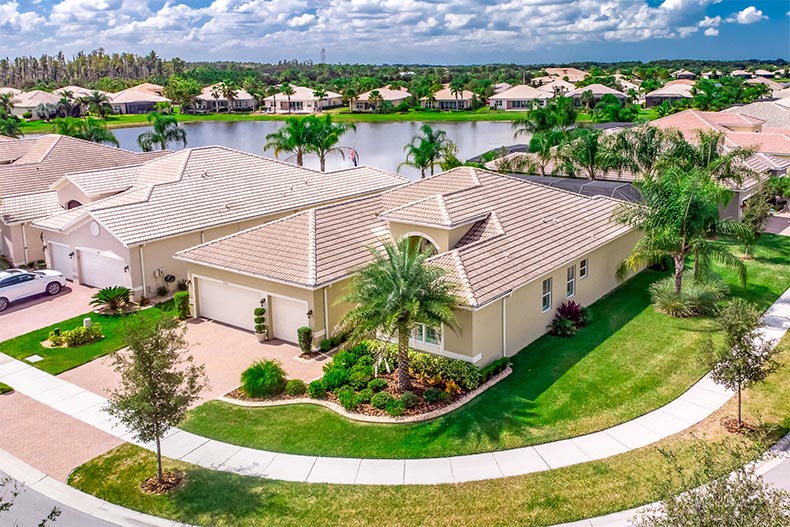 Valencia Lakes is a 55+ community in Wimauma, which is just south of Tampa and outside of Sun City Center. Vickie recently wrote that it's like living in a resort. Julio enjoys the fact that he's made new friends and there are always opportunities to interact with neighbors. The community is surrounded by water, providing a serene setting with amenities like a pool, a community garden, a softball field, and horseshoe pits. Residents participate in line dancing classes, wine tastings, and a boating club.
Homes in this community are spacious and come with many upgrades and customizations. Paired villas have 1,321 to 1,857 square feet with one to three bedrooms, two bathrooms, and an attached two-car garage. The single-family home models have between 1,597 and 3,273 square feet, two to four bedrooms, two or three bathrooms, and an attached two-car garage.
Request more information about Valencia Lakes here.
High $100s – Mid $300s
Country club living is available at Heritage Springs, a 55+ community in Trinity. There's an 18-hole championship golf course, a driving range, and a putting area for golfers, and also a restaurant, a fitness center, and a ballroom. Membership in the semi-private Heritage Springs Golf and Country Club is included with every home purchase, so there's no need to stress about extra fees in order to enjoy the amenities provided.
Dee appreciates that the community is only half an hour from Tampa and writes: "We have been pleasantly surprised by the amount of things to do here and the welcoming feeling of neighbors that have become friends in a very short time." Edward has lived in Heritage Springs for more than 15 years and finds it "exceptional" in its activities and facilities. Resale homes are available in attached and single-family models.
Request more information about Heritage Springs here.
High $100s – Low $300s
"The community is beautiful, the people are friendly, the staff members are great," writes Blithe, who retired to Southshore Falls in 2019. The 55+ community has two lagoon-style pools, a large fitness center, an internet cafe, and a catering kitchen. There's also billiards, tennis, and a putting green. Residents are minutes away from the beach and the popular Manatee Viewing Station, where wintering sea cows spend their time in warmer waters.
Buyers at Southshore Falls have a lot of options when choosing a home. There are attached villas, in either duplexes or quads. Many snowbirds make these their part-time homes and appreciate the low-maintenance living and extra security at the gated community. Single-family homes are also available with 1,730 to 2,278 square feet, two or three bedrooms, a den, two bathrooms, and an attached two-car garage.