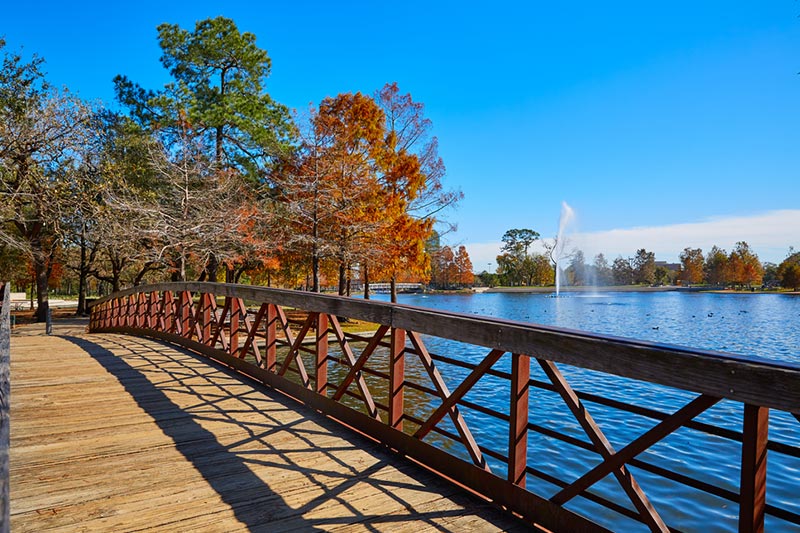 In a booming housing market, one of the most important trends is where people are moving. Many counties and metropolitan areas can claim to be a quickly growing region, but which ones are where most homeowners look to for a big move? It won't surprise many that the fastest growing counties are located in the Sun Belt. Less surprising is that those same counties are even more popular in the 55-plus housing market. Here are the top fastest growing counties in the country according to the U.S. Census Bureau.
Texas counties in particular saw massive growth with eight counties in the top 15 in terms of population growth, according to the U.S. Census Bureau. Four of those counties – Denton, Tarrant, Dallas, and Collin – are part of the Dallas-Fort Worth metropolis, a longtime growing region. Counties within Houston, San Antonio, and Austin also made the list.
Harris County, TX
Harris County largely consists of Houston and a few of its suburbs, which makes it easily the most populous county in Texas. Houston is currently the fourth largest city in the country and its current growth will see it move into the top three eventually. Harris County is home to an eclectic mix of cuisines and many big city amenities like museums, zoos, and entertainment venues. Houston is also a Gulf Coast city, which means there are hundreds of beaches to choose from as well as great fishing and boating opportunities. There are 15 active adult communities in the region, including the popular master-planned development The Woodlands – technically in Montgomery County – and features three 55-plus communities.
Popular communities in Harris County:
Tarrant County, TX
Part of the booming Dallas-Fort Worth area, Tarrant County is largely encompassed by the city of Fort Worth. It is also home to popular suburbs like Arlington, Bedford, and North Richland Hills. Together with its surrounding metropolitan counties, the region has seen a growth of over 121,000 new residents. The county features ample shopping, dining, and entertainment options. It's also home to several professional sports teams and a wealth of golf courses. There are four age-restricted communities in Tarrant County with ten others in nearby Dallas County. That number will surely grow as more retirees flock to the Dallas-Fort Worth area.
Popular communities in Tarrant County:
Maricopa County, AZ
Home to nine cities with a population of over 100,000, the Phoenix metropolitan area has been a popular destination for active adults for decades. Its extremely warm climate, scenic desert landscape, and lifestyle options have made it a landing spot for many active adults. Retirees can spend their Golden Years enjoying the 211 sunny days a year on the various golf courses, hiking the trails throughout Tonto National Forest, or taking in Scottsdale's nightlife. The Phoenix area is also home to 59 active adult communities, so retirees with a variety of interests, hobbies, and lifestyles will find the community they desire.
Popular communities in Maricopa County:
Clark County, NV
The Las Vegas area has long been a popular spot for tourists, but recently the city has made a push to lure full-time residents. The city has been successful thanks to the population growth in Clark County over the last year. The county offers a similar climate found in Maricopa but with some of the world's most famous entertainment attractions nearby. Whether it's taking in the sights of The Strip or golfing at one of the hundreds of courses in the region, active adults will love living in Clark County. The Las Vegas area is home to 19 active adult communities, including four in the popular Summerlin master-planned development.
Popular communities in Clark County:
Riverside County, CA
The only county in California to make the list is also the only county in the top ten without a major city in its borders. Also known as Inland Empire (https://www.55places.com/california/area/inland-empire), Riverside County features a laid-back lifestyle, warm climate, and an affordable cost of living. The county is a favorite among outdoor adventurers thanks to its popular parks like Joshua Tree National Park, Coachella Valley National Wildlife Refuge, and San Bernardino National Forest. The county is also an easy drive to famous places in Los Angeles and Orange County as well as to several pristine beaches. There are around 40 age-restricted communities throughout Riverside County for active adults to choose from, each offering unique aspects that cater to many retirees.
Popular communities in Riverside County: