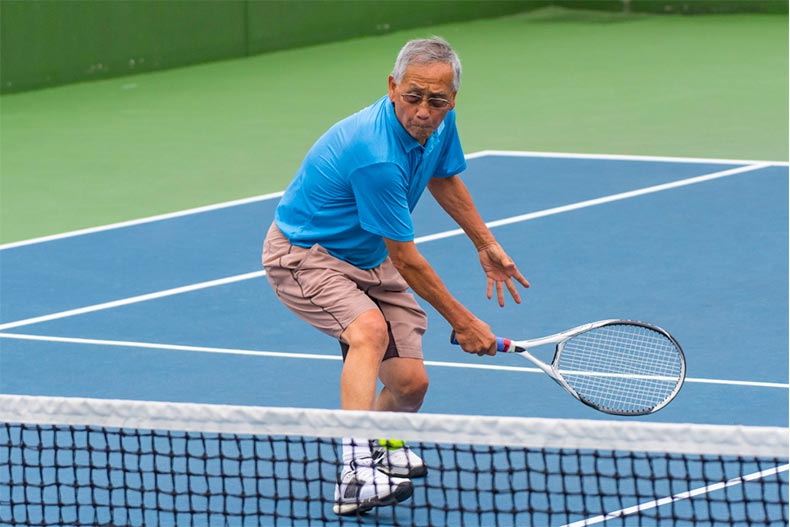 Tennis is a popular sport for active adults in Maryland. Almost a third of active adult communities in the state have tennis courts. And it's not a big surprise. A recent study showed that tennis reduces the risk of death by almost 50 percent, no matter your age. Playing tennis also reduced the risk of death the most compared to other sports in the study. Another study showed that tennis improved bone and heart health, and made players healthier overall. Those who play tennis also know the sport requires creativity, coordination, and planning, skills that keep your mind active.
For active adults living in an age-restricted community, tennis is also a great way to get to know neighbors. It's inherently a social sport, and tennis leagues offer players a chance to meet new people. Whether playing singles or doubles, getting out on the court and socializing afterward is fun.
Here are three Maryland active adult communities big on tennis.
Below $100k - Mid $500s
Leisure World of Maryland is located in the Washington, D.C. suburbs in Silver Spring. As Maryland's largest 55+ community, it offers varied home styles for any buyer. The community also has two clubhouses and is centered around an 18-hole golf course. More important for tennis lovers are the courts located at Clubhouse II. Residents can reserve courts for play, or join the Rossmoor Tennis Club.
Request more information about Leisure World of Maryland here.
Mid $200s - Low $500s
Located in Laurel, Central Parke at Victoria Falls is a mid-sized community. The 609 homes include condos, attached, and single-family homes. The centerpiece of the community is the Resort Club, a 13,500 square-foot clubhouse. Inside, residents can stay fit at the fitness center, pool, spa, and sauna. Walking trails and woods surround the tennis courts, where residents can play for fun or join the tennis club for fun, only slightly competitive play.
Request more information about Central Parke at Victoria Falls here.
High $100s - High $300s
On Maryland's Eastern Shore, active adults can live in an age-restricted community within a greater planned community at The Parke at Ocean Pines. The single-family and attached homes include a broad range of models to fit almost anyone's space needs. While the Parke offers residents some amenities at the clubhouse, the master-planned community of Ocean Pines includes 12 tennis courts. Residents can also join the Ocean Pines Tennis Club, enter tournaments, and even take lessons.
Request more information about The Parke at Ocean Pines here.